Erma Tranter
was the first female winner of the Free Press Marathon. She originally hailed from Detroit but moved to Chicago in 1975 and has lived there since.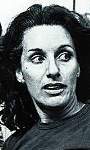 "I recall setting a goal of trying to break 3 hours in the Marathon. I looked forward to an international race that started in Windsor. As we ran I remember huge fans blowing fresh air in the underground tunnel. When we came up on the Detroit side it was great to run through many familiar from having grown up there."
"All along the route people would shout out that I was the third woman and along Jefferson Avenue heading toward Belle Isle. When we crossed over to the island I saw a woman who had taken off her running shoes and was now walking. Right away the crowds started to call out that I was the second woman runner. I continued my pace and somewhere still far from the finish line, I passed another woman runner. From then on cheering crowds made it clear that I was now the first woman. As the finish line approached I focused on the finish banner and soaked in the roar of the crowd."
"I was more thrilled that I won the women's division that accomplishing my goal by running a 2:55:51."
After winning, Tranter continued to train at her usual 50 miles a week. She returned to Detroit the following year to set her best time of 2:50, but came in second place.
A year before her victory, Tranter helped found the Chicago Area Runners Association, a group that promotes running and quality races. Today it has a large membership base and helps educate runners and race directors.
In the '70's, Tranter was also very competitive at races over 10K and won numerous events in the Chicago area. However, in 1981 her husband and greatest supporter died suddenly. "Life changed dramatically for me and my sons. Race times and personal bests suddenly had no meaning to me and I stopped competing entirely. I had two children to raise alone and became the sole income provider. I continued to run for my sanity and for fitness (50 miles a week for all these years), but have not competed since."
Tranter is an Urban Planner in Chicago and also President of an environmental organization called Friends of the Parks. "I recognize the importance of excellent public parks for quality of life issues and for health and fitness. Six days a week, I run along Chicago's lakefront in Lincoln Park. I also balance out running with yoga to stretch out the tight muscles."
Her other athletic accomplishments include climbing the second highest mountain in South America, Chimborazo in Ecuador, with her son Scott. In 1998, she biked across the country with her other son, Mark, as part of the Lung Association Transamerica bike ride. Every year since then she has taken annual bike trips mostly in Italy and Spain, but once in Alaska.
In 1999, she married physician and marathoner Lee Jampol, who she met on the Lincoln Park running path.