75 Michigan T&F athletes set to compete in NYC at New Balance H.S. Indoor Nationals
by RunMichigan Staff
,
Mar. 11, 2014
By Dave McCauley, RunMichigan.com

Update: Michigan produces National Champions, National Runners-Up and All-Americans at the 2014 NB Indoor Nationals.

National Champion: Grand Blanc's Grant Fisher waits patiently and then buries the field in the Boys Mile, winning in a time of 4:09.46.

National Champion: Motor City Track Club's Girls' 4x400 Relay Team wins the National Title! The team, made up of Johnyce Taylor, Carlita Taylor, Jayla Fleming and Anna Jefferson, wins by almost a full second in a time of 3:46.31.

National Runner-Up: In the Girls' 2-Mile Run, Audrey Belf of Bloomfield Hills just keeps on running PR's as she raced to a second place national finish in a time of 10:10.9. The winning time of 10:08.05 was run by Tessa Barrett of Waverly, PA.

National Runner-Up: Ypsilanti's Quenee' Dale powered her way to a second place finish in the Girls' 60M Hurdles in a time of 8.35.

Click here for full results for the entire meet!

Update: Day 3 (Sunday) Photo Highlights from the 2014 NB Indoor Nationals

Update: Day One (Friday) Photo Highlights from the 2014 NB Indoor Nationals

Update: Day 1 Results from the 2014 NB Indoor Nationals

Watch: Live Free Webstream via the Armory Track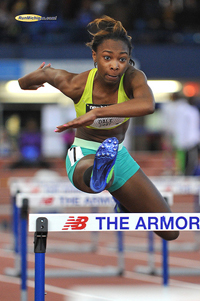 75 of Michigan's best high school track and field athletes will be traveling to New York City for the 2014 New Balance Indoor Nationals. The meet, sponsored by New Balance and organized by the National Scholastic Athletic Foundation will be held at the Armory Track on March 14, 15 and 16.

This meet has been the place where the U.S.A.'s best high school athletes have recorded some amazing performances in recent years and athletes from Michigan have played a huge part. Michigan athletes representing clubs such as Motor City Track Club and Michigan All-Stars, along with several additional top individual performers, will be on hand at this year's nationals. Athletes compete at Emerging Elite and Championship levels with a smaller number of events for ninth-grade student-athletes only.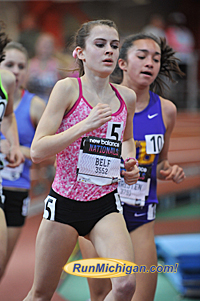 Track and Field athletes from the State of Michigan have consistently placed high at the national level. In 2013, both Erin Finn (Girls' 5000) and Hannah Meier (Girls' Mile) ended up with very close second place finishes. In 2012, Finn set a Girls' 5000 Meter Indoor National Record of 16:19.69.

In 2013, Freddie Crittenden of Utica High School won a national title in the Boys' 60M Hurdles. Other highlights from the 2013 NBIN meet saw Audrey Belf set a national Sophomore record in the two-mile with a time of 10:22.46 and top sprinters like Anna Jefferson, Sekayi Bracey and Savannah Roberson all perform well.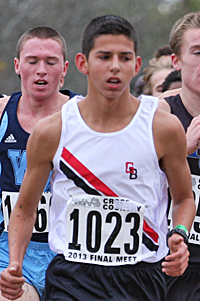 Heading into this year's meet, top performers scheduled to compete for the girls include Belf in the 2-Mile Run, Jefferson in the 400 Meters, Ersula Farrow in the 800 Meters and Quenee' Dale in the 60M Hurdles.

For the boys, Grant Fisher in the Mile Run, Eli Minor in the 60 Meter Dash and Maurice Allen in the 400 are scheduled to compete. All these individuals are currently sitting toward the top of the national high school rankings.

Past NB Indoor Nationals Champions from Michigan at the Championship level have included Megan Goethals, Dathan Ritzenhein, Geena Gall, Kyra Jefferson, Erin Finn, Hannah Meier, Kendall Baisden and Kenneth Ferguson. Also, in 2012, the girls' Mile-Relay team from Grosse Pointe set a new high school national record.

RunMichigan.com will be on hand at the meet for complete photo coverage and post event recaps.

How you can follow

What: 2014 New Balance Indoor Nationals
Where: The Armory Track - 216 Fort Washington Ave, New York City
When: March 14, 15 and 16, 2015

2014 Photo coverage of Michigan athletes: RunMichigan.com Photos
2013 NBIN Photo Coverage: Click for 2013 Michigan Athlete photo coverage

2014 Meet Schedule: Click for full NBIN Schedule
2014 Meet Results: NBIN Results links
Additional NBIN information and state by state details