BENZIE EDGES PITTSFORD
FOR THIRD GIRLS TITLE

NAOMI FLIES TO FIRST

Brooklyn, MI

By Dave McCauley & Scott Collins - RunMichigan.com!

Benzie Central, another Northwestern Michigan cross country power, earned its third girl's state championship in school history, edging out a tough Pittsford team, 132-134. Benzie took the team crown in 1982 and 1983. Leading the way for Benzie was sophomore Caryn Waterson, who finished 3rd place overall in a time of 19:01. Last year's girls class c team champion, Kalamazoo Hackett, finished well back with a total of 178 points. Fourth place overall went to Kenty City, while Blissfield took 5th. For Benzie Central, team success has always taken priority. The remaining top runners for Benzie were Keely Bigelow, Sarah Warnke, Erica Evans, Sarah Tarsney, Lindsey Wade, and Patti Herron.

Individually, Naomi Wendland of Michigan Lutheran Seminary claimed the top spot, running a very smart race on her way to a winning time of 18:09.4. Wendland was a full 8 seconds back at the mile mark as Carson City-Crystal senior Marisa Ryan took the race out hard, hitting the mile in 5:38, to Wendland's 5:46. Wendland came through the two mile in 11:37, two seconds up on Ryan, and pushed the lead to 14 seconds at the three mile mark. From that point, there was no looking back as the senior took her first ever state title in one of the top times of the day. Third overall went to Waterson of Benzie, while Southfield Christian's Heidie Wright took fourth in a time of 19:08. Taking the fifth slot was Gabrielle Maggi of Rogers City.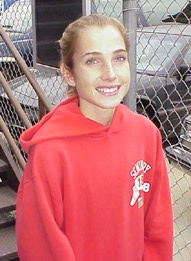 Individual "C" Champion
Naomi Wendland of
Michigan Lutheran Seminary

VIDEO CLIP
Click on link below.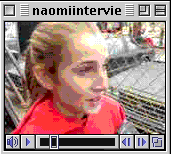 Naomi Wendland after the race. (188k)