Emily Anderson - Junior Nationals
by RunMichigan Staff
,
Jun. 30, 2000
Emily Anderson - Junior Nationals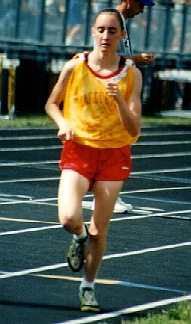 Marquette, Michigan - Emily Anderson who just completed her Junior year at Marquette High School competed in the USATF Jr. National Track & Field championship 5,000 meter in Austin, Texas on June 24th. Emily finished 2nd in the 5,000 in a time of 17:52. During the 1999/2000 season Emily was both the U.P. Michigan High School 1999 Cross Country Champion and the 2000 Track & Field 3200 Meter Champion. Emily has P.R.'s of 5:04 for 1600 meter, 10:48 for 3200 meter and 17:29 for 5000 meter. Here is a chat that RunMichigan had with Emily about the Jr. National 5,000 championship.

RunMichigan: I believe you are going into your senior year at Marquette High School. Is that correct?

Emily: Yes

RunMichigan: Was the Junior National Championship, your first National level race outside Michigan?

Emily: This was my first National running event but I have competed at the National Cross Country Skiing races in Utah. I have also competed Junior Olympics for cross country skiing in 1999 in Alaska.

RunMichigan: Since you won both the '99 UP Cross Country Championships and the '00 3200 Championships, what were your thoughts going into the Jr. Nationals 5K?

Emily: I had been training for three months for the 5K in Denton and I only concentrated on the 3200 to get a qualifing time. I enjoy cross country more than track and compete better at longer distances.

RunMichigan: Since you have mainly been concentrating on 1600 and 3200 meter during track season, how did you prepare for a 5000 on the track?

Emily: My workouts were training me for the 5000 and I used the 3200 and 1600 as speed workouts.

RunMichigan: Since you ran 17:43 last year for Cross Country, how did you feel about your 17:52 time?

Emily: Previously in my training I did a 5000 time trial in 17:29, so this gave me the confidence I needed going into Denton. The field at Denton was experienced and no one wanted to go out to fast so we stayed in a pack for the first two miles. I am happy with the way I ran for my first National competition.

RunMichigan: Were you happy with your 2nd place finish?

Emily: I was pleased because I didn't expect to place that high.

RunMichigan: Did the weather affect your race at all?

Emily: No the temperature was 86 but it didn't seem to affect me.

RunMichigan: What are your goals for the 2000 Cross Country season?

Emily: I am going to concentrate on Footlocker

RunMichigan: Do you and your sister Katie train together?

Emily: During the school year

RunMichigan: Have you made a decision on where you will run in College?

Emily: No I am looking this summer

RunMichigan: Where will we see Emily Anderson at next?

Emily:I am competing in Montreal, Canada with the USA team on July 19-23.