Kevin Sullivan from Europe
by RunMichigan Staff
,
Jul. 4, 2000
Kevin Sullivan from Europe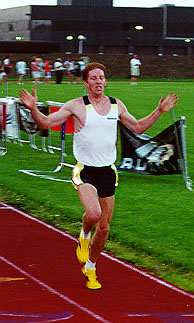 Lausanne, Switzerland - RunMichigan was able to catch up with Kevin Sullivan in Europe. Kevin has been burning up the Track in Canada, the United States and across Europe. Kevin just set a new Canadian record in the 1500m at the Golden Gala in Rome. Here is a RunMichigan chat with Kevin about his second place finish at the PRE MILE and on his current racing in Europe.

RunMichigan: - How has your training been going this year?

Kevin: Training has been going very well. I have been running now for about 18 months injury free and have really been noticing the difference in my training, racing and recovery.

RunMichigan: - What type of time were you looking to run in the PRE Mile?

Kevin: I didn't really go in with a set time in mind, but I did want to run faster than the 3:55 that I ran at the Michigan International the week before. I felt pretty comfortable running the 3:55 so I was very confident that I would be under. But having not been in a race with the caliber of runners that Prefontaine had I really didn't know where my top fitness level was at that time.

RunMichigan: How did you feel about your 3:52.54 mile?

Kevin: I was extremely pleased with the time but I was even more pleased with the way I competed and the way I felt during and after the race. I felt like I was really in control the entire race. Plus I was able to close about 0.75 sec on Chirchir in the last 100m so my closing speed was surprisingly good for this time of year. The only thing I wish I had done differently was going by Carrol and De Souza with 400m to go instead of waiting for the backstretch. I think if I had gone earlier I would have had a good chance at catching Chirchir down the homestretch.

RunMichigan: Can you describe from start to finish how the PRE-CLASSIC Mile unfolded?

Kevin: The pace was supposed to be fast (1:54 @ 800m, 2:51 @ 1200m) and since I had not been out faster than 1:56 and 2:55 this year I decided to run a little bit conservative for the early going. I got out well in the first 100m and put myself in position in midpack hitting the 400m in about 58 sec. I pretty much stayed in that midpack position through 800m (approx. 1:56). Then I tried to make a conscious effort not to lose contact with the leaders on the next lap. With 500m to go I had moved into fourth behind Chirchir, Carrol and De Souza. I moved out with 450 to go and then decided to wait until 300m to go, which, in hindsight was not the best plan. I hit 1200m in 2:56 and then went by Carrol and De Souza down the backstretch. I was running by myself into the wind at this point but could see that I was moving just as fast as Chirchir was. Coming off the last turn I made a hard surge and opened up a lot of space on the pack behind me and closed significantly on Chirchir but it was too little too late. Overall though it was an excellent race for me and my second fastest time ever.

RunMichigan: Were you happy with your 2nd place finish?

Kevin: I was pleased with the 2nd place but not completely satisfied as I made that one tactical error with 450m to go which may have cost me the race. But then again, Chirchir may have still held me off even if I was closer so I can not be too disappointed with a 2nd place finish and my second fastest time ever.

RunMichigan: Will you be racing in Europe this summer? When is your first race?

Kevin: I am in Europe right now as I am writing this e-mail. I have already run two races. The first was a 1000m race in Athens (2:17.59) where I PR'd by 1.96 sec, and ran the second fastest time in Canadian history. The second race was a 1500m in Rome, 3:31.71, a huge 2.90 sec PR, as well as knocking 2.23 sec off the Canadian record. My next race is July 5th in Lausanne, Switzerland and then I will be returning to Ann Arbor to train on the 6th before heading back over for Oslo and one other race (either Stockholm or London) at the end of the month.

RunMichigan: In the United States the Track & Field team is selected at the USATF Nationals, how does Canada select their Track & Field Team for the Olympics?

Kevin: Our team is selected from the Canadian Olympic trials. We must (as all other countries) have the IAAF standard (3:36.80 for 1500m), and then in order to be selected by the Canadian Olympic Association we must finish in the top 4 at the trials. The COA then selects up to the maximum 3 people per event (although very rarely do we have 3 people with the qualifying standard)

RunMichigan: What are your plans for the Olympics?

Kevin: I have been trying not to think too much about the Olympics since I have not officially made the team yet. The way things are going I am hoping everything will go as planned at the trials. The Canadian Olympic team will have a training camp in Couran Cove, Australia (near Brisbane) leading up to the Olympics. At this point, if I make the team, I will travel to Australia on August 30, and get into camp on Sept 1. There are about 30-40 national teams that will have training camps within a 2 hour radius of where we are so there will be two or three tune-up meets set up leading up to the Games. On Sept 19th the Canadian team heads into the village and then starts the final preparations for competition.

RunMichigan: Where will we see Kevin Sullivan at next?

Kevin: Lausanne on July 5th, Olso on July 28, and then either Stockholm or London and then back for the Canadian Olympic Trials Aug 11-13.