Josh Eberly/Hanson-Brooks
by RunMichigan Staff
,
Oct. 10, 2006
Josh Eberly/Hanson-Brooks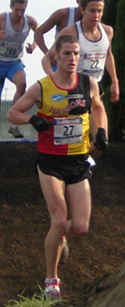 Rochester, MI
Josh has been with the Hanson-Brooks distance project for over 2 years now. He came to Rochester by way of Western State College located in Gunnison, Colorado. Josh was a 9 x all-american and national champion in the 10k. Josh was also part of the 3 time national championship cross country team. Josh has since moved up to the marathon distance and will be competing at the Lasalle Banks Chicago Marathon. Read on to find out what Josh has been up to and why he decided to move to Rochester.
RM: You have made one of the farthest, if not the farthest, move to train with Hanson/Brooks (Josh is from Colorado). What were some of the main driving forces that lead you to making the move?JE:
I think a lot of people including myself like the structured style like college. I however, didn't join until a year and a half after College. Me and some teammates of mine (from Western State) tried to put together a post collegiate club/team like the Hanson's. We wanted to base in out of Gunnison, CO. We made a web site and had some prospects. But things really fell through, it seemed like it was just too much work. I was roommates with Richie Brinker at a cross country race, he gave me the ins and outs of the Hanson's and it seemed to be one of the more advanced groups around at the time (and still is). I flew out to Michigan a few weeks later and took a tour of the place. I only knew Trent Briney and Patrick Gildea on the team at the time. I liked what I saw, so without going into detail I joined the team a few months later.
RM: Since making the move you have changed your focus from running the 5k/10 to running the marathon distance. What was the reasoning that you made the switch to running the longer distances after having a successful college career running 13:52 and low 29's?JE:
I think everyone coming out of College wants to run a super fast 5k and 10k. As I did when coming out to Hanson's; I tried to put the Marathon on the back burner for a bit, while I tried to better my 10k. I can't say I didn't because I did PR last year with a 28:50. It wasn't much faster than what I have run in College a few years back. I guess when coming into any new program, you look at the top. You look at what the top guys from the program are running and what they are improving on. I came from a small D2 College where the top guy ran 28 flat. I knew exactly what he did to get there. I know there are a lot of different ways to the top, but I think this program is built around the Marathon.
RM: Of late, you had some medical problems that forced you to miss some hard training time. What happened and have you been able to move on from those problems?JE:
It all started after some down time. Not sure why, but it it just one of those things that happen. During the first 4-6 weeks back training I was feeling super flat. Just no energy, nothing in my body was working normal. It was hard to even get out of bed and get excited for training. It usually takes a week or two for me to get the fire back, but it seemed like someone kept putting it out. I knew that something was wrong, internally. At first I thought I was anemic, so I went to my Dr. right away and got some blood tests done. The results showed that my iron and ferratin level was normal, but my TSH (Thyroid Stimulating Hormone) was super low .03 (which means just the opposite of what it seems). I was diagnosed with sub-acute Thyroiditis, which is a viral infection to the Thyroid. It attacks it and then the Thyroid just starts dumping all of this Hormones into your body. It was an overactive Thyroid or Hyperthyroidism syndrome. There was medication for the problem, but I didn't want to rush into anything unnatural. There is some iodine medicine that is prescribed to someone with an overactive thyroid and what it does is damage the Thyroid so it doesn't produce so much Thyroid Hormone. Sometimes it actually kills the Thyroid, then you would have to take a Thyroid pill the rest of your life. That route didn't sound too fun, so I talked with my Dr. and he suggested on getting some further tests done. I took a few more test and he then suggested on just waiting it out, hoping that it will take care of itself. It slowly got better and better, and even though I am not 100%, I hope to be close on Marathon day.
RM: You are slated to run the Chicago marathon. What is your goal at Chicago and how do you feel physically with the race only being two weeks away?JE:
With a couple set backs (Thyroid problem) we reevaluated my goals. The only goal at Chicago is to qualify for the Trials (2:20 or bust). I think for the majority of my teammates they have already qualified for the trials at Boston. They don't have to be as careful as I do, they can go big on Marathon day and won't worry too much if they blow up because they already have their qualifier. It would be hard to run back to back to back marathons in a row leading up to the Trials. I know a lot of people at the top do that, but for someone like myself, it seems like I need a bit of variety.
RM: You have several jobs to pay the bills as you train. To give those on the outside an idea of how a professional runner can train and work, could you please list and describe the jobs you have and how much time/effort they take.JE:
I worked at the Running Shop for 2.5 years. I was a store manager for over a year. The shoe shop had its high points and low points. I worked around 25-30 hrs a week.
I have redesigned and been updating the Hanson's web site ever since I've been here. That actually takes a bit of time as well. I am a little on the "perfectionist" side of things, and it seems like I keep finding different ways to improve the content and quality of the web site.
Starting this month I got the opportunity to work for RunMichigan.com (you guys). I will be the head webmaster and designer. I am really excited for this job! I would love to hear feedback from what people would want to have on RunMichigan.com, what they like and what needs improvements. Drop me a line
[email protected]
Thanks for the great interview Josh! (Interview conducted by Nick Cordes)