A Personal Story About My Brother
by RunMichigan Staff
,
Jul. 23, 2020
This story first appeared in the June/July '92 Michigan Runner Magazine then months later in the Oct '92 issue of Runner's World.
By Scott Hubbard
BROS. I'm proud, very proud of my brother Don. I'm going to brag a little and share with you why I feel so good about him. It'll be about various experiences in running, handling adversity and giving back to the sport. There'll be a revelation which elicited much soul-searching, some brotherly musings on growing up with running being background to the story yet knitting the whole thing together. Please, wrestle with any bias you may feel about what follows Check your surface impressions here at the door. Consider the place courage has in our lives. In all our lives.
Don and I don't look alike and we have small fun with that. I'm a slender, dark-haired reflection of my mother. Don takes after dad, receding, sandy brown hair, strong, trim. I wear glasses, he doesn't. He's quick to express himself, I'm a bit more reflective. I like asparagus, he says yuck. We both drive old cars and wear orthotics. Siblings. We're a lot like other brothers in other families, but not much like each other.
Our greatest similarity is this running thing. High school, college, life-time running. Medals, records, honors. Injuries, disappointment. Wonderful high moments. Other moments that, like a hard punch, take your breath away and test perspective. High mileage days, team oriented. I was a bit more consistent at the longer races and Don more the middle distance man. He was twice the runner I was though, I assure you, until he was upended in a traumatic incident as a high school senior. But I'm getting ahead of myself.
Shortly after I happened on running as a sport in the 10th grade, Don was showing plenty of promise in junior high. While I was sorting out the demands of high school running, Don was busy winning 3 city championships in cross-country and track. He was winning on minimal training, a junior high requirement I think. 'Running was fun,' he recalled.
His first season of high school running was a time of adjustment, aided by a front-running senior teammate. Confidence built all season and culminated in a 7th place finish in the state championship for 2 1/2 miles. The longer distance and competition hadn't fazed him. A few weeks later he ran a timed indoor mile in 4:25. Geez, I thought, I was barely running that as a college sophomore.
Don's first official track race was an auspicious 4:19 indoor mile. The state record then was 4:13. Clearly, the boy was talented. In fact, Don's only losses that sophomore year came to future state champions including a paper-thin second in a dual meet to the '72 880 yard champion in 1:56. Don was fast enough to run on the Ann Arbor Huron mile relay and adept enough a racer to be anchorman. With all his success, it wasn't until the end of the long year Don had an idea he might be a good runner. 'With 220 yards to go in the state meet (mile) I thought, 'Hey, I can win this thing!' He pulled alongside the leaders for a moment, then the very hot day caused him to falter. He finished 3rd in 4:16, a 10th grade class record.
Cross-country as a junior was mostly a wash due to injuries. He was healthy and running by track, anchoring Huron's numerous fast relays. Took my Mom down to Cobo Hall in Detroit to watch Don anchor the Huron mile relay in a special prep race at the NCAA Indoor T & F Championships. 10,000 people were roaring! I mean, you couldn't even think, much less be heard. Don was passed quickly on the anchor but I told Mom he'd come back. And, Oh Man, into the last turn, it got even louder as he caught one guy (who'd win the 100 & 220 yards outdoor State Championships in Class A) and closed on the leader. He missed by a step. You have to be family to appreciate the adrenaline rush of those 50 seconds.
He was unbeaten as a junior, running a 9:16 2 mile and 4:12.8 mile, the time a junior class record. 'One of the easiest races I've run.' He won the state meet mile on a stress fractured foot. His reputation was becoming such that, in some circles, I wasn't Scott, I was 'Don's brother'.
Cross-country as a senior was also mostly a wash due to injuries. In track he was dominant as ever. By the end of the indoor season he seemed poised to make a run at a very fast mile. Then, his world fell apart. While anchoring a relay indoors (Huron Relays/EMU), he ran right into the beefy coach from Northville, went up in the air and came down on his shoulders. Mom watched from yards away in the balcony. Result - a broken collar bone and a terribly shaken young man. He returned to running a month later wearing a motion-restricting shoulder harness. 'The edge wasn't there. I was in a fog early in races, then my head would clear up with a lap to go.' He recovered enough to finish 5th in the state meet mile and anchored the Michigan 2 mile relay in the first all-star Tri State T & F meet in Fort Wayne, IN. All in all, a fine high school career.
Don spent the next four years running for Eastern Michigan University. He struggled with injuries and the demons of his prep accident. Racing success followed a roller coaster pattern with much better luck on the track than cross-country. The abandon he once ran with was missing. 'I don't think I've ever gotten over it (the accident). I'm still dealing with it 18 years later.' His best times in college were a 1:52 880 yards, 2:58 3/4 mile and 4:07 mile came on relays where he could focus, drawing on the energy or teammates. 'One of my best memories of high school and college is that I didn't value my personal accomplishments higher than friends I made.'
Don continued to run 35-50 miles a week following college. He seemed particularly wary of aches he feared might bring on another injury. I thought he was being overly sensitive. Pain in both of his feet led to surgery in '83. Lumps were removed. Tumors. That's more than enough to make one gun shy.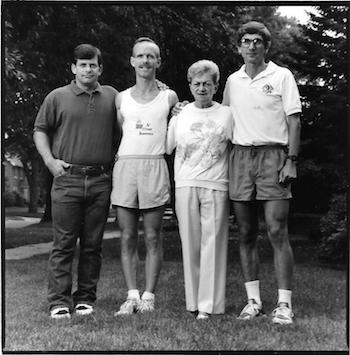 Post-college is also when Don was dealing with some serious questions regarding his lifestyle. I saw enough to think that, maybe, he was gay. I worried how he was handling things. I wondered about a lot of things because I knew nothing about his 'alternative' lifestyle. I wondered when he'd get the nerve to tell the family. He found the 'right moment' during a difficult and emotional family gathering where candor and confession regarding Mom's alcoholism prompted him to reveal, 'I have something I want to tell everybody. I'm gay.' My youngest brother Marshall and Mom were stunned. Don was nervous, relieved. I felt good for him, but I still worried. 'Coming out' would take time. Don would need to grow comfortable with himself and decide who and what was really important in his life. It's hard to hide, to hold a secret and grow at the same time.
Worries took on a new context when Don tested positive for the human immunodeficiency virus, HIV 3 1/2 years ago. HIV causes AIDS, an ugly disease. 'When I first found out, everything about it seemed like a death sentence and you dwell on it. It's very devastating. You don't know how long you have. You may never get AIDS but odds are you're going to get it someday.' He obviously had a lot to worry about. One thing that touched me was his concern that his brother's wouldn't let him see our children. I quickly assured that he was more than welcome to spend time with my son.
Don immediately set out to stabilize his health which included treatment with the only proven helpful drug, AZT. He also cut back on stresses in his life for fear they would lower his immune system. 'I'm lucky to have a good job where there are very understanding people that I work with and friends that have been very supportive.'
The former state mile champ told me he planned to run in a big meet in Vancouver in Summer '90. 'HIV makes you look at life differently. While I'm still healthy, I'm going to make more of an attempt to accomplish goals. I won't hesitate.' He would win the 35-39 age group handily over 800 meters at the Gay Games in 2:09. 'I felt better about the 800 win than the state mile.' It wasn't so much the win as, 'There was a close family feeling, a real togetherness developed on the field and off. It's a chance for thousands of athletes, gays and lesbians, to get together and not have to hide who they are.' His sense of satisfaction was palpable.
In '89, Don heard about the Frontrunners, an international gay and lesbian running club. 'I knew there were some runners around here that'd like a local club because they'd feel more comfortable in a group.' With a friend, Don spread the word about a local Frontrunners club in Summer '91. About 20-30 people showed up at the first meeting. They pay dues, have club singlets, meet twice a week in warm weather and were responsible for the 20 mile aid station in the '92 Free Press Marathon. 'There's a diverse range of abilities, about 50/50 men and women membership and we're going to have a walking group this year. We're trying to promote a healthy environment.'
Don returned from a February trip to Long Beach, CA where he competed in an International Frontrunners road relay event enthused with the experience and excited about some upcoming events. Due to his involvement in the '90 Gay Games, and his 'marquee' value as a gold medalist there, he's been recruited to help spread the word statewide for the '94 Gay Games to be held in New York. Publicity for the Gay Games begins at a fund-raiser in Warren in May. 'Helping out makes me feel good about who I am and bringing others together.'
'I think about AIDS daily. There's so much going on in my life now, I still have all these plans. It's important to tell this story because my life's still going on. I can still lead a productive life.' He knows it's naive to wish things were different. Hey, look, HIV and AIDS isn't something that happens to somebody else. It could affect your next door neighbor, Somebody you know. Your brother.
Don's fairly healthy now and running is coming along nicely. He's had to readjust goals for his illness so there may never be a marathon. ('20 edit, a couple years later with help of a new drug, he completed a walking marathon in 5:55) But there will be other races. He's busy planning Frontrunner and Gay Games activities. He's keeping on folks. He seems more at peace with himself everyday. All he wants is what all of us want, to feel that somehow he can make a difference.
Note from author: I was blown away by the 7 page layout in RW and equally pleased by reaction to the piece. It meant I'd told Don's story well. I was very happy for him. About time of publication, his HIV had become AIDS and since then he's led a life on the edge of health concerns, coping with one thing after another, taking too many pills, bending but never breaking. He's hosted a gay-friendly bowling tournament for over 20 years, something he's rightly proud of. His health has tailed off badly in recent years; trouble with speech, memory and balance. He's getting in 2 mile walks with a cane, a salve for the mind. He's keeping on, still making a difference. He turns 65 on August 2.
Photos: Top - Author Scott Hubbard (left) with his brother Don. Lower - Brothers Marshall, Don, their Mother and Scott.