Scott Hubbard Column - October, 2016: "I Run Michigan"
by RunMichigan Staff
,
Oct. 9, 2016
By Scott Hubbard,

Trivia: What are the fastest men's & women's marathon times for MI runners (graduates of a MI high school)?

Answer: Dathan Ritzenhein (Rockford) ran 2:07:47 in Chicago, 2012. Lisa Rainsberger (Battle Creek Central) ran 2:28:15 in Chicago, 1989.

TOP RUNNING RACE MISADVENTURES, AS THEY OCCURRED.

1. I raced barefoot in cross country my sophomore and junior years at Ann Arbor Huron High. About 150 yards into a race my junior year, the course turned 90* around some goal posts. Yes, too early in the race. I thought I had a step or two on the field and bore right, right into big trouble. I took a few strides and something didn't feel good in my right foot. I looked down and saw blood pouring out. I fell to the ground, scared and in pain! The race kept on without me. I'd been spiked, badly. At the hospital, the doctor put in over 30 stitches to close the 2 rows of wounds that went diagonally from my achilles to mid-foot. I saw the bill for the procedure years later; $50. Yes, only fifty dollars! I missed about 3 weeks of running. Even if I'd worn shoes, I would've been spiked nearly as badly.

2. As a freshman at Eastern Michigan University, went to Calvin College to race the MI NAIA indoor 2 mile. Went out to warm up for 10 minutes. I got lost. Plus, there was nobody around, it being night and winter time. I panicked but figured if I kept turning left I'd get back. I did but 10 minutes turned into 3 miles. Got back with 1 minute to go before my race. My coach, Bob Parks, saw me and rushed over and asked the starter to give me time to get my spikes on. I arrived at the start and a couple guys laughed at my explanation. I won the race.

3. Senior year at EMU in cross country, the '73 Spartan Invitational at MSU. Was feeling good, running with an Eastern teammate, Steve Stintzi from WMU and Mike Burns of CMU. I knew Steve and Mike could outkick me so I thought I'd better go about 1/2 mile from the finish and run as hard as I could. Looked ahead, saw a tree and...immediately went down with my teammate tumbling over the top of me. Geesh. I'd hit a high clump of grass picking out the tree. The other 2 were gone. I got going, very unhappy I didn't at least get a chance to beat the others.

4. Went to Roseville in 1980 to run the Big Bird 10 km, a 2 loop race. Went out at a good pace behind another guy. I don't recall split times but knew we were running fast. I'd run a 2:28 in the Detroit Free Press Marathon 3 weeks before. Heading into the 2nd loop, I was a little discouraged I couldn't close on the leader. Through 5 miles, I was 25:25. As we came around toward the finish I could see a parade of runners on a road we were headed toward. That was puzzling. I rounded the corner toward the finish and fell into step with a friend. He asked me where I'd come from. That was not a good sign. I finished in around 35:35 and immediately knew something was wrong. Turns out, the leader and I got so far ahead, the person assigned to turn us at the last corner didn't make it there in time. The 2nd loop was a shorter version of Lap 1. Talked with the race director later and he said, 'You should've known where the course went.' Right. Later I drove around and came up with 7 miles. A keeper effort, a missed chance.

TOP 3 CYCLING RACE MISADVENTURES:

3rd: in 2008 was at the Marquette Superior Bikefest 57 mile over a pretty, rolling route. After cresting the long hill next to Marquette Mountain, about a dozen guys (of our group of around 30) took off really hard. Not wanting to get left out, I tucked in the back. We were going much faster than I wanted but I hoped they'd settle down. Didn't happen. Racing south, I didn't sense the subtle tailwind. Just before the turn right and into a headwind I hit 'The Wall'; I was gassed, a very bad development as we had quite a ways to go. I rode alone for the next hour at a steady tempo, just below my pain threshhold. Finally, about 8 guys caught me that were in my race and they said, 'Yeah, we knew we couldn't go that fast,' so they'd stayed together at a solid, slower pace. They encouraged me to ride with them which I could barely manage before being forced to ease up with a calf cramp. I still had about 15 miles to go. Kept on in a Hurt Locker funk at every day training pace since it was the only way back, sometimes slower. Not even slower felt good. I eventually hit the finish straight, amazed the pro women hadn't caught me. They'd started 10 minutes after us. They finished about 5 minutes after me. I was a physical mess for the next 48 hours.

2nd: in 2007, the Black Bear 100 mile between Grayling & Oscoda, held in conjunction withe AuSable River canoe marathon. Was in good shape, sitting at the back of a large group of around 40 guys. After barely 3-4 miles there was massive pile-up in the middle of the road, blocking those in back. Meanwhile, those not affected raced away. It took me about 15 seconds to get around the bad crash (5 bikes, several riders hurt badly). Looking down the road, the pack was about 200 meters away. I immediately took off hard, sure others would too and we'd catch back up with the power of the peleton. Nope, they all strung out in a line behind me at 28 mph, unwilling to help. I was not happy, at all. Another 2 miles I had to resign myself to the fact we weren't catching up and dropped back. Nobody wanted to go very fast, idling along at 20-21 mph. Frustration put me back on the front and for the next 45 miles or so, I kept us going around 22-23 mph, energy dripping away. It caught up to me around 70 miles and I soft pedaled to 85 miles and sat on the curb, unsure how I'd get to the finish. A wife following her husband in a van pulled over where I was to hand off a fluid bottle, saw me, asked if she could help and I mentioned a ride to the end.

The winner/loser: Frankenmuth in 2011, we were barely 7 miles into the 3 lap, 45 mile race. Club mate Ed Reid was just ahead and we were cruising at 25 mph, west to east. It's vitally important to always pay attention, especially in a pack and I'd never been in a crash, race or group training. You know where this is going. All of a sudden, via either a combination of the rider ahead moving over a hair and me moving left or me having a lapse of attention but I tapped his back wheel and immediately went over HARD onto my right side. Chaos ensued. Two guys rode over the top of me and tumbled. Only one was able to continue. Laying there I felt waves of nausea course through me. That was not good. I laid there a while as a a guy from the trail vehicle tended to me. Got up after about 5 minutes and got a ride to the finish. Was in extreme pain loading the bike into my car and barely made it the last miles home of the 40 minute drive. Went to the local emergency clinic (it was a Sunday), waited my turn ... 2 hours later was x-rayed and given the great news, 'You have a BADLY broken collar bone.' Got fixed up in a harness and sent home. Saw my regular doctor 2 days later with the x-rays. 'Scott, this is pretty bad. I'm not going to show you the x-ray. It's ugly!' Splendid. Four weeks later, no riding, was given the okay to start again and was shown the x-ray. Bad break, indeed! The bones knitted, overlapping each other by about 1/4". Will always have a bump there.

WHY. From time to time over the past 48 years I've been asked, 'Why do you (run or bike)?' 'Because I can,' is plenty of answer to the query. The challenge is sufficiently rewarding.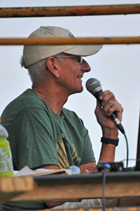 Website Editor's Note: After 35 years of contributing his thoughts as a writer for the Michigan Runner Magazine, RunMichigan.com is happy to be able to provide a location for future writings and running notes from Fenton, Michigan's Scott Hubbard. Scott has been a trusted member and contributor to the running community for many years now. Not only was Scott one of Michigan's top collegiate runners while at Eastern Michigan University and post collegiately, but he has provided his knowledge and expertise as a finish-line race announcer at many of our state's top running events. Look for more writings from Scott in this location and listen for Scott too, you may just hear him at your next race. Scott has provided columns to RunMichigan.com in the past and we are happy to welcome him back.