GVSU's Kendra Foley is NCAA D2 National XC Athlete of the Week (week of Sept. 19, 2016)
by RunMichigan Staff
,
Sep. 19, 2016
Provided by
The USTFCCCA
NEW ORLEANS — The U.S. Track & Field and Cross Country Coaches Association (USTFCCCA) is pleased to announce its third National Athletes of the Week for the 2016 cross country season.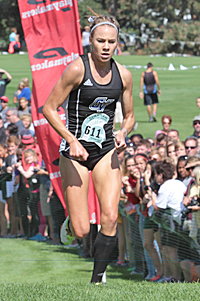 The USTFCCCA honors athletes from each NCAA division and both NJCAA divisions. This week's male honorees are Campbell's Lawrence Kipkoech (NCAA Division I), Bellarmine's Chris Striegel (NCAA Division II), UW-Eau Claire's Darin Lau (NCAA Division III), Central Arizona's Gilbert Kigen (NJCAA Division I) and Harper's Scott Williams (NJCAA Division III).

This week's female honorees are New Hampshire's Elinor Purrier (NCAA Division I), Grand Valley State's Kendra Foley (NCAA Division II), Johns Hopkins' Felicia Koerner (NCAA Division III), Iowa Central's Leanna Pompeani (NJCAA Division 1) and Harper's Ali Gutt (NJCAA Division III).

CLICK HERE to read full article.

Article provided courtesy of USTFCCCA.

Pictured: Kendra Foley about to take the 2016 Spartan Invitational Women's College Championship on September 16, 2016 at Michigan State University. Photo by John Brabbs/RunMichigan.com.