OLYMPIC UPDATES: Ann Arbor's Nick Willis takes Bronze in 1500 Meters ... More state of Michigan T&F athletes at Rio Olympics
by RunMichigan Staff
,
Aug. 12, 2016
By Dave McCauley / RunMichigan.com

Updated: August 20, 2016, 9:23 p.m., est.
Saturday, August 20, 2016: Blistering kick nabs 1500 Olympic Bronze Medal for Nick Willis
--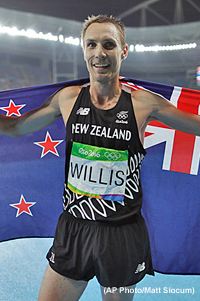 In one of the slowest 1500 Meter finals in recent Olympics history, a very casual opening pace played right into the hands of Ann Arbor resident and former Michigan wolverine Nick Willis as he powered his way through a crowd once again and claimed the Bronze Medal at the 2016 Olympic Games in Rio.
Willis bided his time patiently with the rest of the crowd as the USA's Matt Centrowitz led the whole field through a very pedestrian 2:16.7 at 800 Meters. Eventually though, the pace quickened, with Centrowitz forcing his will on the pack. With 400 meters to go it could have been anyone's race and at the finish the gold medal went to a determined Centrowitz.
Willis meanwhile, as he had done in the semis, forced his way late through a tight crowd, this time to capture the bronze medal. Willis's slow 1500 time of 3:50.24 was irrelevant as a medal was the only thing on his mind.
Willis, representing his native New Zealand, for whom he also brought home the 2008 1500 Meter Silver Medal, finished off his last 400 meters in 50.5 seconds and was all smiles as he crossed the line in third.
Pictured: Nick Willis celebrates after winning the bronze medal in the men's 1500-meter final during the athletics competitions of the 2016 Summer Olympics at the Olympic stadium in Rio de Janeiro, Brazil, Saturday, Aug. 20, 2016. (AP Photo/Matt Slocum)
Saturday, August 20, 2016: Nick Willis and Nate Brannen shoot for glory in 1500 FinalMen's 1500 Meters
-- Ann Arbor based Nick Willis of New Zealand finds himself in a familiar spot once again, the final of a huge world-class 1500 meter final. Willis, the former University of Michigan Wolverine and also 2008 Olympic 1500 Silver Medalist, will be shooting one more time to shine on the biggest stage of all.
Willis will be joined in the final by another former Wolverine runner, Canada's Nate Brannen. The Rio Men's 1500 Meter Final will take place Saturday night, August 20 at 8:00 PM, EST.
Also on the track schedule in Rio tonight will be the Men's 5000 Meter Final and Men's and Women's 4x400 Relay Finals. On Sunday morning, the last day of the 2016 Rio Olympics, look for the Men's Marathon to hit the roads of Rio at 8:30 A.M., EST.
Thursday, August 18, 2016: UM grads Willis and Brannen advance to Men's 1500 FinalMen's 1500 Meters
-- Both Nick Willis and Nathan Brannen qualified on Thursday night in Rio for the Men's 1500 Meter Finals to be held Saturday, August 20th at 8:00 PM EST.
In the first semi final of the evening, Nick Willis had to power through a tightly bunched crowd in the final 50 meters to finish in third place and grab a top-five automatic qualifying spot. New Zealander Willis (Ann Arbor/UM grad) finished with a time of 3:39.96.
Also in the first semi final, another former Wolverine runner, Canada's Nate Brannen, finished just out of the auto qualifying spots in seventh place but moved on to Saturday's final by virtue of his 3:40.2 finish time.
Willis and Brannen are just two of a long line of great former University of Michigan 1500/mile specialists who have enjoyed great success on the professional level.
Men's 1500 Meters
-- Former University of Michigan runners Nate Brannen and Nick Willis will be on the track tonight at the Rio Olympics for the semi finals of the 1500 Meters. Both Brannen and Willis will run in the first heat of the two semi finals. Starting time for tonight's Men's 1500 Meter semis is 7:45 PM EST.
Wednesday, August 17, 2016: Ofili sisters both make finals, Cindy Ofili just misses out on bronze medalWomen's 100 Meter Hurdle Finals
-- Ypsilanti born sisters Tiffany (Ofili) Porter and Cindy Ofili's best night ever together on the track came to an end with Cindy Ofili barely missing out on a bronze medal.
Ofili ran very close to her personal best, finishing in fourth place in the 100 Meter Hurdle final in a time of 12.63. Third place went to Kristi Castlin of the U.S.A. in 12.61.
Porter meanwhile ended up in seventh place with a time of 12.76. Members of Team Great Britain, both sisters grew up in the Detroit area and both had great careers on the track and field team at the University of Michigan.
Team U.S.A. came away with all the medals as first went to Brianna Rollins in 12.48 and second to Nia Ali in 12.59.
Post race quotes:Cindy Ofili
"I think once I get home I'll be able to figure out what I just did and I'll be very proud. Being here with my sister Tiffany [Porter] has been great.
"I thought I had a shot of bronze when I crossed but I kind of knew I was fourth. It was hard but I am still happy with my performance.
"I gave it the best I had so I am happy. Tiffany and I work very well together. Before the final, we prayed together and we share this whole experience together, which is amazing.
"It is exciting and this result opens opportunities. It has been a hard year but an experience like this at the Olympic Games is great and it bodes well for the future"
Tiffany Porter
"I'm really proud of myself. It's been a difficult year for me, so to maintain my composure in that final, I'm proud of myself for that.
"More importantly I'm proud of how my sister [Cindy Ofili] handled herself. It was a big relief to have each other in the final. She and I are each other's biggest competitors, but at the same time each other's biggest support.
"Having her alongside me to experience this I think is bittersweet now, but we'll appreciate it in the years to come."
(Quotes courtesy of Team GB Press Office.)
Women's 100 Meter Hurdles
--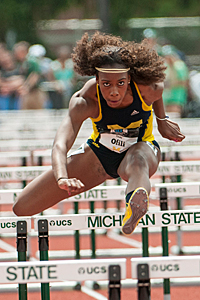 Two athletes with very solid ties to the state of Michigan will be fighting for a chance to advance to the 100 Meter Hurdles finals tonight in Rio. Tiffany (Ofili) Porter and Cindy Ofili, both born in Ypsilanti, Michigan, will be featuring for Team Great Britain with a solid chance to move to the finals.
Both Ofili sisters were Michigan high school state champs during their prep years -- Tiffany in MHSAA D2 at Ypsilanti High School and Cindy in D1 at Ann Arbor Huron. Both also went on to very successful careers at the University of Michigan, taking home NCAA individual track and field titles.
In tonight's (August 17) semi finals, Tiffany will be running in the first of three heats and Cindy will be in the third. The top two places automatically advance to the finals with the next overall two fastest times from all heats to advance as well. The semis are scheduled to begin at 7:45 PM EST with the finals at 9:55 PM EST.
Pictured: Cindy Ofili at the 2015 Big Ten T&F Championships, held at Michigan State University in May of 2015. (Photo: Ike Lea/RunMichigan.com)
Tuesday, August 16, 2016: Big day for UM grads in qualifying rounds, former Michigan high school state champ sisters survive and advanceMen's 110 Meter Hurdles
-- UM Alum and Canton, Michigan resident Jeff Porter just missed out on moving on to the semi finals in the 110 Meter Hurdles, bowing out of the Olympics with third place heat finish in 13.45. Porter's time just missed out on one of the additional fastest time qualifying spots for the finals.
Men's 1500 Meters
--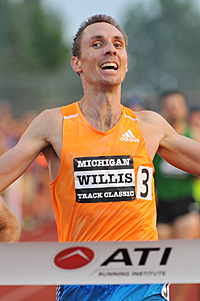 Two former Michigan Wolverine 1500 Meter and mile specialists qualified for the semi finals of the Men's 1500 Meters with both Nate Brannen and Nick Willis moving on to the next round. Brannen, who competes for his native Canada, finished in fourth place in his heat in 3:47.07 while Willis, running for New Zealand, ran a 3:38.55 and grabbed the last automatic qualifying spot in his heat.
Women's 100 Meter Hurdles
-- Sisters and former Michigan high school state champions and University of Michigan track greats Cindy Ofili and Tiffany (Ofili) Porter both advanced in the qualifying rounds of the Women's 100 Meter Hurdles. Ofili, who ran her high school track and Ann Arbor Huron High School, placed first in her qualifying heat with a time of 12.75. Porter, the wife of USA hurdler Jeff Porter, took second in her qualifying heat in 12.87. Both Cindy and Ofili run for Great Britain, the homeland of their mother.
Cindy Ofili and Tiffany Porter post-race quotes.
(Courtesy Team GB Press Office)
Cindy Ofili:
"That was the most comfortable race I have had all season; I feel a lot more confident now. The nerves are out and the rust is off, so I'm really excited.
"The aim is to make the final and then at that point anyone can do anything. I stayed to watch Tiff [Porter, older sister and teammate] and she's through too, so that's good."
Tiffany Porter:
"It was good. It was all about advancing and qualifying and I was happy to do that. I'm looking forward to the semi-finals.
"I watch him [husband Jeff Porter competes for the United States in the 110m hurdles]. I'm very happy to have my husband and my sister here. It's all very special."
Pictured: University of Michigan grad Nick Willis, winning the 2014 Michigan Track Classic's Ron Warhurst Mile at Saline High School. Willis organized the event in both 2013 and 2014, bringing a large group of elite women's and men's mid-distance runners to Saline. (Photo: Dave McCauley/RunMichigan.com)
Monday, August 15, 2016: EMU's Alejandro, UM's Jeff Porter advanceMen's 400M Hurdles
-- Former Eastern Michigan University hurdler Eric Alejandro competed today in the Men's 400M Hurdles. Alejandro, running out of lane six in the second heat of first round qualifying, powered to a second place heat finish in a time of 49.54. That runner-up finish eased Alejandro into the next round.
Men's 110M Hurdles
-- Canton, Michigan resident and former University of Michigan Wolverine Jeff Porter ran a 13.50 to finish second in his qualifying heat. Porter moves on to the semi-finals on Tuesday evening.
Sunday, August 14, 2016: Desi finishes in seventh, 3 Americans in top 10 of Women's MarathonWomen's 1500 Meters
Former University of Michigan mid-distance great Nicole Sifuentes of Canada saw her Olympics come to an earlier end than she had dreamed of, running to a seventh place finish in her semi-final and not qualifying for the final. Sifuentes just missed out on a top-five qualifying spot, finishing with a time of 4:08.53.
Women's Marathon: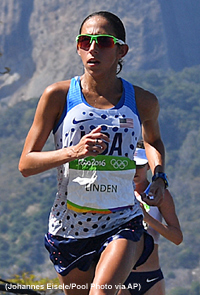 In one of the most anticipated races for distance running fans in Michigan, Desiree Linden who lives and trains in the Rochester area as a member of the Hansons-Brooks Distance Project hit the starting line for the USA in quest of medal glory. On a warm, humid day in Rio, Linden once again showed the patience that has served her well through the years to run an even race and finish in seventh place overall in a time of 2:26:08.
With time spent at the front of the lead pack and even more time spent all alone, Linden ran her race in hopes that the finish line would find her in a top-three spot. However, Kenya's Jemima Jelagat Sumgong, winner of this year's London Marathon, took home the gold medal -- the first for a Kenyan woman at the Olympic Marathon -- with a time of 2:24:04. Second place went to Eunice Kirwa of Bahrain in 2:24:13 and bronze went to Mare Dibaba in 2:24:30.
Linden's American teammate Shalane Flanagan finished fifth with a time of 2:25:26 while the third member of the USA team, Amy Cragg finished ninth in 2:28:25.
Des Linden post-race quotes provided courtesy USATF:
"I thought I ran really well. I wanted to run my own race and I felt like at times, it was happening around me. Surges and moves but I wanted to have another gear over that last 10 or 12 km. I think I might have been a little aggressive over that last 10 km loop going towards the far end, I got excited. I could see myself closing in and I just kind of got stuck in one pace coming back the rest of the way. I was completed gapped and I couldn't make any moves. It's the marathon; you know it's going to happen over the last 7 km. You say, 'someone will come back, someone will come back.' that you can pass and I got one person. I put everything out there. I'm not upset at all. I wish I could've been a bit better, could've been closer. We went all in and it's as good as I am. And that's the whole point. You come here to find out. It was good for me."
"I was ready for the (heat). I was prepared. After LA, I was like, I don't want to think about this for a long time. I don't feel too bad. I couldn't have that turnover on the late parts. Heat wasn't a big deal."
Pictured top: Desiree Linden is out front at the women's marathon during the Summer Olympics in Rio de Janeiro, Brazil, Sunday, Aug. 14, 2016. (AP Photo/Robert F. Bukaty)
Pictured: The United States' Desiree Linden competes in the the women's marathon during the Summer Olympics athletics event in Rio de Janeiro, Brazil, Sunday, Aug. 14, 2016. (Johannes Eisele/Pool Photo via AP)
Friday, August 12, 2016: Evans Olympic experience ends in qualifying roundMen's Discus: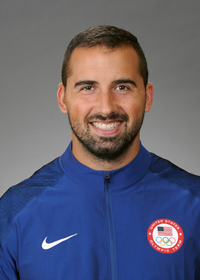 Portage (Michigan) Northern H.S. grad and former state of Michigan high school state discus champion ('08 and '09) Andrew Evans finished in 16th place out of 34 competitors. Evans throw of 61.87 meters was not good enough to qualify for the next round of competition with the top 12 advancing. Evans, who grew up in Portage, ended his college track and field career at the University of Kentucky.
Pictured: Andrew Evans (Photo courtesy USOC)
Women's 10,000 Meters:
In the fastest women's 10,000 ever at an Olympic Games, former Michigan State University Law student Lanni Marchant of Canada ran a season's best time of 32:04.21 to place 25th out of 37 competitors. The overall winner in a new World and Olympic Record time of 29:17.45 was Almaz Ayana of Ethiopia. Also in this race, Molly Huddle was the top American finisher in 5th place with a time of 30:13.17.
Women's 1500 MetersSifuentes Moves On
--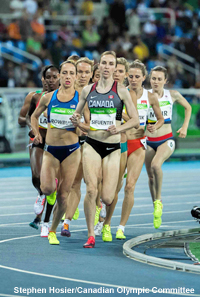 University of Michigan grad and former wolverine great Nicole Sifuentes was in action in the first round of the Women's 1500. Sifuentes ran from the front in the third and final heat of Round One, ending up in seventh place in her heat with a time of 4:07.43. Although only the top six from each heat moved on automatically to the semi-finals, Sifuentes was able to qualify based on her time and head to the semis which take place Sunday evening, August 14.
Pictured: Nicole Sifuentes leads early during her first round heat on August 12, 2016 at the Rio Olympics. (Photo by Stephen Hosier/Canadian Olympic Committee)