Ron Marinucci: July Column - Challenge of the Senses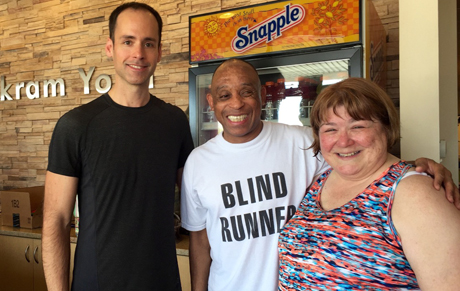 By Ron Marinucci
Michael Holmes and I have been training together for about 16 or 17 years. Holmes is blind and I am one of his several guide runners.
As if his 37 years of running haven't been enough, he also participates in other exercise activities. He has an elliptical trainer and has toyed with weights. Especially in the past, he's been a stair-climber, even entering multi-story events in skyscrapers.
For some time now, Holmes has also engaged in yoga. He takes Bikram yoga classes. According to his yoga instructor at Detroit Bikram—Troy, Ian O'Laughlin, "Bikram yoga is a therapeutic system that includes a routine of 26 postures and two breathing exercises. It's practiced in a heated room." The temperature in the room is 104 degrees, with the humidity set at 40%. O'Laughlin continued, "The heated environment promotes detoxification, improves circulation, and creates a safe environment to stretch muscles."
Bikram, he added, "is a beginning yoga class that welcomes all levels of experience. It's practiced with precise verbal instructions for 90 minutes. Bikram is always the same. So you know what to expect each time."
Throughout my years as a guide runner for Holmes, I've drawn inspiration from him, both his blind running and his indomitable positive spirit. I've also frequently wonder how he does it. How does he run without sight? And he doesn't just run; he races at a variety of distances, even having completed half a dozen marathons.
With all of this in mind, "The Challenge of the Senses: Yoga without Sight," was hatched. I don't know exactly when Holmes came up with the idea, but I think it was on a run we had late last winter or early last spring. He broached the prospect of a blind yoga challenge. That is, he would challenge his instructor, O'Laughlin, and his entire class to a 90-minute routine without their own sight.
Holmes said, "I wanted them to experience what I go through," both in yoga classes and in running. He approached O'Laughlin with the proposal.
O'Laughlin recalled, "I was immediately intrigued, perhaps by the challenge of it since we rely so much on our open eyes and mirrors in this yoga style. But more importantly, I'm so impressed with Michael attending Bikram yoga over the years. I wanted to experience something of what he experiences daily."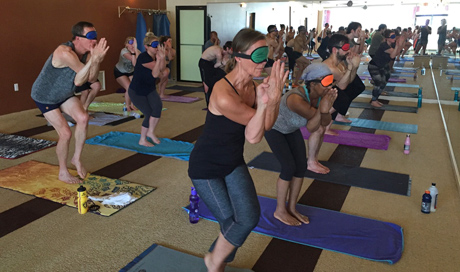 A date was set, April 24th, and 33 students accepted the challenge. They were instructed to attend class "as usual," to bring their water and yoga mats. O'Laughlin also encouraged them "to bring an open mind."
On the 24th, Holmes and his wife, Judy, greeted the class upon its arrival. She helped to hand out blindfolds provided by O'Laughlin. "The blindfolds completely blacked out any light." Some of the students were "a little intimidated," while others participated as "sight buddies," similar to my role as a guide runner. The yogis were advised that the 90 minutes might be "intense," with not only the heat and 90 minutes of postures and exercises, but also experiencing them while wearing blindfolds. They were told "to be careful" and that they could take off the blindfolds if necessary. O'Laughlin noted, "Very few removed them during the class."
Of his own role as the instructor, he admitted, "It was challenging to teach this class. I had to put a lot of emphasis on clear and precise verbal instructions. Most Bikram yogis rely so much on their vision." Holmes chimed in, "Normally, they see the instructor for the poses. And they can look in the mirrors [to check their posture]." But, these yogis were blindfolded.
Of the 33 yogis who accepted Holmes's challenge, experience with yoga varied widely. Yet their experiences and reaction were very similar and revealing.
Frances O'Laughlin took her first Bikram class in 2001. "I love the heat," she said. "I like that it is the same class very time, with the same postures and breathing exercises. I love the routine." She eventually completed Bikram yoga teacher training and still teaches classes five or six days a week.
She recalled, "I had Michael for his first class. I was stunned that anyone could consider doing this practice without sight. We depend heavily on mirrors to adjust our alignment in postures and to keep our balance. And when he kept coming back for more, I slowly watched him become less reliant on his 'sight buddy,' Stacy."
When Holmes issued the challenge, "I was one of the first interested to take him up on it. I was curious how the practice would be for me without sight. I put myself in the front row, next to the teacher on the podium." She quipped, "I had it all under control, my water bottle at the top of my mat and my mat square to the mirrors. I was sure I 'had this.' No problem."
Then, on came the blindfold. "Whoa! My balance…. I had to keep my feet apart a bit rather than toes and heels touching. OK. Then moving through the postures, as long as we stood still, I could manage somewhat and slowly I could get my feet to touch each other."
The blindfold did provide some surprise for her. "It was dark, peaceful, no distractions. I didn't expect that."
But, she admitted, although she is an instructor, "I really had to listen to the teacher. Then came the balancing postures. [They were] pretty much a disaster. I could hardly lift one foot off the ground, let alone grab it. Since I knew in my head how the posture is supposed to look, I wasn't close. It was very humbling not to be able to do my favorite postures. I tried and tried, picking up my foot and putting it down over and over."
"At one point," she said, "the teacher said, very close to me, 'Frances, I am going to turn you straight toward the mirrors.' And I said, loudly, a bit shocked, 'No!,' because I had no idea that I had pivoted 90 degrees, facing the side of the room. I thought I had heard my way to keep my direction straight, facing the mirror. But no, I had turned without realizing it at all. In fact, I had to be set straight more than once in the class."
She repeated, "The balancing postures were, for me, a disaster. I could not stand on one leg." As the class went through the postures, she found she was able to "manage them" and "once we were on the floor for the second half of the class, it seemed to go better."
She was also "getting used to not seeing," even "getting more comfortable with it." She began to "use my hands to feel the edge of the mat to make sure I was on it and square to it. I put my water bottle in the same spot each time used it."
Not seeing the mirrors didn't seem to be a problem for O'Laughlin. "I 'saw' myself in my head." And she learned. Some students near a wall discovered they balanced better "with just a simple finger touch. If there is a next time, I will place myself near a wall."
The conclusion brought revelations. "I felt enormous gratitude for my sense of sight and how much I depend on it…. I felt pretty much out of control in the first part of the class." She finished with, "I gained more respect for Michael and how he does manage to balance and get through the class."
Lynn Medow is also very experienced in yoga, having been involved for 25 years. She, too, teaches yoga, "although not the Bikram style," and is a yoga therapist. Perhaps with that in mind, she anticipated "that the experience would be unique, but that I would still be able to reach the depth of my poses that I normally experience." But, she admitted, "The class was most humbling."
She explained, "Having been a classical ballerina in my youth and always quite physically adept, I assumed that I had the proprioception to maintain my equilibrium even with my eyes closed." That is, her other senses would take over, compensate, and she'd do just fine. "I realized during the class that the world completely changes when without sight. It would take hours of practice and recruitment of the other senses to be comfortable in that space."
In the end, she said, "I am grateful for Michael for facilitating this experience. I was thrilled to have an opportunity to put myself in another's shoes. The more we can feel, connect, and have glimmers of understanding of the experiences of others, the better this world will be."
Snehal Haria has "been practicing Bikram yoga for more than three years now." She came to the challenge with a bit of a different perspective. "I personally have weak vision," she admitted, "and can see with the aid of contact lenses. In regular [yoga] classes," without contacts, "I can barely see myself clearly in the mirrors. So when the challenge was posted, my reaction was 'What must that be like, being in total darkness?'" She noted, "With my blurry vision, at least I am able to see the light. But complete darkness? That must be so tough." She expected "a challenging class."
Haria thought that the class "went great. Yet, the yoga series felt different, like a whole new class that day. It began being very chaotic, mentally; my mind was racing, all confused. The beginning 15 to 20 minutes, especially the standing balancing series, was a real challenge. I could not balance on one foot."
"Eventually," she began "feeling very calm. I was more sensitive to my hearing and body movement."
She gained some insights. "I like having my mat being perfectly laid out straight, standing exactly in the middle," she explained. "Not being able to know whether my mat was crooked or if I was standing too far left or too far right of the mat and not being able to check, was eye-opening." But she
learned. "It was a different feeling to realize that some things do not have to be perfect, that you have to let go." Like others, Haria thought, "It was a great experience. [I learned] to be grateful for simple things that are taken for granted and to be more mindful."
Also starting Bikram about three years ago is Brenda Ulrich. Her initial reaction to the challenge was "a combination of fear and curiosity. 'What would happen without those mirrors I rely on so heavily?' Since alignment is really important to maintain safety in the postures, 'Would I hurt myself?'"
She found the challenge intriguing. "What would happen when I relied only on my other senses? Would focusing on the varying pressure in different areas of my feet and my memory of how the muscles and joints are positioned in the postures be enough to align my body and maintain my balance?"
But, she noted, "Curiosity triumphed over fear." She asked herself, "How much courage does it take a blind person to navigate through our world? How much skill and ability does it take to participate in a sport without using sight?" The challenge might help her find some answers, although she admitted, "Those with sight will never really know, but accepting the challenge of this limited experience in a structured format seemed to be a great way to get a small experience of their world."
Ulrich expected "to fail miserably in the balancing series." And she did find "it very difficult to maintain balance without vision. I could not maintain my balance. I had to use the wall when I was standing on only one leg." That allowed her to find some balance and orientation. "I always thought the big challenge for those without sight would be navigating. I never thought about the difficulties in balancing or alignment."
Moving to the floor postures, away from the standing balancing postures, she did better. "I found that without the visual stimulation I felt calm and serene. That was unexpected and really peaceful."
Ulrich said she "had fun experiencing the challenge with my yoga friends. I'm so glad Michael presented us with this challenge and that Detroit Bikram accepted it. I would definitely participate in other blind yoga challenge."
Rachel Oden has "been doing yoga for approximately seven and a half or eight years with Ian and Jenny [O'Laughlin]" at Detroit Bikram. "I was intrigued immediately when I heard about it [the challenge]." She even found herself, in anticipation, "closing my eyes as I did some poses around the house. I realized this was, indeed, going to be a challenge. I wondered how different those [the poses] are with no sight and only with intuition and awareness." But, she thought, "if you practice you can do anything halfway decent, right?"
"I could not have been more wrong. I was absolutely floored. Once I placed my feet on the hot room floor and started the poses, it was nothing like I'd practiced. The preparation didn't work at all and I felt [out of place]."
"I expected to be able to do most of the postures that required both of my feet on the floor, for sure. I knew standing on one leg was going to be difficult. Even when I attempted in my home practice attempts they weren't that successful." She thought, "With the yoga friends I would have that certain amount of energy flowing in the room and it would be okay by challenge time." It was a case of "mind over matter" or so she reckoned.
She admitted, "I started to literally freak out once the eye mask was placed over my eyes. I was no longer in control. I could hear my heart beat. It was weirdly unfamiliar for me to be this unsettled in the yoga room. I had to tell myself to 'settle down and just breathe. You are surrounded by what I call my yoga family and friends.'" With her racing heart slowing a bit, she "tried to concentrate on just one posture at a time."
"I didn't complete the standing series as I normally would. It was by far the hardest class ever. I started using my feet as a guide to keep me at least on my own mat and in my own area. I said, 'I got this now.' Again, I could not have been more wrong." As with others, Ian O'Laughlin turned her around and made some other adjustments. As with Frances O'Laughlin, "I didn't believe him. He was the one with eyes open and I was so certain I was right." That caused Oden to consider an issue that Holmes confronts, trust.
She thought that "once we get to the floor, I'm going to be just fine. It was better, but not good. I just couldn't get it out of my own head to settle down. I kept thinking, 'How does one feel every day without seeing what I see, what I am able to focus on in this room and make adjustments?'"
Oden renewed her "respect, for what I am blessed with" and for Michael and what he does. "It was an honor doing this challenge," she said and hopes to repeat it when offered again.
Bill Guisinger is not merely a yogi, but has also been a guide runner for Holmes. He eagerly joined the challenge. He has "been practicing yoga for ten years and currently practices two times a week." He "was looking forward to the experience of being blindfolded for the 26 postures of Bikram yoga." His guide runner experience taught him that "It was going to be a big challenge trying to do the balancing portion. From the beginning, I was challenged." Not having use of the mirrors, he was prevented from getting feedback and proper alignment with the postures. The poses that were on the floor were "less of a challenge." But he also found the time to be "more introspective, with more awareness of my body movements."
Throughout, he said, "I thought about how challenging this yoga practice must be for Michael."
A newcomer to Bikram is Michael Thomas. The kindergarten teacher admitted to being "fairly new to the practice. I started in November of last year. I am typically in a weekend class with Michael and have always thought of him as inspiration to my personal practice."
"When I first read about the challenge, I thought, 'What a great way to honor the work that Michael does in class each week.' I knew that I had to be part of the challenge and signed up very soon after receiving Ian's studio e-mail."
Thomas "had no idea what to expect. However, I did know that the challenge was going to be just that, a true challenge to my practice. What I didn't know was that it would really impact me in a profound way, physically, mentally, and emotionally."
Physically, he was hit first. "It was the hardest practice I have participated in. It was so difficult because of my loss of sight. I could not get into many of the standing series poses that required me to get one of my feet off the ground…. I thought, 'What did I get myself into?'" Then came the rest.
"At that moment a wave of humility hit me like a brick wall. I was not going to be able to get through this practice unless I changed my mindset. I never knew just how much of my ability to balance was tied to my sight. I had to accept that I was going to have a new normal for this practice."
"Overall," he recounted with emotion, "the practice was emotional and humbling. I was overwhelmed with the thought of 'What if I lost my sight in life, what would it be like? How would my life change?' Although I am still a beginner in my practice, I have strengths within my expressions of the postures. Yet, I could not participate in many of the ways that [had been] routine for me."
Still, Thomas was pleasantly surprised at "the sense of community and support that was present in the room that day. Perhaps it was the knowledge that others were struggling just like me or the laughter and commentary that was going throughout the class." The emotions got to him. "My eyes teared up." He thought it was for a couple of reasons. "I succumbed to the fear of losing my sight and how that would affect my practice [of yoga]." He admitted, "It was a strange emotion to feel." But also, he said, "I felt this amazing feeling of support, community, and positive energy that came from a room of familiar practitioners and strangers alike."
"While I was extremely exhausted at the close of the practice, both physically and mentally, I was so happy to have completed the practice and taken part in the challenge. Two words come to mind right away, compassion and humility. I was reminded that I should have compassion for others and send compassionate thoughts to those in need. It also reminded me to be grateful of who I am and what I can do. It was humbling to my soul and my practice when I could barely get my feet off the floor. The whole experience was amazing."
O'Laughlin chimed in again at the end. "I could see what most participants were thinking by the looks on their faces, the struggles, frustration, the laughter, and emotions coming out. It's humbling when we realize how much we take for granted in our daily lives, such as our sight. It's humbling and emotional when you gain insight and empathy into other people's lives. For example, we now have supremely more appreciation for Michael than we did before and respect for the wonderful, courageous, and positive attitude he brings to his daily life and the people around him. I'm so grateful Michael gave us this opportunity and for the 33 brave yogis who showed up to have this experience. The yoga community is filled with amazing people and I'm grateful for it every day."
Thinking ahead, O'Laughlin said he's considering a similar "challenge" for runners, as a way to experience Bikram yoga. "Over the last 15 years of our teaching, we've seen countless runners and triathletes get phenomenal results when doing Bikram yoga with their normal running routines." He suggested that "Even just two times a week makes a huge difference in their stamina, breathing, flexibility, and joints. We can help runners extend their running careers and have more fulfilling careers with fewer injuries."
Holmes, for his part, modestly added, "I was very satisfied. I think everybody got something out of it, even if it was only for a short time."