Crim announces race scholarships, "I Crim for Flint" campaign
by RunMichigan Staff
,
Mar. 25, 2016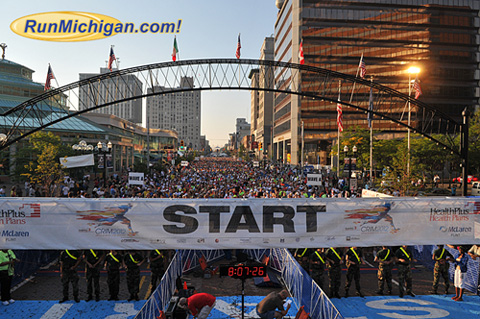 FLINT, Michigan -- As a leader in health and wellness, the Crim Fitness Foundation announced at a press conference March 23, 2016, several new initiatives designed to rally the community and lead its recovery around an agenda of hope, healing and health as it manages the impacts of the water crisis.
HealthPlus Crim Festival of Races Scholarships
This year marks the 40th anniversary of The Crim Fitness Foundation's
HealthPlus Crim Festival of Races. Recognizing that healthy living and
exercise are crucial to the overall health and wellbeing of our community, for the first time ever, the HealthPlus Crim Festival of Races will allocate $40,000, previously earmarked as race prize dollars, to admission scholarships for Flint residents who may not otherwise be able to participate.
These scholarships will allow more than 2,000 additional Flint residents to enter the race, doubling the number of residents from last year. Recipients of these scholarships will have the opportunity to walk or run in any of the Crim races, including the Michigan Mile, 5K, 8K and 10 mile races. The HealthPlus Crim Festival of Races will be held August 26 and 27.
"Completing a race takes discipline. It takes courage. It takes perseverance. And it takes the support of those around you," said Andrew Younger, Race Director.
"These are the qualities that exemplify our participants and these are the qualities that exemplify this city. After 40 years of working together, one thing we know is that the people of Flint do not stand still and we at the HealthPlus Crim Festival of Races want to do everything we can to support the 'never quit' spirit of Flint."
Applications for race scholarships will be available at pre-established locations in the community. Recipients can also participate in the CrimFit Adult Training Program, which begins May 10, at the highly discounted rate of $45 for a 15-week program, made possible by Diplomat Pharmacy. These programs help participants prepare for their race by training close to home at times that work well with their schedule.
With the redistribution of funds earmarked for prize money, the plan is to not offer prize money for the ten-mile or the
professional mile races for 2016.
"With everything that has happened in Flint, we need to send as strong a message as possible that the Crim is here for Flint, and that we are pushing all possible resources to promote the Health and Wellness of everyone in the community," said Andrew Younger, Race Director.
"At this point, it is just a one-time program for this year only, and we will bring the prize purse back next year. We do have some dollars to help offset travel costs for Elites and other special guests who want to come and support the race this year."
Two areas where the Crim will still be offering prize money is for the wheelers/handcyclists as well as for the USATF Masters Mile National Championship.
Pay It Forward
In response to inquiries from many individuals asking what they can do to help the community, the Crim is providing an opportunity for individuals to take an active role in providing additional race scholarships through the "Pay it Forward" program.
Individuals can visit the Crim website at www.crim.org and make a tax-deductible contribution to help provide additional race scholarships for City of Flint residents. "This is a great opportunity for anyone, whether they are from this community or another location across the country or world, to play a direct role in supporting the health and well being of those in our community," said Younger.
"Participating in the Pay it Forward program allows those who have never before had the opportunity the chance to get out, be active and publicly demonstrate the resilience and spirit of Flint by being part of the HealthPlus Crim Festival of Races."
"I Crim for Flint" Outreach Campaign
The giveback initiatives announced at the press conference, the first of several press events that will take place in coming weeks, are part of the Crim Fitness Foundation's dynamic new "I Crim for Flint" outreach campaign. I Crim for Flint will use multi-media tools, documentary and portrait style photographs, as well as short videos, to encourage those in and outside of the Flint community to engage in a healthy lifestyle that includes physical activity, mindfulness and healthy eating, and to encourage one another to show support and show solidarity with the people of Flint.
"People from around the world have been so generous in the face of this water crisis, asking 'What can we do for Flint?'," said Gerry Myers, Crim Fitness Foundation CEO.
"My answer to those people is--you can "Crim" with us and help support the community. The Crim has been part of this community for 40 years and we will be here far into the future. Not only with the 2016 HealthPlus Crim Festival of Races, but also through the Crim Fitness Foundation's many other physical activity, nutrition and mindfulness programs, we will be rallying the community around an agenda of hope, healing and health. We seek to rally the community around the race and through the Crim's many health and wellness programs to encourage each person in our community to be healthier and more empowered. Together, we can send a signal to the world and to ourselves that Flint never quits. Flint stands together. Flint moves forward and finishes the race. This year, 'Crim for Flint'."
Crim Programs Key to Health
Further, as leaders in the medical community continue to agree, healthy lifestyles and nutritious diets are the best ways for children and adults to mitigate the consequences of lead exposure. Proceeds from this year's HealthPlus Crim Festival of Races will go to support the Crim Fitness Foundation's many physical activity, nutrition and mindfulness programs for children and adults throughout Genesee County. The Crim coordinates more than 20 events and programs and year round advocacy for policy, systems, and environmental change initiatives to transform the culture of health in our community.
Many healthcare providers see Crim Fitness Foundation programs as important tools in disease prevention. "As physicians looking to the future of healthcare, we are learning that our primary role will not be to prescribe medicine, but to serve in the interest of people through prevention of disease using a focus on diet and lifestyle," said Dr. Michael Kia, a general surgeon at McLaren Bariatric Institute and Michigan State University associate clinical professor, who spoke about the benefits of Crim programs to his patients.
The Crim Fitness Foundation
The Crim Fitness Foundation cultivates accessible, vibrant communities in
Flint and Genesee County that encourage people to lead healthy lifestyles
by integrating physical activity, healthy eating and mindfulness into their
daily lives and mentors other communities to do the same. The Crim uses
events, programs, and policy, systems, and environmental changes to
transform the community. Year-round programs include races and events,
training programs, mindfulness training for youth and adults, community
gardens, nutrition education and advocacy. In addition, the Crim serves as
the lead agency of Flint's Community Education Initiative.