Jeff Hollobaugh: 2015 D1 State T&F Finals; Nearly eight million stories ...
by RunMichigan Staff
,
May. 31, 2015
By Jeff Hollobaugh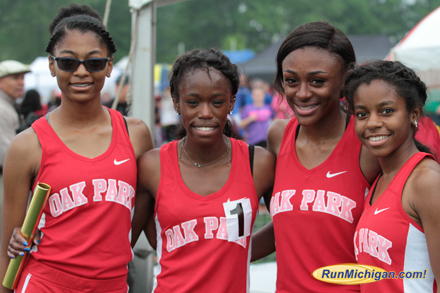 A long time ago, a TV crime show ended each episode with the line, "There are eight million stories in the naked city. This has been one of them."
That has always reminded me of the challenge of writing about a great track meet. Maybe there aren't eight million stories, but there are hundreds of different story lines to follow and there is no way to do justice to them all. Do the Oak Park girls trump Grant Fisher? Is Donavan Brazier better than pole vaulter Mackenzie Shell?
Apples, oranges, you get the picture. This year's meet featured so much drama that it's hard to decide which story to lead with. Grant Fisher will have to do. The Grand Blanc senior, running his final meet in the Bobcat jersey, came to Rockford with lofty goals. One indication, perhaps, is that a second timing camera had been placed 9.34 meters past the finish line of the 1600, at the exact point of the classic mile distance.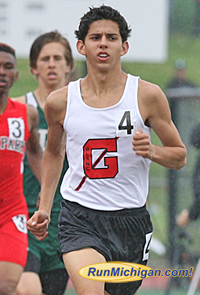 In a light rain, Fisher had to run the bulk of the first lap in lane 7 because of his seeding position. Often one to sit and kick, this time he made his intent clear from the start. At the first 400, his 59.47 led by 10-meters. He continued to stretch that lead, hitting 800 in 1:59.77—35-meters ahead. By the third lap, the challenge of running that velocity all alone started to show on the 18-year-old. It would be his slowest lap, at 62.37. The crowd got to its feet, realizing what a rare work of art they were seeing him create.
At 1200m, Fisher's 3:02.14 meant he needed a 57.5 to break 4:00 for the official race distance of 1600. To break four for the full mile, he would need to go another 1.5 seconds faster yet. He kicked furiously but didn't have quite enough. He passed the 1500m mark in 3:46.10, over three seconds slower than he had run at Stanford four weeks earlier. Powering down the homestretch, he cleared the official finish line in 4:00.28. He continued at top speed and hit the mile in 4:01.67. Only 10 prep milers have ever run faster in U.S. history. On the all-time list, Fisher is now lodged between the legendary Gerry Lindgren and Galen Rupp, and still has another month of racing to go.
His 1600/mile times broke the state records he set last year in winning the Dream Mile in 4:02.02. Fisher's rivals may have been left far behind, but they recorded probably the fastest mass finish in Michigan history. Three others dipped under 4:10, and sixth place ran an astounding 4:11.07. Logan Wetzel of Saline kicked well to grab runner-up honors in 4:08.04, just ahead of Ben Hill's 4:08.17. Anthony Berry ran fourth in 4:09.03. Fifth went to Rockford freshman Cole Johnson, who clocked 4:10.50. Johnson also made it to the mile line (not everyone did) where his 4:12.22 broke the national record for ninth graders.
(The complete mile times, since they will likely be published nowhere else: Fisher 4:01.67, Wetzel 4:09.74, Hill 4:09.97, Berry 4:10.67, Johnson 4:12.22, Jacob Domagalski 4:13.68, Jackson Grzymkowski 4:18.39, Blake Borkowski 4:19.04, Christian Hubaker 4:20.20, Cameron Cooper 4:21.63, Enael Woldemichael 4:25.50, Kyler Bush 4:27.76, Andrew Lorant 4:29.35, Rob Roest 4:40.60, Lucas Arrivo 4:53.35. Note that the race ended at 1600m, and many of the later runners were walking by the time they passed the mile camera. So while these in some cases are statistically very significant, they shouldn't be looked on as a true measure of how the competition went.)
Fisher returned to the track for the 3200, but the weather had deteriorated markedly. Ryan Robinson of Waterford Mott, fresh off his 8:56.77 state leader at the Oakland County Championships, followed the only plan that made sense. Knowing that Fisher probably wouldn't lead in the gusty winds, he had to do it himself and hope that the defending champ would be too tired from his record-setting mile to be able to kick effectively at the end. A good plan, yes—the only logical one, yes—but unfortunately for Robinson, Fisher had more in the tank.
The Mott senior, who had weathered a bout of mononucleosis over the winter, ground through the first half of the race in 4:23.8, but slowed as the winds battered him. On the last lap, Fisher flew by with 250m left, clocking 27.4 for his final 200 on his way to a win in 8:53.41, a time bettered at the state finals only by Dathan Ritzenhein 14 years ago. Robinson finished in a respectable 9:00.65.
The Oak Park steamroller:
They were everywhere, winning. Coach Brandon Jiles has put together one of the strongest teams in the nation and on the girls side they have become virtually unbeatable. The Oak Park Knights won their second straight state title, again by a monstrous margin. The smart money says it won't be their last. The fireworks started with the 4 x 800, which I've written about in its own section below. Despite a few setbacks with some of the sprinters and hurdlers not making the finals, the afternoon shaped up well.
In chronological order:
*The team of Tamea Mckelvy, Carlita Taylor, Anna Jefferson, and Brianna Holloway won the 4 x 200 in 1:39.55 with a margin of 2.35 seconds over runner-up Rockford, anchored by Sammy Cuneo.
*In the 4 x 100, perfect passing by Kailsi Latta-Thompson, Mckelvy, and Taylor brought the baton to Jefferson. However, the veteran sprinter had to hold off the state's fastest , three-time 100 champ Sekayi Bracey of East Kentwood. It took the camera to separate the two at the finish, but Oak Park prevailed, 48.17 to 48.18.
*Jefferson lined up as the defending champ and meet record holder in the 400, but the weather had started to turn ugly. Plus, she had a new challenger in Rockford's Cuneo, who just last month had run her first one-lapper ever in 54.71, a time that made her No. 9 on the all-time list. In the end, Cuneo had more in the stretch, triumphing in 55.32 to Jefferson's 56.10. Still, eight more points for Oak Park.
*In the 300 hurdles, Holloway is the year's fastest and she ran like it, dominating the field to win in 43.50—a very notable time considering the wind she faced. Holloway, incidentally, is the only girl in state history to break 60 seconds in the 400 hurdles, the college/Olympic distance that Michigan preps only get to run in the summer.
*The 800 figured to be a major OP event, and for the first lap Ersula Farrow and her teammates ran 1-2-3. Farrow stayed in front, winning her second straight title in 2:08.43. Dorriann Coleman grabbed second in 2:11.44, while senior Jayla Fleming scored in eight (2:16.57).
*The 200 saw Jefferson take on Bracey again. She pulled down another eight points, running a wind-aided 24.70 to Bracey's 24.62. Cuneo ran third in 24.83. Remarkably, the top three finish order has been the same for the last three years, but it will likely change next year, as Cuneo needs to go to college now.
*By the time of the 4 x 400, Oak Park had the win sewed up, but pride wouldn't let them go easy. The 4 x 400 is the school's signature event, the one where they have won national championships. But while they were defending their title from last season, the memory of the 2013 race still burns strong. That year they crossed the finish line in first but were disqualified because one runner had a hair band on her wrist, a violation of the controversial "jewelry" rule that no longer exists. This year, Johnyce Powell, Drew Coleman, Farrow, and Dorriann Coleman kept churning out 57s until they hit the finish line in a victorious 3:51.50. That gave the team a total of 93 points, with a winning margin of 38.5.
Donavan Brazier: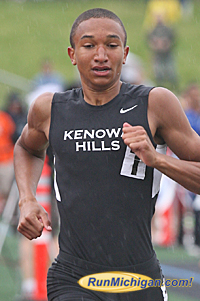 Earlier in the week, the state record holder at 800 had said he thought he might run the relay on the easy side, and then try to break his record in the open 800 later. The weather and his own adrenaline played against that plan. In the 4 x 800, Brazier got the stick in 14th place, and set out to finish in the top eight so that his teammates could claim All-State status (top 8). One thing led to another as Brazier tore past his opponents. He ran his first lap in 53.02 and kept pouring it on, bringing his team all the way to fourth. His 1:48.25 is the fastest relay split in state history.
In the hours following, the wind picked up, and conditions were no longer ideal for what Brazier wanted in the open 800. He still took the lead early, running alongside Grand Blanc's Drake Gauthier and passing halfway in 54.95. He then accelerated with 300 to go and any semblance of competition vanished on the wet track behind him. Finishing with negative splits (a 54.03 closer), Brazier clocked 1:48.98 to break his meet record of 1:50.24. It is the fourth-fastest time in state history, and Brazier, who is headed for Texas A&M, already owns the top three. Later in the day, his 47.04 anchor in the 4 x 400 brought his teammates runner-up honors in the 4 x 400.
Wetzel, Bowden and Saline: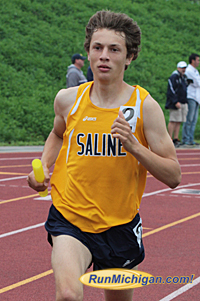 The Hornets mounted an impressive team effort to unseat East Kentwood as team champs on the boys side. Two stars led the way, Logan Wetzel and Skyler Bowden. Wetzel brought the 4 x 800 team to victory in a meet record 7:38.97, the fourth-fastest time in state history. Wetzel's anchor was an amazing 1:50.82—solid national class running, even if many eyes in the audience were on Brazier's phenomenal catch-up act more than 50 meters behind.
In the 1600 and 800, Wetzel faced a unique predicament. In each race he would be facing the nation's top runner. In real terms, no high schooler in the land had a chance to unseat the favorites. So the Villanova-bound Wetzel ran smart, aiming to maximize team points with a runner-up finish in each. He succeeded, thanks to a pair of very well-timed kicks. His times of 4:08.04 and 1:52.74 are both outstanding.
For sprinter Skyler Bowden, the challenge came in the form of a challenge from friend Jaron Flournoy. The two are teammates and training partners in the off-season, but during the MHSAA months, Flournoy runs for Westland John Glenn. Flournoy had tweeted early in the spring that he aimed to win the three sprints in the state finals. Though troubled by his hamstring, he emerged at regionals to qualify for all three. Bowden, meanwhile, qualified in the 200, 400, and expected to help his team on the 4 x 200 and 4 x 400 relays.
Flournoy showed his stuff by winning the 100 in 10.56, one of the fastest in state history. Bowden responded by anchoring Saline to a fourth-place 4 x 200 in 1:27.84, as Monroe won in 1:27.42. Then came the 400, and Flournoy, perhaps concerned about his hamstring and the decline of the weather, scratched. Bowden stormed to a huge 0.60 win in 47.87.
The 200 match-up came next. Flournoy got out fast and dominated the turn, hitting the straight with a significant lead. However, Bowden has the strength to drive hard in the closing stages of the race and he did just that. At the finish, Flournoy prevailed in a wind-aided 21.25, but Bowden (21.29) nearly caught him.
Bowden closed his day with Wetzel in the 4 x 400. David Alberdi led off in 52.1, handing off to Wetzel, who managed a 50.9 on tired legs. Hurdler Josiah Davis cranked out a 51.30. When Bowden got the stick, he was 10-meters behind in second place. He finished like a runaway train—he needed to, with Brazier coming up fast from behind. Bowden's 48.58 anchor brought Saline the victory in 3:22.91, and helped to seal the team win over East Kentwood, 71-54.5.
Oak Park versus Birmingham Seaholm in the 4 x 800:
The two best girls 4 x 800 teams in the state have not shied away from each other. Oak Park came out on top in their regional matchup, 9:06.01 to 9:14.36. At Oakland County they went faster yet, Oak Park again winning, 9:03.15 to 9:08.11. The Seaholm girls knew the only hope they had would be to be close or even ahead before Oak Park anchor Ersula Farrow got the stick.
The race started well for the Maples, as their star miler Rachel DaDamio grabbed the lead and held on with a 2:11.2 leg to Jayla Fleming's 2:14.3. On the second leg, Patty Girardot ran a PR 2:17.2, but Oak Park frosh Dorriann Coleman uncorked a shocking 2:10.0 that gave the Knights a solid lead. On the third leg, Seaholm's Rachel McCardell brought her team a bit closer, running a PR 2:19.8 to the 2:22.0 of Lashae Bowens. That left Audrey Belf less than two seconds behind Farrow at the last exchange. However, in real life, no one makes up that kind of ground on the girl who has been the state's top half miler since the summer of her sophomore year. Farrow hammered a 2:08.0 anchor, and Belf could only manage 2:12.6. In the end, it was a battle both teams could be proud of. Oak Park's 8:54.29 is a U.S. leader and second in Michigan only to Grosse Pointe South's record of 8:48.29 (which Farrow also ran on). Seaholm's 9:01.33 is the eighth-fastest race in history.
Other highlights:
*Audrey Belf of Seaholm ran a tough solo 3200, going out in 5:04.9 for the 1600. She finished at 10:26.58 to capture her second state title in the event. Teammate Rachel DaDamio came back from her great relay leg to dominate the 1600. She ran from the front, but kept the pace under control, waiting to unleash her kick on the field. It worked. Off the penultimate turn, she started sprinting away from Port Huron's Rachel Bonner and won, 4:46.05 to 4:49.68.
*East Kentwood had a terrific meet, with runner-up team finishes for both the boys and girls. Sekayi Bracey not only won the 100 (11.83) and the 200 (24.62w) for the third straight time, she successfully defended her long jump title with a leap of 17-5.75. She now has eight state titles in track. East Kentwood also won the boys 4 x 100 in a squeaker over Monroe, 42.20 to 42.22.
*Emily Meier of Canton, second in the discus, uncorked a massive 46-2 to crush her opposition in the shot. The throw makes her No. 8 in state history.
*Connor Bandel, a junior from Oxford, managed an impressive throws double, winning the discus with a toss of 175-2 and the shot with his 59-7.5.
*Andrea Sietsema, the state's discus list leader this season, showed she could throw well when it counts, hitting 145-5 for a 12-foot win.
*Mackenzie Shell of Port Huron Northern, the pole vault state record holder at 13-9, vaulted perfectly through 12-0. Though she didn't get any higher, her lack of misses gave her the win over Dexter's Dana Tessmer, who jumped the same height (a PR for her).
*Nick Burkhalter of South Lyon captured the men's vault at 15-6, and missed in his attempts to join the 16-foot club.
*Whitney Mergens of Milford won the girls high jump at 5-7. Brandon Piwinski of Warren DeLaSalle jumped a foot higher to defend his boys crown.
*Maya Roberts joined the state's long line of elite women's hurdlers by breaking the 14-second barrier with her 13.95. A few minutes later, she finished fifth in the 100 at 12.47.
*Robie Webster, bound for Boston University, finished out his Ypsilanti Lincoln career by winning both hurdles, 14.00 and 38.03.
Thanks to the folks at Michiana Timing for providing full-automatic splits. Where you see the time to the hundredth of a second in this article, that means completely accurate photo-timing. Times to the tenth are hand-times and are from the author's highly trustworthy stopwatch.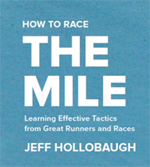 RunMichigan.com is happy to welcome Jeff Hollobaugh as a contributing writer. Jeff has also recently authored a new book titled "How to Race the Mile".
Click Here
to find out more about Jeff's new book.
Photos by RunMichigan.com.
Click here for lots more images
from the 2015 MHSAA LP D1 T&F Finals!