Another standout year for Michigan runners at the 2015 NB Indoor Nationals
by RunMichigan Staff
,
Mar. 16, 2015
By Jeff Hollobaugh, Special Contributor to RunMichigan.com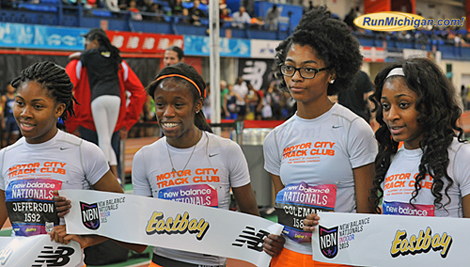 In the world of high school indoor track, no medal is more coveted than one from the New Balance Nationals. To place in the top six is to be named an All-American. To win at New York City's fabled Armory track is to be on the fast-track to glory in our sport.
Success greeted the individuals and teams from Michigan who made the trip (in fact, probably more success than most states our size could expect). However, Michigan's track tradition is powerful, especially in the distances. Factor in the amazing sprint success that the Motor City Track Club is bringing, and our state is a legitimate national powerhouse.
Though our state's MHSAA-sanctioned outdoor season has begun, none of our athletes could compete under school designations, because of the distance away (+300M) from Michigan's borders. (During the MHSAA season, student/athletes are allowed two such "unattached" competitions.)
Four young men from Saline brought home our first national title from the meet. Running as the Spirit of Pre, Kevin Hall, Brian Blankenship, Josiah Humphrey and Logan Wetzel captured the distance medley with a stirring performance. Hall got things rolling with a 3:07.82 for 1200m. Blankenship handled the 400 with a 51.35. Then Josiah Humphrey blasted 1:56.57 for 800—very impressive for someone who whose best last year was 2:01.16. Finally, Logan Wetzel, one of the nation's top milers, clocked a 4:08.56 for 1600m. Their overall time, 10:04.30, crushed the state record of 10:09.20 that had been set by Troy in 2010, a team anchored by Mike Atchoo, who later broke the four-minute mile for Stanford.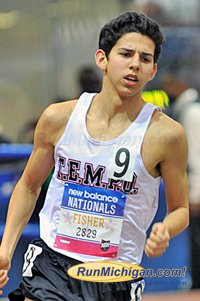 No single athlete attracted more attention than Grant Fisher from Grand Blanc
. The defending mile champion had been featured prominently in promotional ads for the meet, and with each race this winter has edged closer the four-minute mark. On Sunday, no race electrified the crowd more than the fast heat of the championship mile. The race itself started in a frightful manner. Meet officials had placed Fisher on the far outside of the starting line. A few steps after the gun's firing, an athlete tripped and fell in Fisher's path, sending the favorite careening to the outside of the track. Officials recalled the race, and tried again.
This time, the start went off without a hitch, and Fisher took to the lead immediately. For the first lap, he had company, because every high school race at this level starts out with a first 200 at or under 30 seconds. However, the followers started dropping off behind Fisher, as he maintained the torrid pace. He passed 440y (the actual quarter mile) in 59.6. By halfway in 2:00.0, he had put 15-meters on the field. Over the next two laps he eased somewhat, clocking 3:04.0 at three-quarters. With the crowd howling over the prospect of an historic performance, Fisher unleashed his full speed, raising it to a new level of acceleration as he came off each turn.
On the final backstretch, his blinding speed took him past 1500m in 3:46.41, crushing his own state record in a time bettered by only two high schoolers in U.S. history, American record holder Alan Webb and current Oregon star Edward Cheserek. Fisher continued to accelerate into the turn, focused only on maximum speed. Then his left foot nicked the metal rail on the track side. Seemingly such a small mishap, but at that speed, the effect multiplied out of control. He went flying off the curve into the infield, barely missing a collision with a stack of backpacks, and almost had to hurdle a young woman seated at the end of the long jump pit. After five strides off, Fisher got back on track, running wide. He focused on the finish line, but his kick had lost its momentum. Still, he made it to the line in 4:03.54. That destroyed the old indoor state record for the distance, Logan Wetzel's 4:08.75. It is also the No. 4 high school time in U.S. history. Wetzel finished in fifth in 4:12.14.
"On that last corner," he said, "I was solely focused on getting to that finish line as fast as I could. I was kicking with all that I had, and sometimes when you're that tired, your form goes a little haywire… I clipped the rail a bit."
After the race, Fisher put his hands to his head, looking crushed. Yet he bounced back fast, and before long was tweeting, "Watch the rail lol." For a while, the question was whether he would be disqualified. Many cited their understanding of the rules: "three steps or more inside the curve is a DQ." However, the meet is run under IAAF/USATF rules. At first read, they indicate that any step inside is a DQ. After some discussion, meet officials decided not to disqualify Fisher, saying that he gained no advantage.
The remaining question is how fast Fisher could have run without the mishap. He covered his penultimate 100m stretch in 13.5 seconds. Then he stumbled, and recovered to finish with a 16.0 last 100. It's reasonable to think that without the stumble, he would have run another 13.5 or so, giving him a final time of around 4:01.0.
Where to start with the Motor City girls?
The team from Oak Park produced a weekend full of fabulous racing, but they saved their best for last.
Here's just some of the highlights from their weekend in NYC.
Friday
*Freshman Dorriann Coleman won the Emerging Elite 400 in a PR 56.38. Teammate Johnyce Powell placed fourth in a PR 56.89.
*Jayla Fleming ran 800 in 2:17.91.
*The team won the Emerging Elite 4 x 200, their time of 1:40.75 the second-fastest in state history, after their record from last year. Tamea Mckelvey led off, followed by Brianna Holloway, Carlita Taylor, and Anna Jefferson.
Saturday
* Jefferson ran 56.02 in 400 heats, failing to qualify for final.
*Though the team didn't contest the sprint medley at the MITS finals, they showed how it was done here. Mckelvy and Jefferson handled the 200 legs, then Powell crushed a 55.98 for the 400 and Coleman shocked with a 2:11.15 anchor. They finished 3rd in the nation, their time of 3:56.80 taking more than eight seconds off the state record.
*In the 4 x 800, Fleming led off at 2:17.88, and then Coleman, legs surely tired, managed a 2:19.63, followed by Powell in 2:22.63 and Farrow in 2:09.45. Their clocking of 9:09.18 placed them fifth, and makes them the No. 2 time in state history, after Grosse Pointe South's 9:03.74 from 2012.
Sunday
* Farrow placed second in the 800 with a well-paced state record 2:08.38.
*The girls won the national title in the 4 x 400 with a new state record of 3:42.72. Powell led off in 56.55, Coleman followed in 55.77, Farrow in 56.10, and Jefferson produced a clutch anchor of 54.30, staying on her feet in the face of complete exhaustion.
What the Motor City "B" team did in that event underlines the excellence that coach Brandon Jiles has pursued in that program. Holloway (57.52), Taylor (58.15), Drew Coleman (58.50), and Fleming (58.50) combined for a 3:52.53 performance, good for 11th in the nation. Prior to this year, only two Michigan foursomes had ever run faster on a legal track indoors, and both were from Oak Park.
Other Michiganders also scored notable performances:
*Donavan Brazier, thought by many to be a favorite for the 800, learned some hard lessons about running in traffic. Trapped inside the pack for much of the race, the long-striding kicker had trouble getting out in time to begin his characteristic closing drive. He ended up second in his heat, third overall, his eased-up 1:51.57 missing the state record by just 0.23.
*Brandon Piwinski made the trip and rewarded himself with third place in the high jump at 6-9.5.
*Rachel DaDamio crushed a 4:49.66 PR in the mile, placing third in her heat and fourth overall. Teammate Audrey Belf managed a fourth place of her own in the two mile.
*Zach Stadnika put his multiple talents to good use and finished fourth in the pentathlon, his 3414 the second-best score ever for Michigan.
Here are all the All-Americans from Michigan:
National Champions
Mile-Grant Fisher 4:03.54 SR
4 x 400—Motor City 3:42.72 SR
DMR—Spirit of Pre 10:04.30 SR
Runners-Up
800-Ersula Farrow 2:08.38 SR
3rd Place
800-Donavan Brazier 1:51.57 #2
SMR—Motor City 3:56.80 SR
HJ—Brandon Piwinski 6-9.5
4th Place
Mile-Rachel DaDamio 4:49.66 #2
2M-Audrey Belf 10:23.70
SMR—Motor City 3:29.80
Pent—Zach Stadnika 3414
5th Place
2M-Sarah Kettel 10:27.24
5000-Sarah Kettel 16:57.97
4 x800--Motor City 9:09.18 #2
4x1M—Spirit of Pre 21:05.95
Mile—Logan Wetzel 4:12.14
6th Place
60-Jaron Flournoy 6.83