Ron Marinucci December, 2014 Column: Favorite Holiday Races
"Oh, it's a great race! I love it. It puts you in the [holiday] mood." So said Lake Orion runner Bill Kalmar at the 36th annual Big Bird Runs on November 9. And, over the years, 26th of them in fact, I have found Kalmar's words to be true.

For the past 18 years, I have had two runs, the Big Bird and the Light Fest, help put me in the holiday mood. I've run other seasonal, festive races over those years, too. But only those two have found their ways on my racing calendar each year.

The Big Bird is held in Roseville and has three events, a one mile, a unique 4K, and the marquee 10K. This year, between 500 and 600 runners and walkers came to enjoy a brisk, but sunny November morning. Temperatures were in the upper 30s and lower 40s, with a bit of a breeze coming out of the southwest.

The Roseville High School Band is always on hand with Christmas music. A few dozen Thanksgiving turkeys ("Big Birds") are raffled. And a good number of runners use the occasion to bring out their Christmas running attire, including Santa costumes.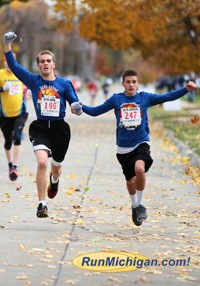 The weather is usually cooperative, too, in setting a holiday mood. This year's cool temperatures, with the sun low in the southern sky, was more typical than not. But veteran Big Birders know that race day weather is quite unpredictable. Some years runners have had considerable snow to negotiate. There have been a few days of sleet or heavy rain, too. Occasionally, there have even been warm, sunny days that invited runners to bring out their shorts and tee shirts for the last time of the year. Of course, even in the coldest of temperatures, some racers still wear their shorts—brrrrrr.

That the Big Bird has changed so little over the years makes it seem like an old friend. The courses are pretty much the same, almost pancake flat with the only hills coming at an over-and-back pedestrian crossing of I-696. Awards are presented, along with the raffled turkeys, in the warm confines of the gym inside the Roseville Recreation Center. And race director Tony Lipinski has continued the tradition of flawless Big Birds, a tradition started by Larry Snelling and Kevin Wasilewski.

The racing is also competitive. To win the 10K, a hopeful runner better plan on bringing a time in the low 30-minute range. Joey Burrelle did that this year, posting a winning time of 32:38 in his first Big Bird. Of the storied competition, Burrelle noted, "I know the Hanson's [Racing Team] comes [here] to race." He added with a grin, "I came to find them." None of the elite Hansons runners showed this day, but they'd have had their hands full with Burrelle.

This was my 26th Big Bird. That makes me feel pretty good, until I talk to others. Bill Musial ("like the baseball star") has been coming here since "back in the '80s." He even recalled "driving here in the heavy snow in '82." And Darrell McKee wore race bib #36. Yep, he's run all of the Big Birds, each one of them. He remembers before that, too, training on many of these same streets back when he was running cross country at Roseville High.

Still, I think 26 is a nice run. I missed it in 1990, I think, when Karen and I went out of town for a family wedding. (But I did find a run to race in Buffalo that weekend.) Somewhere around the house, I must still have the tee shirt from the first Big Bird I ran.

My other holiday staple is the Wayne County Parks Light Fest, also held in November, on a Tuesday evening. This 18th running was going to be a cold one—brrr…. The morning low of 11 degrees tied the all-time low around here for November 18. And the afternoon high of 18 did likewise, tied the all-time low high (Did I just write thatm "low high?") temperature for the date. So, after dark, we were likely looking at 15 degrees, with strong winds. Very fortunately, the winds were coming out of the west, at our backs. Still, there we were, ready to walk and run.

"We" were Karen, our friends Michelle Mendez, the Farnums, Russ and Carrie, and me. I've run each of the 18 Light Fests and they've joined me to walk or run the past several years.

Each year I drag out the long-sleeved shirt from the first Light Fest 8K, "November 18, 1997" it reads. That's OK because it's the only day of the year that I wear the "First Annual" shirt. It's lost its glow-in-the-dark quality, but that's fine, too; runners are given glow sticks. Some the Light Fest shirts, especially the black one from a couple of years ago, are really cool. That allows me to pack away the inaugural one for its once-a-year use.

At the tee shirt and glow stick pick-up tent, several workers noted my shirt. "Hey, that says 'First Annual.'" Yep, I've done them all. One excitedly pointed it out to other volunteers.

Anyone familiar with November Michigan weather won't find it surprising that the Light Fest, like the Big Bird, has met with all sorts of conditions. I noted to the shivering Karen and Carrie that, one or two years, I ran in shorts and tee shirts. "Were you crazy when you were younger?" one of them asked. No, those nights were just balmy. In fact, I think I remember one included a heavy downpour—of rain. Very fitting and festive were the several evenings of snow, a couple of times dropping some pretty significant white stuff. Talk about enhancing a run!

One year, a comet, tail and all, could be seen in the southern sky. It may have been Hale-Bopp in its last visible month in 1997, but I'm not certain.

The Light Fest is held on Hines Drive in Wayne County. It is billed as "the Midwest's largest and longest light show." Cars drive the five or so miles of Hines Drive to view the often spectacular Christmas and Hanukkah displays.

But not this night. Hines Drive is closed to vehicular traffic for runners and walkers. A bike night was added several years ago, for the evening following the run. "Oh, that sounds like fun," Karen said, with nods from the rest of the group. In the summers, we usually join for a long bike ride each weekend. But, this year, the Light Fest Bike Ride was canceled due to the harsh weather conditions—cold, wind, and snow.

Regardless of the weather, the course is flat, easy to walk or run. We could focus on the decorations. All of us agreed that there seemed to be more lights and displays this year. And they were brighter, all LEDs. Several were very eye-catching. One, which began as a Christmas tree that changed colors, almost like different shades of lava rolling down it, morphed into what looked like a brief laser show. "It looks like a flying saucer with its lights [shooting down]," said Russ. And it did. Later he added, "I think I could outdo the whole neighborhood with that psychedelic tree!"

The new giant Abominable Snowman seemed to be 20 or more feet tall, but with a smile that wasn't very intimidating. We all enjoyed running through several tunnels of lights, including what we thought was the new "Time Tunnel" which led to "The Land Before Christmas" display, complete with dinosaurs and pterodactyls. Carrie noted there were "more lollipops" that lined the road; Michelle agreed.

I wasn't certain, but I think there were purple stars and snowflakes for the first time. That didn't escape Karen's notice since purple is her favorite color. (Our five-year old grandson, Cody, told her recently, "Grandma, you wear too much purple.") My favorites were the blue-and-white snowflakes and strings on several trees, which met with a universal, "Oh no, not blue…." I also enjoyed the bright greens, all over. They reminded me of the wonderful Christmas tree-shaped and – colored cookies my mother baked so many years ago.

Carrie singled out "the poinsettias on the bridge" as her favorite display. "On the overpass, with ribbons and poinsettias, it was beautiful!"

As usual, our post-race meeting place was a major part of the evening. This tradition began many years ago. After running the Light Fest solo for its first two or three years, my training buddy Bob Drapal joined me for about a dozen races. We'd park our car at the finish area, run to the start to grab our shirts, and then run back to the car—a nice ten-mile run. Our first couple of Light Fests were followed by stops at a White Castle on the drive home. Then we thought of De Luca's, a nearby restaurant with what we consider our favorite pizza, with real pepperoni, not that salami-style stuff passed off as pepperoni. (Real pepperoni is smaller and curls up, holding a tiny puddle of grease in each slice. It's tastier. "We'll have double pepperoni.") For a few years, another running buddy, Gus La Ruffa, joined us. Now it's the We-Five, but the tradition of post-race pizza (and libations) at De Luca's continues. Michelle has asked, more than once, "Can't we just go get pizza, without walking?" Fortunately, no we can't.

Pictured: A pair of runners head toward the finish at the 2013 Roseville, Michigan Big Bird Run. (photo by: Merlin Elsner)