GVSU's Kendra Foley, Laker XC women are national champions, Hillsdale is second.
by RunMichigan Staff
,
Dec. 6, 2014
By Dave McCauley, RunMichigan.com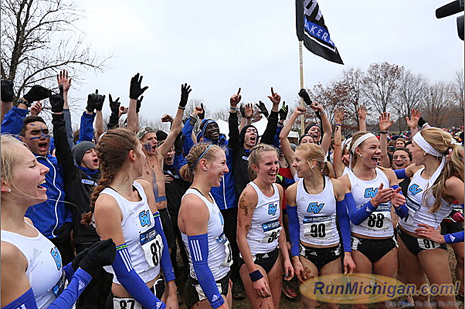 GVSU women bring home another title, Hillsdale College women are national runners-up
For the fourth time in five years, the women of Grand Valley State have brought a NCAA DII Cross Country Championship back to Allendale, Michigan. This time it was the 2014 version, held on a rain and mud soaked course at the E.P. Tom Sawyer course outside of Louisville, Kentucky on December 6th.
The Lakers women's cross country team dominated the rankings for this 2014 cross country season and they dominated the national meet as well, going 1-2-3 individually to wrap up a team national championship three-peat.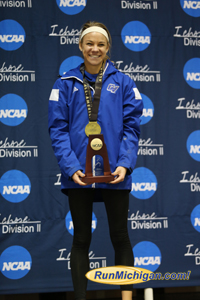 Grand Valley was led by sophomore Kendra Foley, who pulled away from the field early and handled the muddy conditions with ease, powering to the individual national title in a time of 21:05.
The course, shortened to 5780 meters instead of the standard 6K, was definitely not enjoyable for both runners or spectators. However, GVSU seemed to not be fazed at all with the weather or footing, cruising to the team victory.
Finishing second overall individually in the race and for her Grand Valley team was senior Allyson Winchester in a time of 21:11. Third overall went to GVSU's Jessica Janecke, a junior, with a time of 21:14. Rounding out the top five for the national champion Lakers were senior Hannah Osborn (22nd, 21:49) and junior Jordan Chester (34th, 21:59).
Grand Valley's total score was 50 points, easily beating out the field for the team title.
Meanwhile, finishing in second place in the team competition was Hillsdale College with 115 points. The Chargers, led by junior Kristina Galat who finished in seventh overall, stunned the field with their highest ever finish in school history.
Hillsdale's other individuals were junior Emily Oren in 12th, sophomore Molly Oren in 23rd, freshman Hannah McIntyre in 24th and junior Kathryn Royer in 75th.
Third place in the team competition went to Minnesota-Duluth with 118 points, while Adams State and Augustana of South Dakota rounded out the top five.
Also from Michigan, Wayne State's women's squad turned in their best ever national finish, ending up in sixth place.
Click here
for full results, photos and interviews from RunMichigan.com's onsite meet coverage.
Pictured at top: The Grand Valley State Women's Cross Country team celebrating their victory at the 2014 NCAA DII XC Championships in Louisville, Kentucky on December 6. (Photo: John Brabbs/RunMichigan.com)
Pictured: GVSU's Kendra Foley, 2014 NCAA D2 XC Women's Individual National Champion. (Photo: John Brabbs/RunMichigan.com)