Follow and Watch as GVSU Lakers looking to dominate once again at NCAA D2 XC Nationals
by RunMichigan Staff
,
Dec. 5, 2014
By Steven Marcinkowski, RunMichigan.com

Top NCAA D2 XC teams and individuals from Michigan heading to nationals.

The road to the NCAA Division Two National Cross Country Championship is almost complete.

This Saturday, December 6, teams and individuals from across the nation head to Louisville, Kentucky and the E.P. Tom Sawyer Park for the NCAA Division Two Cross Country National Championship.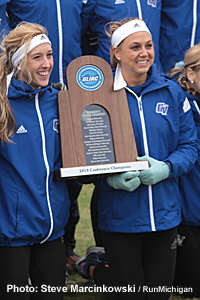 Having played host to numerous national quality meets, as well as the 2012 NCAA Division One National Championship, the course should yield two exciting races.

Of the teams and individuals that have qualified, several hail from the state of Michigan.

On the men's side, The Grand Valley State Lakers have qualified from the Midwest region. The Lakers are coming off a first place national ranking, conducted by USTFCCCA.

Also heading to Louisville as individual qualifiers are Joshua Mirth of Hillsdale and Sean Pengelly of Michigan Tech.

The Lady Lakers of Grand Valley continue to dominate the national polls. Coming off their first place national ranking, Grand Valley State is looking to take home their 4th National Title in 5 years.

Joining Grand Valley State as a team in the women's race will be the top five nationally ranked Hillsdale Chargers and the Wayne State Warriors. Individually, Emily Short from Saginaw Valley State University will also be competing in Louisville.

RunMichigan.com will be in Louisville for all the action. Check back for results, photos and interviews.

NCAA XC Nationals - Event Details:

What: 2014 NCAA D2 XC Championships
Where: E.P. Tom Sawyer Park. Louisville, Kentucky
Race Times: Men's 10K - 11:00 a.m. est., Women's 6K - 12:15 p.m. est.

Helpful links and how you can follow

RunMichigan.com Coverage page (photos, results and interviews post meet)
RunMichigan.com Twitter coverage at @rmdc_feed #runmichigan
Live web stream from NCAA.COM.
Women's 6K Course Map
Men's 10K Course Map

Tweets by @RMDC_feed


Pictured: Grand Valley State's women's team with their overall team award at the 2014 GLIAC XC Championships. (photo: Steve Marcinkowski)