Weekend Recap: Fast Turkey Trot times and Michigan's Footlocker HS Nationals qualifiers
by RunMichigan Staff
,
Dec. 1, 2014
By Steven Marcinkowski, RunMichigan.com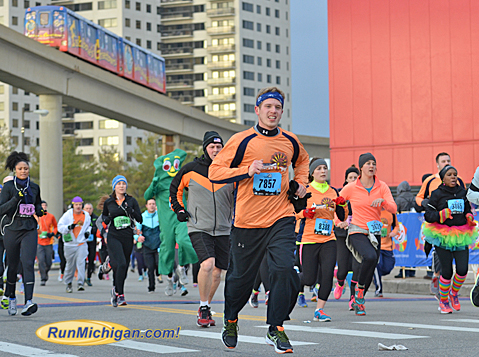 Runners enjoy Thanksgiving weekend races. Four high school standouts from Michigan qualify for Footlocker Cross Country Nationals.
Thanksgiving weekend is more than just yummy food and shopping. Thanksgiving is for giving thanks and spending time with family and friends. What better way to do so than to run in a local Turkey Trot.
The Detroit Turkey Trot, sponsored by Fifth Third Bank and The Parade Company, is a family tradition for many.
Families flock to beautiful Downtown Detroit to run or watch the 5K and 10K and even stay for the Thanksgiving Day Parade or the Detroit Lions annual Turkey day game.
At this year's Detroit Turkey Trot, over 20,000 people took off north on historic Woodward Avenue near Campus Martius Park for this 32nd annual race.
Leading the way in both the 5K and 10K was the Rochester Hills based Hansons-Brooks Original Distance Project. Hansons-Brooks team members took home individual overall victories for the men and women in the 10K and the women in the 5K.
2010 Rochester High School graduate and former NCAA All-American at the University of Washington, Megan Goethals, took the women's event. Running in her first ever Detroit Turkey Trot, Goethals cruised to the overall women's title in a time of 34:16. She was followed by Hansons-Brooks teammate Dani Miller of Rochester in 34:45.
Although Megan Goethals grew up in the Detroit area, this was her first ever Detroit Turkey Trot. Fresh off her record-breaking, All-America career in Cross Country and Track at the University of Washington, Goethals now is enjoying her return to Michigan and things are going well.
"Really good," she commented right after her Turkey Trot 10K finish. "I graduated in the beginning of August and joined Hansons. I'm getting ready for a good track season and really happy to be back home."
In the men's 10K competition, the Hansons-Brooks team finished 1-3 with nine-year team veteran Mike Morgan (Rochester Hills) winning in 30:38. First year member Tony Filipek of Rochester finished 2nd in 31:03 while Luke Humphrey of Beverly Hills, Michigan finished 3rd in 31:28.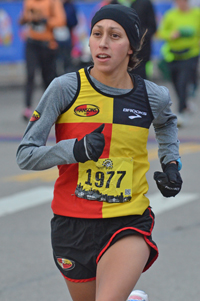 Coming off her top-five and first American woman overall finish at the New York City Marathon on November 2nd, Hansons-Brooks team member (Rochester Hills) ran 17:01 for a first place finish in the 5K event. Along with hundreds others, Dani Miller took part in the "Drumstick Double" competition, following up her 10K women's runner-up performance with a third place finish in the 5K in 17:57.
Bennett Prudhomme of South Lyon, running for the Playmakers team, won the men's 5K event in 15:46. Finishing in second from Chicago was Damon King with a time of 16:03.
Although Detroit's Turkey Trot might be the most popular in the state by sheer numbers, plenty of other Thanksgiving races were held around Michigan. Lansing, Traverse City, Shelby Township and Portage were just a small example of the Turkey Trot races held across our state.
The Lansing Turkey Trot saw a few blistering times turned in on both the men's and women's side. Kaylin Russeau, formerly of the University of Toledo, finished as the overall women's winner in a time of 17:12 while former Michigan State Spartan Alex Russeau won the men's race in 14:50.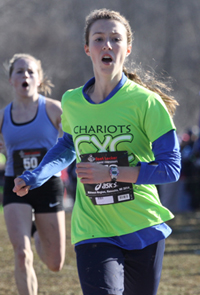 Also this past weekend, the Footlocker (High School) Cross Country Midwest Regional meet was held in Kenosha, Wisconsin. The Footlocker Midwest Region consists of Colorado, Illinois, Indiana, Iowa, Kansas, Michigan, Minnesota, Missouri, Nebraska, North Dakota, Ohio, South Dakota and Wisconsin.
Four athletes from Michigan qualified by finishing as one of the top 10 individuals in the boys and girls races and will move on to the 2014 Footlocker Cross Country Nationals to be held December 13 in San Diego.
Last year's Footlocker Boys National Champion, Grant Fisher of Grand Blanc, repeated as the men's regional champion, running 15:00 over the tough 5K course. MHSAA Division Four 3-Time State Champion from Concord, Jesse Hersha, finished 2nd overall in 15:09. Both Grant and Jesse will be heading to San Diego.
In the girls' race, Audrey Belf (Birmingham-Seaholm) and Sarah Kettel (Capital Homeschool – Brighton) continue their impressive post seasons. Belf finished fourth overall in 17:31 while Kettel finished eighth in 17:49.
Related Links:
Full interview with Mike Morgan and Megan Goethals at Detroit Turkey Trot
Detroit Turkey Trot Start Video
Detroit Turkey Trot Race Photos
Detroit Turkey Trot Race Results
Where did you race this weekend? Share your weekend racing experiences with us on Facebook, Twitter or Instagram!
Pictured (Top):
Runners pass Joe Louis Arena and head to the finish at the 2014 Detroit Turkey Trot. (photo: Dave McCauley)
Pictured (Middle):
Desi Linden heads to the finish and an overall women's victory at the 2014 Fifth Third Bank Detroit Turkey Trot. (photo: Dave McCauley)
Pictured: (Bottom)
Sarah Kettel of Brighton finishing in the top 10 at the 2014 Footlocker Cross Country Midwest Regional Meet in Kenosha, Wisconsin. (Photo: Pat Davey)