The stage is set for the 2014 MHSAA LP XC Finals: Preview and event information
by RunMichigan Staff
,
Oct. 29, 2014
By Steven Marcinkowski, RunMichigan.com

No sleep 'til Brooklyn; Brooklyn, Michigan that is.

Located nearly 30 miles southwest of Ann Arbor, the famed Michigan International Speedway is once again the site of this year's State of Michigan high school cross country championships.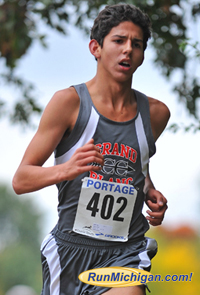 Dating back to 1996, M.I.S. has been host to thousands of great Michigan high school athletes from the likes of Ryan Shay, Dathan Ritzenhein, Maverick Darling, Megan Goethals, Erin Finn and many, many more.

This year proves to be just as exciting as any other. While some races look to be a foregone conclusion as far as who will win, other divisions could be up for grabs for both individual and team titles.

The 2014 version of the MHSAA Lower Peninsula Cross Country Finals will get underway at 10:00 a.m. on Saturday, November 1st with the first event of the day being the Boys' Division Four race. Seven more races in all across the four divisions will follow with the last being the Girls' Division One race.

We take a look at what to expect from each race, along with the individual and team favorites heading into Saturday's action.

Division One

It comes as no surprise that Grant Fisher enters Saturday's race as the boys' favorite. The senior from Grand Blanc who is the returning MHSAA D1 State Champion and 2013 Footlocker National Champion, enters with the fastest qualifying time across all divisions, his 14:43 run at the Portage Invite in early October.

The final MichiganCrossCountry.com team rankings of the year were released on Tuesday. The Waterford Mott boys' team enters the state finals ranked first, fresh off their Regional 7-1 win on Saturday the 24th. Northville, Rockford, Saline and Pinckney round out the top 5 teams after showing strong performances in their respective regional meets.

On the girls' side of D1, Senior Audrey Belf of Birmingham Seaholm continues to dominate after running a 17:32 at regionals, pacing her team to a 73 point victory margin.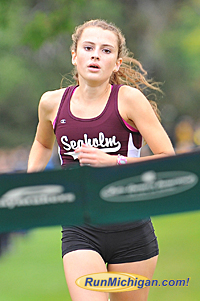 Also showing strong individual performances at regional competition were Freshman Karenna Duffey of L'Anse Cruse North, Senior Kelly Jackson of Hudsonville and the freshman-senior duo from Traverse City Central, Sielle Kearney and Ashley Ko.

The team race will come down to top ranked Traverse City Central, Birmingham Seaholm, Northville, Sterling Heights Stevenson, Saline and Highland-Milford.

Division Two

In Division Two, the Grand Rapids Christian boys and girls teams are locked in at the top of the MichiganCrossCountry.com rankings heading into the state finals.

The Grand Rapids Christian boys are led by Senior Benny Briseno, who ran to a regional victory in 15:48. For the girls team, Seniors Lindsey Fox and Rachel Warners and Sophomore Megan Schenkel finished 2, 3 and 4 to lock up their 60 point regional team title.

Cedar Springs' Seniors Austin Sargent and Kenzie Weiler, carry the fastest Division Two regional qualifying times with them to states, having run a 15:46 and 18:15, respectively.

Additionally, the boys teams of Freeland, St. Joseph, Zeeland West and Corunna round out the top 5 in the final rankings entering Saturday. For the girls in D2, St. Joseph, Otsego, East Grand Rapids and Chelsea complete the top 5 teams.

Division Three

Lansing Catholic, Benzonia-Benzie Central, Hanover-Horton, Clare and Shepherd are the top 5 ranked boys teams entering Saturday's meet.

Individually, Junior Abe Visser of Grandville-Calvin Christian ran the fastest D3 qualifying time at regionals with a 15:35.

For the girls in D3, Ithaca is the top ranked team after a strong regional performance. Ithaca is followed by Manistee, Lansing Catholic, Shepherd and Jackson-Lumen Christi in the final team rankings.

Individually, Senior Amber Way of Charlevoix and Junior Holly Bullough of Traverse City St. Francis recorded impressive times at regionals of 17:51 and 17:54 to lead Division Three. Returning champion Gina Patterson of Macomb Lutheran North is also a serious contender for another state title.

Division Four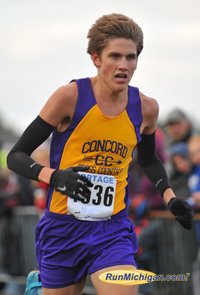 Senior Jesse Hersha of Concord is looking to three-peat in 2014 following impressive performances in 2012 and 2013.

Hersha is having an exceptional season, turning in very impressive performances at both the Spartan Invitational in September and Portage Invite in early October.

He will lead his number 2 ranked Concord team against top ranked Saugatuck, led by Sophomore duo Zach Pettinga and Nick Butch. Bear Lake, Mt. Pleasant-Beal City and Harbor Springs round out the top five in the final Division Four rankings.

Junior Tessa Fornari of Waterford-Our Lady of the Lakes, holds the top qualifying time for Division Four having run an impressive 18:19 at regionals.

This will be the first time in four years that a new individual winner for Girls' D4 will be crowned as "four-peat" champion Kirsten Olling from Breckenridge is now in her first year of college, competing for Arizona State University.

In the girls' team battle in D4, top ranked Kalamazoo Hackett Catholic Prep placed their top 5 runners in the top 7 at the regional. Mt. Pleasant-Sacred Heart, Mt. Pleasant-Beal City, Saugatuck and Harbor Springs complete the top 5 ranked teams heading into the finals.

Good luck to all of Michigan's high school athletes competing on Saturday!

Follow RunMichigan.com for full MHSAA State Finals event coverage. 1000's of race and awards photos will be posted at RunMichigan.com after the meet.

Twitter:
@RMDC_feed, #RunMichigan, #RunMich_mhsaa

Full coverage including photos, video and interviews at:
RunMichigan.com/highschools/statefinals/14/xc

Other helpful links:

Schedule and Spectator Information
Boys and Girls Qualifiers List
Course Map

Pictured (top to bottom): Grand Blanc's Grant Fisher at the 2014 Portage Invite, Audrey Belf of Birmingham Seaholm at the 2014 Spartan Invitational and Concord's Jesse Hersha at the 2014 Portage Invite. (photos by RunMichigan.com)