Ron Marinucci: October 2014 Column
The Runyaker's Journey by Riley McLincha. 2014. 217 pp. $16.95, paperback; $3.95 e-book, both available at online bookstores such as Amazon and Barnes and Noble. Author House.

Many runners in this state and throughout the Midwest know Riley McLincha as "The Drubbler." The Michigan runner has completed dozens of races, including major marathons, while dribbling three basketballs. But he has accomplished much more, a sort of a Renaissance Man. He sings, including the national anthem and his own tribute to the Crim at that race's start, and writes his own songs. He has a degree in biology.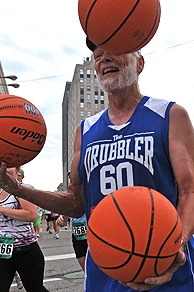 And he has kayaked the major rivers of the Saginaw River Valley, paddling hundreds of miles on the Saginaw, Flint, Tittabawassee, Shiawassee, and Cass rivers. He memorized the value of pi to 7500 decimal places and, briefly, held a Guinness Book Record. And now, among all this—and more—we can add "author."

In April 2009, McLincha began "the grandest adventure of my life," runyaking from Horseshoe-to-Horseshoe. This requires some explanation. Horseshoe-to-Horseshoe refers to Horseshoe Lake, the source of the Flint River near Oxford, Michigan, and Horseshoe Falls, as in Niagara Falls. Runyaking is a term coined by McLincha himself and combines paddling in a kayak and running.

The Runyaker's Journey is McLincha's memoir about this "grandest adventure." But it's more, two "journeys" actually. One is his 1400 miles of runyaking. The other includes autobiographical snippets of his six decades of, well, often mischievous behavior. (Caution—some readers may find some, not much, language a bit coarse.) The journeys are fascinating and well told. McLincha has done a wonderful job of coordinating the two, deftly moving in and out of each. Even those who followed his online chronicle/blog will still find the book entertaining and very much worth reading.

In some ways, Journey is a travelogue. McLincha cites places, people, and nature. Several times he witnessed golden eagles. Many folks helped along the way, with encouragement or even lunch money! Often interesting local history is tossed in; Pewonigowink is the name the Chippewas gave to what we now call the Flint River and, of course, Flint—"river of fire stones." There is also some Canadian geography and history: nickel foundries, the Welland Canal, the steep 50-80 foot cliffs of the northern shores of Lake Erie, and even the War of 1812.

Of course, Journey is mostly about the runyaking from H-to-H, McLincha and Swiftee, his trusty 9 ½-foot kayak. The stories are legion, often humorous and always adventurous. He frequently runyaked 20 or 30 miles a day, once covering 39 miles in 24 hours, running 17 and kayaking 22. The weather and Great Lakes didn't always cooperate. Several times he had thoughts of quitting, after some harrowing lake experiences with capsizing and being bashed by waves. Such thoughts, though, were fleeting.

McLincha has a knack for finding humor, often self-deprecating, in his stories. Finishing one day of paddling, he came across two fishermen in a boat. Conversation turned to where and when he started. When McLincha told them, he added, "I got a loooong way to go." One of the anglers quipped, "Keep going; you'll make Niagara Falls." "That's the plan." The fishermen chuckled, thinking it was a joke. Ha Ha!

In telling another inquisitive man of the journey, McLincha noted, "He spoke as if I were foolish or crazy," adding as an aside, "He was on to me."

The runyaking journey took more than four years to complete, 57 days of actual running and paddling, from H-to-H. Here is where the only thing is missing from the book, dates that correspond to runyaking days. A van was used to transport Swiftee and travel between ending and starting points. (McLincha explains the entire process at the beginning of the book.) He crossed into Canada thirty times, explaining and reexplaining his adventure to inquisitive customs agents. Only a handful of overnights were spent in Canada, a few times with a newly-found friend who he met through his runyaking blog. More often, their—McLincha and Swiftee—lodging was the van.

Still, there were rules, established from the outset by McLincha himself. The entire 1,389 miles had to be runyaked, paddled or run. Anything less didn't count. He admitted himself "anal" about keeping to those rules. (Anal? Concerning karaoke, McLincha holds that "It's cheating to sing to recorded music.") One afternoon, the heat index registered more than 100 degrees. He faced a 6-mile run back to the van to pick up Swiftee. A couple of miles into the run, "I did a rare thing—I walked…. Yes, I had to walk. But, I did a 180 [degrees] and walked in the opposite direction a short distance, then turned around, walked back to where I'd stopped running, and then resumed running." So far in this journey," he explained, "I've run and never walked." He had rules. He was "anal" about them, he freely admitted, "but I have to be true to myself."

The motivation for all of McLincha's adventures is still mind-boggling. He's not always certain why, but planning and accomplishing these unique achievements is very satisfying to him. He enjoys doing things other people rarely or never attempt.

It's a safe bet nobody else has tried many of them, particularly H-to-H. Regardless, The Runyaker's Journey is great reading and provides a good sense of Riley McLincha's "grandest adventure."