XC fans turning out in larger numbers every year for MHSAA Finals
by RunMichigan Staff
,
Sep. 18, 2014
Provided by Geoff Kimmerly, MHSAA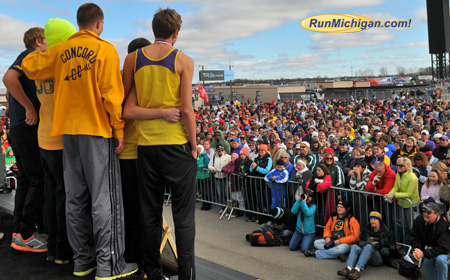 Boys and Girls Cross Country among sports to see increase in fan attendance for regionals and finals
EAST LANSING, MI -- Michigan High School Athletic Association postseason tournaments drew more than 1.4 million fans in 2013-14 for the 15th straight school year, keyed in part by record attendance at girls events.
Total attendance for 2013-14 was 1,423,229 fans, with 988,669 at boys tournaments and 434,560 spectators at girls tournaments. Attendance is kept for all sports except golf, skiing and tennis, for which admission typically is not charged.
Total attendance did fall 10,127 fans, or 0.7 percent, from 2012-13. However, the girls tournament total broke a previous record set during the 2009-10 school year, with three girls sports setting overall attendance records: volleyball (101,654 fans), lacrosse (5,737) and competitive cheer (25,996). Boys and girls bowling tournaments, conducted simultaneously, also set an attendance record with 12,595 fans.
Cheer attendance increased for the 11th consecutive year and 2.8 percent from 2012-13; Cheer Finals attendance increased for the fifth straight year to a record 7,766 fans. The Boys Ice Hockey Finals also set a record with 14,595 fans, an increase of 1,690 over the previous year, while ice hockey's total tournament attendance (60,778) was up 2.9 percent with increases at the Pre-Regional and Quarterfinal levels as well. Bowling, in addition to an overall attendance record, also saw a record for its Finals of 4,100 fans. The Baseball and Softball Finals, played at Michigan State University for the first time, did not set a record – but did draw 5,297 fans, a 29-percent increase from the previous season.
Attendance at boys tournament events fell to its lowest total since 1993-94, although the decrease from 2012-13 was less than one percent. However, football, despite a 1.5-percent decrease in attendance from the previous season, remained the highest MHSAA tournament draw for the seventh consecutive year with 392,069 fans. Football Finals attendance (52,409) rebounded 10.6 percent from 2012-13 after a similarly significant drop following 2011-12.
Boys Basketball Finals weekend attendance also bounced back significantly, with a 21.7-percent increase from the 2012-13 event to a three-day total of 42,373 fans at the Semifinals and Finals. Regional attendance also was up 4.8 percent, although overall boys basketball tournament attendance was down 3.2 percent to 308,205 fans. Girls basketball attendance was down 2.8 percent to 161,569 fans with Finals weekend attendance down 11.8 percent from 2012-13 – although the total Finals attendance of 16,763 fans in 2013-14 was the second-highest over the last four seasons, and attendance at Regionals and Quarterfinals increased from the previous girls basketball season.
Volleyball attendance increased 5.7 percent from 2012-13 while setting a District record of 68,447 fans, 16 percent more than the previous record set during 2011-12. Girls lacrosse bounced back from a slight drop in 2012-13 to set a record for overall attendance with 5,737 fans including a record for Semifinal attendance. Softball (3.7 percent to 42,242 fans), girls soccer (0.9 percent to 27,072) and girls swimming and diving (3.2 percent to 5,084) also saw attendance increases from 2012-13 – with girls soccer enjoying an 18-percent increase at the District level – while gymnastics (1,877) saw its lowest tournament attendance since 2007-08.
Five more sports saw attendance increases in 2013-14: Individual wrestling (49,037) was up 2.8 percent, boys lacrosse (7,726) was up 6.1 percent, baseball (47,540) was up 3.9 percent, boys and girls cross country (17,300) increased 1.9 percent and boys soccer (28,903) drew 35 more fans total than during 2012-13. Boys and girls cross country postseason events, like for bowling, are conducted simultaneously.