HealthPlus extends title sponsorship of iconic Crim races through 2016
by RunMichigan Staff
,
Aug. 20, 2014
Provided by
HealthPlus of Michigan
.
Michigan's leading health-focused insurer supports hometown footrace to provide accessible wellness options to residents throughout the region

FLINT, Mich., Aug. 20, 2014 – HealthPlus today announced that it will serve as title sponsor of the HealthPlus Crim Festival of Races and the HealthPlus Tour De Crim for 2015 and 2016. HealthPlus President and CEO Bruce Hill made the announcement at a news conference at the company's Flint headquarters.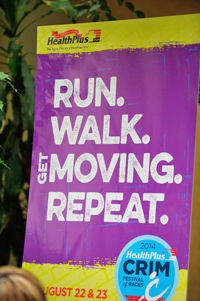 "HealthPlus has been with Bobby Crim almost since he organized that first race 38 years ago," said Mr. Hill. "We understood then that a shared vision of healthier communities was going to come to life through collaboration and partnership. That's why we got on board. We continue our strong support because we know the Crim's good work reaches beyond these races to impact our community in many positive ways."

HealthPlus has been the title sponsor of the HealthPlus Crim Festival of Races since 2013. Prior to that, the company was the Crim's presenting sponsor and, before that, provided a variety of funding support through the years. HealthPlus employees have a 30-year tradition of staffing the water station at the race's mid-point in famed Bradley Hills.

"HealthPlus has been an invaluable collaborator to the Crim for many years," said Gerald Myers, president and CEO of the Crim Fitness Foundation. "Through their generous support we are able to put on a world-class Festival of Races and develop and provide best-practice youth and adult fitness programming throughout mid-Michigan. HealthPlus does more than write a check. They are true community partners."

About HealthPlus

HealthPlus of Michigan is marking 35 years of successfully providing customized, nationally recognized health plans that meet the needs of large and small employers, families and individuals through a variety of programs, including Medicare Advantage and Medicaid. HealthPlus is proudly headquartered in Flint, Mich., and was formed in 1979 as a not-for-profit organization.

Today, it:


Manages health care coverage and wellness programs for members residing in Michigan and for members of Michigan-based companies living outside the state
Delivers in-network access to health care providers across the United States
Covers emergency care globally
Provides access to centers of excellence, including the Cleveland Clinic and Mayo Clinic
The National Committee for Quality Assurance has ranked HealthPlus' commercial HMO among the nation's top health plans for the past nine years*; its commercial, Medicaid and Medicare HMO plans are accredited as "Excellent" by the NCQA. HealthPlus has regional offices in Saginaw and Troy, Mich. Visit healthplus.org.
*According to America's Best Health Insurance Plans (2005-2009), NCQA's Health Insurance Plan Rankings 2010-2011 – Private, NCQA's Health Insurance Plan Rankings 2011-2012 – Private, NCQA's Private Health Insurance Plan Rankings 2012-2013 and NCQA's Private Health Insurance Plan Rankings 2013-2014. # # #