Hansons-Brooks signs two former elite Michigan high school runners
by RunMichigan Staff
,
Aug. 9, 2014
By Steven Marcinkowski, RunMichigan.com

Homecoming for two national-class collegiate xc and track runners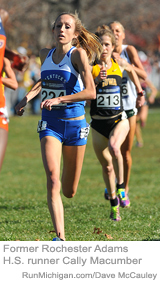 Two former cross-town high school rivals are now teammates. Cally Macumber (Rochester-Adams '09) and Megan Goethals (Rochester '10) have recently been signed by the Rochester Hills based Hansons-Brooks Original Distance Project.

Macumber, who recently completed her final season at the University of Kentucky, joins the team having run impressive times in the middle distance and distance events. With personal records of 4:37 in the mile and 16:04 in the 5K, Macumber looks to expand on her current success on the track and on the road. Macumber is a two-time Cross Country All-America performer, finishing in the top six at the 2012 NCAA XC Championships and holds three Kentucky school records in the Mile, 3K and DMR.

Goethals joins the team having equally as impressive accolades. As a red-shirt Sophomore, Goethals placed 2nd in the 5,000 at the NCAA Division One Outdoor National Championships in 16:11.37, missing the title by .03 seconds. Goethals is a nine-time All-America performer with four first team, four second team in track and one in cross country and holds Washington school records in the Indoor 5000 and Outdoor 5000 and 10,000.

Click here for additional information on the Hansons-Brooks team, including current team members and race schedule.