Ron Marinucci - August, 2014 Column: Donna Swanson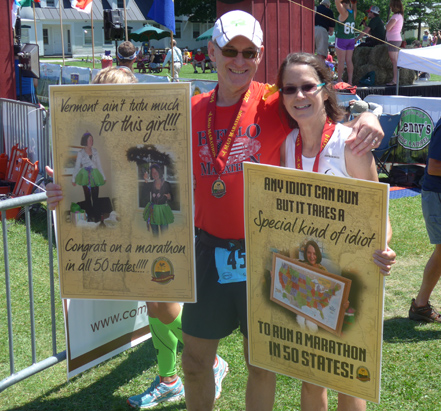 "50-50?" To most people, I suspect, 50-50 conjures images of raffle tickets sold for a local charity, church, or school group. Others may think of Las Vegas odds or even our frequently iffy weather forecasts.

But to runners, 50-50 means something else entirely, something very special. The 50-50 Club includes runners who have completed one marathon in each of the 50 United States. If finishing 50 marathons doesn't boggle even runners' senses, surely adding in at least one in every state must.

A very recent inclusion into this exclusive 50-50 Club is Michigan runner Donna Swanson. On July 6, she finished the Mad Marathon (the Mad River) in Waitsfield, Vermont—her 50th marathon in her 50th state. (It was actually Swanson's 89th completed marathon.)

It's been a long quest, her first marathon coming in 1980 in Detroit, although it was 25 years later than she decided to run a marathon in every state.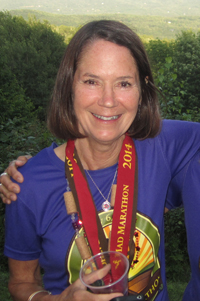 Swanson started to run in 1979, when she was 27. "My husband, John, got into running before I did. He ran his first marathon in 1979. I had just begun running regularly a couple months before his first marathon. When I watched him finish, I decided that I wanted to work up to running a marathon, too. [Although] I started running primarily for health and fitness reasons, I soon grew to love doing races and competing."

In the '80s and '90s, she was a fixture at Michigan races. She often won, outright and age-groups, at a variety of distances. But the marathon bug had bitten her; off she went.

She ran two more Free Press Marathons in '81 and '82 and then tackled several others, including Bayshore in Traverse City and Columbus, Ohio. She finished Boston in 1988. In doing two Running Fit Trail Marathons, where she finished first overall among the females, she discovered, "I really enjoyed trail running."

By 2005, Swanson had run marathons in 22 states, but really hadn't committed to 50-50. She went to the Ridge Runner Marathon in West Virginia to watch Nina Bovio complete her 50-50 quest. "Nina has been an inspiration and motivator, along with being a close friend, for many years," Swanson explained. "After she finished the [50] states, I decided, with her encouragement, to go for the same goal."

Once she set her goal, she "only ran marathons that were in new states. Up until then, I had repeated states often," 22 of them. "It took me almost nine more years to do the remaining 28 states."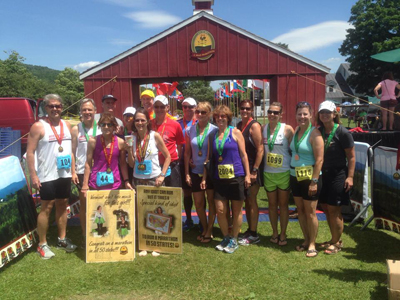 She and husband John liked to travel to new places, "so going for a marathon in each state seemed to be a good way to see more of the U.S." They had moved from Michigan to Montana. This allowed her to focus on marathons in the West for about five years until they returned to the Great Lakes State. "I had also retired from full-time work when we moved to Montana, which helped with the training and the traveling."

Beginning in 2005, Swanson usually ran four to six marathons each year. She admits, "I've had to adjust my time expectations doing that many. I run them a lot slower than I used to." adding with a quip, "Of course, age has played a part there, too!"

She also made concessions to training. "I don't put in mega-mileage weeks, but I do make sure I get in the long training runs." And she used "some shorter races for speedwork." She also does "yoga regularly to prevent injuries and keep the muscles stretched. I think that has been key in staying injury-free."

The excitement and memories are almost too numerous to list. And, of course, there were anxious moments, even up to the 50th in Vermont as will be seen.

She noted the altitude and elevation climbs during marathons in Leadville, Colorado and Bighorn Mountain in Wyoming. In 1989, Swanson ran Boston with her two sisters, Laura Hazen and Vicki Webster. "It was wonderful to share both qualifying and running with them." The 2002 Chicago Marathon marked her 50th marathon overall and she "ran it with a group of girlfriends" to celebrate her 50th birthday also that year. Twenty-five friends ran the New Orleans Rock 'n' Roll Marathon with her for her 60th birthday. "They presented me with a tutu, a tiara, and Mardi Gras beads the night before." And she ran the marathon wearing all three!

Her only "foreign marathon," as she put it, was the one that commemorated the 50th anniversary of the D-Day invasion in Normandy, France. It also marked John's and her 20th wedding anniversary.

Earlier this year, in March, in Little Rock, Arkansas she found herself "trying to outrun an incoming storm. As I approached the 20-mile mark, they announced that the marathon was officially 'canceled.' They did, however, allow runners to finish if they chose to and did keep the timing-mats going. I was concerned that my plan of making Vermont my last state was in jeopardy [since] there was no other Arkansas marathon to run before the Mad Marathon." But she finished in Little Rock. One marathon and one state to go.

Throughout her quest, Swanson tried to space her races. "I worried about getting injured and just didn't want to chance it. I have never done back-to-back, two days in a row, which many state and Marathon Maniac runners do." In 1988, she ran Boston, the Running Fit Trail Marathon, and Bayshore within six weeks. "I didn't run any that close together again until 2010, when I ran back-to-back weekends, doing Hartford, Connecticut one weekend, then Newport, Rhode Island."

Her PR came in 1990 in Las Vegas, where she ran 3:13, one minute faster than her first masters marathon two years later. "That got me $500 in prize money," she happily remembered. More recently, "adjusting my time expectations," she ran a 4:26 in Austin, Texas last year.

Finally, on July 6, "50-50" was here. The Mad Marathon "was probably the toughest road marathon I've run. The hills were long, steep, and plentiful. But it was also very scenic." She still deemed that some of her trail marathons were more difficult. Yet, "I felt it was appropriate that my 50th state marathon was such a challenging one."

Many of her family and friends were there, 26 in all. "I ran the first 16 miles with Jon Lewis, a very close friend of ours. He and his wife Karen shared the house we rented in Vermont and traveled with us to many marathons. Another friend, Ken Jeffery, met me around the 24-mile mark and ran with me the last two miles." With a mile to go, they were joined by Kathy and Randy Step. "Nina Bovio handed me a poster with my photo on it to carry across the finish line. The race director [Dori Ingalls] had given my finisher's medal to my husband so that he could place it around my neck. People I didn't even know were taking my photo and the finish line announcer was great. I felt like a celebrity!"

Before the finish, along the course, she became aware of a number of posters—for her. At ten miles, one of them with her picture read, "She's run a marathon in 49 states and now she's running Vermont!" Another poster included photographs of her New Orleans Marathon, wearing her tiara and tutu. It was followed by a third that read, "Vermont is not tutu much for this girl! Congrats on a marathon in all 50 states."

Her time was 5:05. "Given the difficulty of this course, I was satisfied." She won her age-group, finishing 23 minutes ahead of the runner-up.

Swanson became "quite teary-eyed" when she was later given a booklet compiled by Karen Lewis with "60 congratulatory messages from friends and family. What wonderful friends I have!"

But Vermont was not without its anxious moments. Getting to Metropolitan Airport [Detroit] on Friday morning, she found that their flight had been canceled. No flights were available later that day, July 4. The best the airlines could do was to get her to Vermont at 9 PM the night before the race. "We ended up renting a car at Metro Airport and driving 13 hours to Vermont." She noted, with some exasperation, "None of our friends [those who flew, too] had any issues with flights and, of course, it was me who had trouble getting there! I'm sure glad we planned to travel two days before the marathon and not the day before."

It's not a surprise that Swanson was "very excited, especially with having a big group of friends to help celebrate my last state." She added, "I'm very happy I chose to go for this goal as it has been a fantastic experience combining fun and interesting travels with my passion for marathon running. I'm fortunate to have shared my marathon-running and travels with a spouse who is also passionate about running." John, after Vermont, now has five states remaining to join the 50-50 Club himself.

Thinking that Swanson would kick back and relax for a while would be wrong. "I have already registered to run the Grand Rapids Marathon in October. I have never run that one and I enjoy Grand Rapids." Grand Rapids will help her reach her next target. "Since I now have a total of 89 marathons, my next goal will be to get to an even 100." She went on with more to achieve. "I would also like to again qualify for Boston.

I came within one minute a year ago, so now that I will be running fewer marathons per year, I am hoping to run a bit faster and do Boston one more time." Still not out of gas, "I also ran half marathons in ten different states, so I'll attempt to finish halves in half of the states."

Hearty congratulations to Donna Swanson!