Nick Willis and Michigan Track Classic ready for 2014 and beyond
by RunMichigan Staff
,
Aug. 5, 2014
By Dave McCauley, RunMichigan.com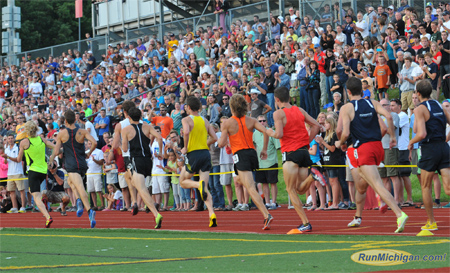 In 2013, world-class middle distance runner and Ann Arbor resident Nick Willis created probably the most exciting track event in our state in many years. With the word getting out mostly through word of mouth or social media, over 4000 spectators showed up at the Saline High School track for the inaugural Running Institute Mile. The huge crowd was not sent home unhappy, as the race saw seven men break the prestigious four minute barrier with Willis winning in a time of 3:56.
Building on the success of 2013, Willis looked to bring even more excitement to Saline, bringing in more top class men's milers for the newly named Ron Warhurst Mile along with adding a new Women's 800 meter event. The SOS Reyhdrate Women's 800 race will also have a very elite field, featuring some of the USA's best women's mid-distance runners.
With the help of T-Mobile US CEO John Legere, an inviting $20,000 total prize purse will be offered for the top finishers in each race.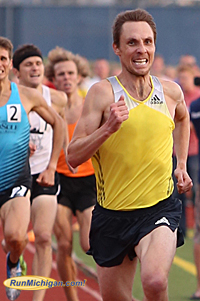 Of course the State of Michigan will be well represented at this year's event. Willis, who hails originally from New Zealand and competes on the world stage for his native country, ran his collegiate track and field at the University of Michigan and has been a long-time Ann Arbor resident.
Other athletes with ties to the State of Michigan include 2014 Olympian and Grand Blanc High School graduate Geena (Gall) Lara along with fellow University of Michigan grads Nicole Sifuentes and Nate Brannen. Also in the men's field will be former Bath High School great Liam Boylan-Pett. Boylan-Pett who went on to a great career at Columbia University in New York, is a multiple time MHSAA State Champion in both track and cross country.
Also competing at this year's Michigan Track Classic will be top-class Americans such as Ajee Wilson and Morgan Uceny in the SOS Reydrate 800 and 2014 NCAA 1500 Meter National Champion Mac Fleet from the University of Oregon.
Wilson, from Philadelphia, is a two-time USATF Indoor National Champion at 800 meters while Uceny is a two-time USATF Outdoor 1500 Meter Champion and holds an 800 Meter PR of 1:58.37. Uceny, who grew up in Indiana, ran collegiately for Cornell University in New York. Wilson's best 800 is 1:57.67.
For Nick Willis, the success of 2013 and interest in 2014 has been a huge motivator to be able to bring even more track action to the running fans of Michigan. Willis also has some big goals for the future, including for the Olympic year of 2016. RunMichigan.com caught up with Nick via Skype from Scotland while he was preparing for the 2014 Commonwealth Games in Glasgow.
"It's been really exciting to see how much interest there has been from the elite runners from around the country. Last year we had such a short window to try and invite people, so we got the top guys from the local region and this year we've had to turn away so many athletes -- which is a side to being a meet director I hadn't really thought about before.
"But it's a good problem to have as seen now by the startlists. It's just a really high level. It's probably only one level down from the highest Grand Prix level in the world in terms of the type of the depth of the field."
This year, Willis will be introducing a champion's trophy into the mix as an added incentive for runners of the Ron Warhurst Mile. "The goal is to turn this into a prestigious honor to win that race and have your name put onto that trophy named after such a legend of our sport here in Michigan."
Willis is also excited about the success and interest in the new addition to this year's event, the SOS Rehydrate Women's 800 Meter Run.
"The women's race surprisingly filled up so quickly within the six weeks of announcing the meet in April. These girls have been really excited for a long time. It's hard to know who's going to be in shape (from the time of the meet announcement until the day of the event), but it's worked out that the girls that have signed up are all running really great and many of them are looking to have a breakthrough race."
In quickly putting together last year's Running Institute Mile, Willis was looking for a way to stay close to his home in Ann Arbor while at the same time get race ready heading into the 2013 IAAF World Championships.
He also wanted to grow and increase the excitement for track and field in Michigan. Now, after seeing the huge crowd that showed up at Saline High School in 2013, his goals have gotten even bigger and could possibly see the a huge event set for 2016 in Ypsilanti.
"I've run at the EMU stadium a couple of times and it's a really fast track and it's got a beautiful grandstand that goes the whole way around. And, with the Olympics (Brazil in 2016) being on this side of the world it's away from the European Grand Prix, so many athletes will travel to the states prior to Rio for their final preparations.
"So here we've got a ripe opportunity to capitalize on that in the hype of the Olympics and get the greater area of Southeast Michigan to really get behind this event in the final weeks leading up to the games."
The running community in the State of Michigan is more than enthusiastic about what Nick Willis has brought with these highly competitive track events as seen by the huge crowd at Saline in 2013. Willis, who came to Michigan in 2003 to compete at the University of Michigan, will definitely get even more support for the even loftier goals he has.
Bringing an Olympic-year event with such a high class field is a big goal but after seeing the success of the Running Institute Mile in 2013 and what Willis has put together this year, it's a goal that he feels can happen.
"That's our dream. We need a couple steps toward making it a reality, but it's definitely a worthwhile goal to work towards."
For now, we're all looking ahead to another exciting night of track on August 10th in Saline.
Look for complete photo coverage along with interviews from top athletes right here at RunMichigan.com.
(Photos by RunMichigan.com.)
More information on the 2014 Michigan Track Classic
:
- Where: Saline High School. 1300 Campus Parkway, Saline, Michigan 48176
- When: Sunday, August 10 at 7:30 p.m.
- Photo coverage and athlete interviews: RunMichigan.com
-
Running Institute Ron Warhurst Mile and SOS Rehydrate Women's 800 start lists
.
-
Ticket Information
-
Event website
-
RunMichigan.com photos from 2013 Running Institute Mile
-
RunMichigan.com coverage, including athlete Interviews from 2013 Running Institute Mile