Grand Rapids, top runners from Michigan ready for 37th Fifth Third River Bank Run
by RunMichigan Staff
,
May. 8, 2014
By Dave McCauley, RunMichigan.com

Pair of state of Michigan runners among favorites for USA 25K championships. Dot McMahan of Hansons-Brooks looking to defend her title.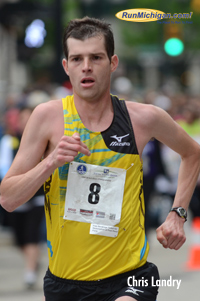 One of Michigan's longest-running road racing events will take place this Saturday, May 10, in downtown Grand Rapids. The 37th annual Fifth Third River Bank Run gets underway at 7:00 a.m. with the 5K, followed by a 10K and then the main race of the day, the 25K -- the largest race of its distance in the country.

The River Bank Run 25K also serves as the USA 25K Open Championships, with top runners, wheelchair and hand-cycle athletes coming in from across the country and around the world to compete for a total prize purse in the 25K of $102,600.

Some of Michigan's top runners are expected to be competing this Saturday in Grand Rapids. One of the favorites to capture the USA 25K Championships in the men's competition will be Ann Arbor resident Christo Landry.

Landry, a Virginia native who ran collegiately at The College of William and Mary, won the USA 10 Mile Championships last month at the Cherry Blossom 10 Mile Run in Washington D.C. The 27 year-old Landry won in dominant fashion, ending up with a time of 46:41 and the national title.

One of Michigan's most successful runners, Dathan Ritzenhein, will be present at this week's events and on race day, but will not be competing in the 25K. Ritzenhein, a Rockford High School graduate, will be taking part as a non-competitive entrant in the 10K.

Also scheduled to compete in the men's elite field with a Michigan connection will be Mike Renau. Renau of Minneapolis, is a former member of the Rochester Hills based Hansons-Brooks ODP team.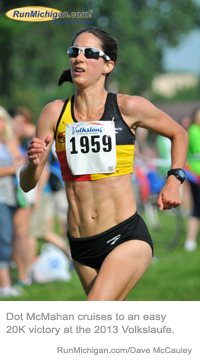 For the women, top runners from Michigan will include two veteran members of the Hansons-Brooks team. Dot McMahan and Melissa Johnson-White will both be competing in this Saturday's 25K.

McMahan is the returning USA 25K Women's National Champion, winning the tile in Grand Rapids last year with a time of 1:25:52. She was also selected as one of three members to represent the USA at the 2013 IAAF World Marathon Championships. McMahan's best marathon time is 2:31:48, which she ran in 2011.

Johnson-White finished in fourth place in last year's USA 25K women's field.

Also scheduled to compete for the USA 25K men's title will be the 2013 champion, Mo Trafeh. Trafeh set an American record at last year's event with a time of 1:14:18.

In addition to these national class runners, many more of Michigan's top runners will be on hand to join the thousands set to run in the 5K, 10K and 25K events.

Online registration is closed. However, runners still looking to get in on the fun at this year's Fifth Third River Bank Run can register on Friday, May 9 from 11:00 a.m. until 8:00 p.m. at the Sports and Fitness Expo Late Registration/Packet Pickup area at the DeVos Center in downtown Grand Rapids.

Complete coverage of the Fifth Third River Bank Run will be available at RunMichigan.com, including photos, interviews and results.

For more information on this year's races, you can visit the race website at https://www.53riverbankrun.com.

Pictured: Top: Ann Arbor's Christopher Landry at the 2013 Fifth Third River Bank Run Bottom: Hansons-Brooks ODP runner, Dot McMahan of Oakland Township (Photos/RunMichigan.com)