Olympian Nick Willis announces new Pro Mile, 800 Meter event at Saline H.S.
by RunMichigan Staff
,
Apr. 14, 2014
Provided by the
Michigan Track Classic
Michigan Mile grows into annual professional track event

Olympians to Compete at Saline High School August 10th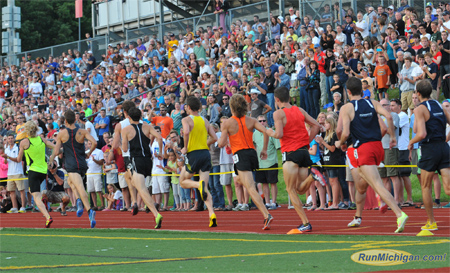 ANN ARBOR, Michigan -- Building on the success of the 2013 Running Institute Mile, meet organizers have announced the creation of a new event, the 2014 Michigan Track Classic. The event, to be held Aug. 10, will feature Olympians and other world-class athletes competing in an invitational men's mile and an international women's 800-meter race.

The 2013 event was held at Saline High School where more than 4,000 spectators attended to get a glimpse of a sub four-minute mile. The race was won by Olympic silver medalist, Nick Willis in a time of 3:56. Fans surrounded the track as seven men dipped under the four-minute mark.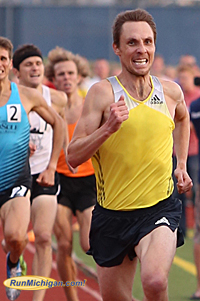 Willis, an Ann Arbor resident who runs for New Zealand, is one of the organizers of the 2014 meet. He admits he was surprised by the size of the crowd that attended last year. "It was track at its best. The venue was filled to near capacity as fans showed up in force after word-of-mouth buzz spread about the mile," said Willis. "It would be a wasted opportunity not to build on the success of last year's race. By adding an elite women's race to the schedule, our hope is to grow the crowd to 5000 people."

This year's crowd will be treated to the opportunity to see four former Wolverines battle the best middle-distance runners in America. Already confirmed in the women's 800 meters are 2012 Olympians and former Michigan track stars, Nicole Sifuentes and Geena Lara, nee Gall. Sifuentes, who recently claimed bronze at the World Indoor Championships emphasized, "I travel for almost all of my competitions, so I especially look forward to racing near home in front of friends and family. With a top-notch field of competitors, and during the peak of the summer racing season, I aim to dip under the two-minute barrier for the first time."

The newly titled Ron Warhurst Mile, in recognition of the legendary Michigan coach, will feature former Wolverines Nick Willis and Nathan Brannen. Willis, who holds a personal best of 3:50.66 for the mile admitted, "I desperately want to break 3:50. This is the race where I want to make that happen. We are bringing in a world-class field and pacemaker with the hope of making this the fastest mile in the world this year." Former teammate, two-time Canadian Olympian, and Michigan track superstar, Nathan Brannen added, "I'm very excited to be back racing in Michigan. It will be a little different this time not racing in the 'Block M' but I can't wait to return and hopefully put on a great show for the fans."

Athletes will compete for a total prize purse of $20,000 with the winners each taking home $5000. T-Mobile US CEO, John Legere is underwriting most of the prize purse. Legere, an avid runner who will complete his 10th Boston Marathon for charity this year, serves as board member for New York Road Runners and the New York Marathon. "I was a miler when younger and really love the idea of an evening-based mile for the sake of fans and for the sake of running very fast," Legere said. "I remember summer evenings at the track and know this can be a special night for runners and fans." He plans on being in attendance at the event.

The Michigan Track Classic will be held Aug. 10 at Saline High School. The women's 800-meter race starts at 7.30 p.m. followed by the Ron Warhurst Mile. Admittance will be $5 and entry will be free for children under 10 years old. Tickets are available online at www.freshtix.com/events/michigantrackclassic.

For more information visit http://www.michigantrackclassic.com. For updates please visit the Michigan Track Classic Facebook page at www.facebook.com/Michigantrackclassic or follow @MichiganTC on Twitter.

Related content:

RunMichigan.com featured photos and athlete interviews from the 2013 Running Institute Mile.

All RunMichigan.com photo coverage from the 2013 Running Institute Mile.

###

For more information contact Nick or Sierra Willis at [email protected]