RunMichigan.com Q&A with Grant Fisher, 2013 Footlocker National H.S. XC Champion
by RunMichigan Staff
,
Feb. 6, 2014
by Dave McCauley, RunMichigan.com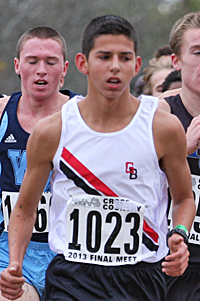 2013 turned out to be a busy, yet extremely successful year for Michigan's current top high school distance runner, Grant Fisher.

Fisher, now in his junior year at Grand Blanc High School, started out the year with a championship at the MITS (Michigan Indoor Track Series) State Meet in the 1600 Meter Run.

He followed that up in the MHSAA outdoor track and field season by winning a state title in the 3200 Meters in a time of 9:04. And, he narrowly missed another state championship, coming in second at that same meet in the 1600 Meters, running 4:15.769. The winning time, by Lake Orion's T.J. Carey, was 4:15.763.

In the fall of 2013, Fisher capped off an undefeated MHSAA high school cross country season with a state championship at the MHSAA Division One Finals, powering away from a tough D1 field to win in 15:13.

For the two-sport Fisher, 2013 could have been a back-to-back state championship year in cross. However, in the fall of 2012, the Grand Blanc soccer team made it to the MHSAA Division One championship game on the same day as the state meet for cross country, with Fisher making the tough decision to attend that match instead of the XC Finals.

2013 ended up in amazing style for him though, as he continued his cross country dominance of not only the State of Michigan, but the entire country.

On December 14, he finished his undefeated cross season by taking first overall at the Footlocker XC Nationals in San Diego. At that race, Fisher used a great strategy, along with plenty of patience and toughness, to battle his way to the Footlocker XC National Title in a time of 15:07 on the 5K course.

Fisher became the sixth runner from the State of Michigan to win the Footlocker XC Championships in the 35-year history of the event, joining Brian Grosso of Walled Lake in 1988, Abdul Alzindani of Dearborn in 1995, Dathan Ritzenhein of Rockford in 1999 and 2000, Tim Moore of Novi in 2001 and Megan Goethals of Rochester in 2009.

RunMichigan.com was able to catch up with Grant recently and he gave us his thoughts on the 2013 Footlocker XC Nationals and his first place finish.


RM - What were your thoughts coming into the Footlocker Cross Country Nationals and what were your feelings on the overall event experience?

GF - Going into Footlocker, I wasn't sure what to expect. It was by far the biggest cross country race I had ever been to, and I was excited to have the chance to race against the fastest guys in the country. Every high school cross country runner dreams to be treated like a professional athlete and compete in a race as prestigious as Footlocker. The overall experience of Footlocker is second to none.

RM - You looked pretty confident during the race, as you have before. Of course you were working hard, but were you comfortable that as it got into the heart of the race you could stay close, make your move and then kick like you did? Did any pre-race plans change for you during the race once things got going?

GF - Before every race, my coaches and I make a race plan. For Footlocker, the plan was to relax for the first two miles, but still stay in contention in case anyone made a move, and then make a surge at the top of the hill with about 800 to go. The race turned out perfectly because the first two miles were a lot slower than we expected, so I was able to relax even more and save energy for a late kick.

RM - That last part of the race was pretty exciting! What other races have you been in that compare to that finish? Was that the most exciting for you?

GF - Over the summer, I experienced a similar finish in a 1500m semi-final in Ukraine. In the race, like Footlocker, I was behind with 100 meters to go, and made a late surge to the finish. Being a part of such an exciting kick at the end of a race really prepared me for the finish at Footlocker. John Dressel is an incredible runner and competitor, and he made the finish something I will never forget.

RM - How does it feel now joining the ranks of the others from Michigan, like Dathan Ritzenhein, who have won Footlocker?

GF - It feels almost surreal. Every runner in Michigan looks up to Dathan, and to be put in the same category as one of your heroes is unthinkable.

RM - You've excelled in both soccer and running. How do you feel that soccer has helped your running, or the other way around - either physically or mentally?

GF - Both sports complement each other. Soccer really helps with leg speed and explosiveness for running, and running helps with endurance for soccer. Competing in both sports has significantly helped both my mental and physical strength.

RM - What are your goals for this indoor and outdoor season? Will you be shooting to compete at NB Indoor Nationals?

GF - This year my coaches and I decided to not race too much indoors and instead focus on outdoor track. I'm still planning on racing in a few indoor meets, and the results of those races will determine if I go to NB nationals. For outdoor track this year I'm looking forward to the state meet. Grand Blanc has some very talented guys in field events and sprints/middle distance, and I would really like to be a part of a state championship team.


Photo: Grant Fisher mid-way through the 2013 MHSAA Division One XC Finals race at Michigan International Speedway on November 2, 2013. (Photo: Pat Davey/RunMichigan.com)