Hansons-Brooks racing team looking to build on great 2013 success
by RunMichigan Staff
,
Jan. 22, 2014
By Steve Marcinkowski, RunMichigan.com

Michigan's pro distance racing team looks ahead to promising 2014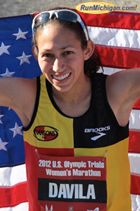 2013 was another successful year for the Hansons-Brooks Original Distance Project program, Michigan's only professional distance racing team. The team, based in Rochester Hills, signed several key runners as they look to improve on their success on the national and world running scene.

Looking back at some of the team's 2013 highlights, the year started out well, with Jake Riley running to a top ten finish at the Bupa Great Edinburgh Cross Country International Team Challenge on January 5th. Jake, a native of Bellingham, WA graduated from Stanford in the spring of 2012 as an 8-time All-American in track and cross country. With his 7th place, 24:50 performance in the 8K race, Jake helped Team USA to a first place team finish.

One week later on January 12th, teammates Mike Morgan and Melissa Johnson-White claimed top honors at the Walt Disney World Half-Marathon. Not only did they claim individual titles, they also set course records in 1:05:26 and 1:14:56, respectively.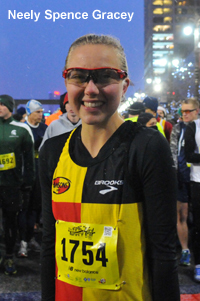 In early February, we witnessed Neely (Spence) Gracey run a great race at the USA Cross Country Championships. In the 8K race, Neely ran 26:54 to finish fifth overall, qualifying for the World Cross Country Championship in the process. Neely went on to finish 13th overall and was the top American finisher in Poland at the 40th IAAF World Cross Country Championship.

Neely joined the team in 2012 following a remarkable collegiate career at Shippensburg University in Shippensburg, PA. While at Shippensburg, Neely was an 8-time NCAA Division II National Champion with three NCAA records. She holds current PR's of 15:27 for 5000 meters, 25:22 for 8K and 32:16 for 10,000 meters.

Dot McMahan had a stellar 2013 as she won the USA 25Km Championship in 1:25:52. This came just months before Dot finished 18th in the marathon at the World Outdoor Track and Field Championships in 2:39:52.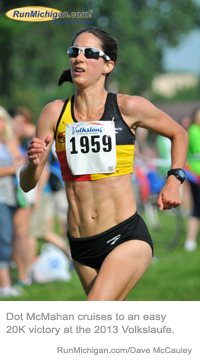 Coach Keith Hanson describes Dot's season as a "tribute to longevity". "Her best running year came at 36 and in her 8th year as a member of the Hansons-Brooks Distance Project," he said.

In her 10th year with the program, Melissa Johnson-White ran a PR of 2:32:37 to finish 10th at the 2013 Bank of America Chicago Marathon.

Desi (Davila) Linden spent much of 2013 recovering from a hip flexor injury she suffered in preparation for the 2012 London Olympic Marathon. Her 2013 Marathon racing debut came at the Berlin Marathon where she finished 5th in 2:29:15.

"Desi's healthy return to the Marathon in 2013 was huge," said Hanson. "She ran 2:29 in Berlin finishing 5th. It was an important step for her." Desi also placed well at the Sanyo Half Marathon finishing in 1:10:51, good for a 7th place finish.

Notable 2013 team additions included Bobby Curtis, Brendan Gregg, Dustin Emerick, Emma Kertesz, Corey Conner, Shauna McNiff and Katie Kellner.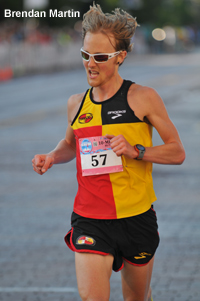 On March 9th of 2013, Bobby Curtis finished runner-up at the USATF 15K in Jacksonville, FL in a time of 43:40. Additional 2013 highlights for Curtis included a 10th place finish in the Fukuoka International Marathon in 2:13:24. Bobby joined the team having run the 7th fastest 10K in US history in 27:24.

Brendan Gregg and Dustin Emerick also had strong seasons in 2013 to begin their Hansons-Brooks careers.

Brendan, a former Stanford Cardinal, placed 2nd in his half marathon debut with a time of 1:03:34 at the Anthem Richmond Half Marathon. He also qualified for the 2014 BUPA Cross Country Championship in Edinburgh, Scotland with a 6th place Club Cross Country finish.

Dustin also had a strong half marathon debut at the 2013 Anthem Richmond Half in 1:04:17, good for 5th place. Dustin joins the team after competing at the University of Southern Indiana and being named a 2-time NCAA Division II All American.

Ethan Shaw ran his marathon debut at the Medtronic Twin Cities Marathon placing 14th in 2:17:26. Ethan is a graduate of Dartmouth College and placed 54th at the NCAA DI Cross Country Championship in 2011.
Looking ahead to the rest of 2014, the expectations continue to rise.

Desi back, ready for a great 2014, newcomers and veterans set high expectations.

Coach Keith Hanson also announced recently that Desi will return to the Boston Marathon in 2014.

"She is currently in Kenya getting her base training," Hanson said. "She will return in February for her Boston Marathon preparation. "Desi is very excited about competing at Boston. This will be a true test and she is up to the challenge."

Desi was the top American finisher and 2nd overall at the 2011 event, running an amazing time of 2:22:38.

Coach Hanson also provided several goals regarding the upcoming year. "As always the goals continue to be about development. We will look for opportunities to represent the country on the international stage."

Development of the younger athletes also will be a point of focus for the team this season. "We hope to develop a solid aerobic base for our younger athletes that will enable them to compete and improve for many years to come," Hanson commented.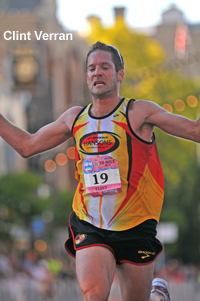 The Hansons-Brooks team has also expanded to the track in recent years. Jacob Riley qualified for the 2012 US Olympic Trials in both the 5K and 10K, having placed 13th in the 10K.

In 2014, the Hansons look to put additional focus on the track. "We will take a group to Europe to run some summer track meets", said Coach Hanson.

In addition to members of the team competing at races throughout the country, the Hansons-Brooks team at a number of Michigan races as well.

A strong team presence is always on hand at some of our state's most prestigious and long-standing races, including the HealthPlus Crim in Flint and the Fifth Third River Bank Run in Grand Rapids. Hansons-Brooks ODP athletes have also taken top honors at other Michigan races such as the Fifth Third Turkey Trot and Volkslaufe.

2014 looks to be another positive year of growth and development for the team. Be sure to check out Hansons-Brooks athletes and other elite Michigan athletes of all levels on the pages of RunMichigan.com.

Current (2014) Hansons-Brooks ODP team members, bios and PR's

Men

1) Ethan Shaw
2) Brendan Martin
3) Brendan Gregg
4) Jake Riley
5) Bobby Curtis
6) Dustin Emerick
7) Clint Verran
8) Mike Morgan
9) Luke Humphrey

Women

1) Shauna McNiff
2) Corey Conner
3) Katie Kellner
4) Desi (Davila) Linden
5) Neely Spence Gracey
6) Melissa Johnson White
7) Dot McMahan
8) Lavenna Kubatzsky

Most recent additions to program

Corey Conner - Sept 2013
Katie Kellner - Sept 2013
Shauna McNiff - August 2013
Brendan Gregg - December 2012
Bobby Curtis - January 2013
Dustin Emerick - January 2013

Hansons-Brooks ODP 2014 Race Schedule