Happy Holidays and Thanks for a Great 2013 from RunMichigan.com
by RunMichigan Staff
,
Dec. 23, 2013
By RunMichigan.com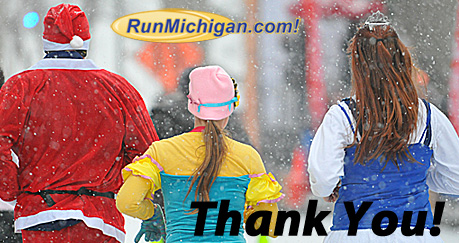 2013 has been a great year for running in Michigan!

We've watched running become more popular than ever.

We've seen fun new events bring chances for new runners to enjoy our sport.

We've once again seen our high school and collegiate athletes shine on the national stage and our professional runners represent our country at the international level too!

Also, Michigan's traditional long-standing races keep getting better, larger and more competitive and our new races more creative and fun.

But most importantly, we've seen the great sport of running grow in our state and we've witnessed the joy running brings to everyone involved.

RunMichigan.com would like to say thanks to all the runners who have visited our site this past year and throughout the years. Without you supporting us, we wouldn't be able to do what we do.

We also want to wish everyone a safe and joyous remainder of the Holiday season and we hope that your 2014 is better than ever. May you reach all your goals and stay healthy and happy throughout the year.

We'd also like to send of course a big thanks to all the advertisers who have supported us and to all of those individuals and organizations who have helped us do what we do.

We love running and of course we love Michigan. Our goal is to do all we can to cover, support and promote the great runners of our state at every level.

Because of you we can continue to do what we do! Thank you!!

Merry Christmas and Happy Holidays to all of you from all of us and best wishes for a wonderful new year!

All the staff of RunMichigan.com

About RunMichigan.com
Founded in 1996, RunMichigan.com has provided coverage and support for all of Michigan's runners through its road race, track and cross country race photography, complete race results, elite athlete interviews and more. RunMichigan.com also provides one of the most extensive and all-inclusive running and road race event calendars in the Midwest.