Festive Holiday races kick into full gear, which is your favorite?
by RunMichigan Staff
,
Dec. 6, 2013
by RunMichigan.com

Fun and festive Holiday races are here. We want to know which one you like best!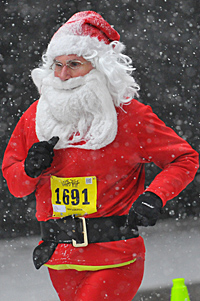 Well it's that time of year again where Christmas and Holiday themed races take over our great state.

I think for most, Thanksgiving turkey trots sort of unofficially got us into that holiday running mood. However, it seems like this first full week of December is when it all starts getting fun.

This weekend, there are several Holiday themed races scheduled around the state. The Holiday Hustle in Dexter, the Santa Run in Flint, the Belleville Jingle Bell 5K and also the YMCA Jingle Bell 5K in Port Huron are all scheduled for Saturday the 7th.

Additional Saturday races include the Manistee Jingle Bell Jog and the Farmland 5K European Style XC Challenge in Traverse City.

On Sunday the 8th, take a trip to Clarkston for the Christmas Present 5K or to New Baltimore for the Jingle Bell Run. And yes, Holiday costumes are encouraged!

In the upcoming weeks, more fun races will take place, from the Run Like the Dickens races in Holly on through to all the New Year's races -- from Detroit, Cadillac and Ludington and all across the state.

These are but a few of the many races this Holiday season. You can find these and more on the ever so popular and easy on the eyes RunMichigan.com Race and Event Calendar.

But we want to know what YOU think! Which December or New Year's Day Holiday race in Michigan is your favorite and why?

Click here to join the conversation on Facebook or Twitter and let us know.

Enjoy this fun, festive time of the year!