Grant Fisher of Grand Blanc wins Footlocker Cross Country National Title
by RunMichigan Staff
,
Dec. 2, 2013
Update: December 14, 2013 - 1:45 P.M.

Grant Fisher wins Footlocker National XC Title

Grant Fisher of Grand Blanc has won the 2013 Footlocker Cross Country Championships, held December 14, 2013 in San Diego, California.

Fisher, who runs for Grand Blanc High School, took first in a time of 15:06.5 for the 5K course, beating out runner-up Jonathan Dressel of Colbert, Washington by three seconds.

Fisher joins four other runners from Michigan who have won the boys' Footlocker XC national title in the 34-year history of the event - Brian Grosso of Walled Lake Western H.S., Abdul Alzindani of Dearborn Fordson, Dathan Riztenhein of Rockford and Tim Moore of Novi.

In the history of the girls' competition at Footlocker nationals, Michigan has had one champion. Megan Goethals of Rochester won the title in 2009.

Watch Full Boys Race Here!

Boys and Girls Full Results

-- more to come.

Good luck to all our Michigan runners competing at this Saturday's Footlocker XC National Championships.

2013 Footlocker Cross Country National Championship Meet - how to follow

When: December 14
Where: San Diego, CA
Race Time: Girls - 9:15 a.m., PST, Boys - 10:00 a.m., PST
Results: Click Here
Live video stream: Click Here

2013 Footlocker XC Midwest Regional Report

By Dave McCauley, RunMichigan.com

KENOSHA, WI -- After finishing up a successful year of racing that saw him win MHSAA state titles in both track at 3200 meters and cross country, Grant Fisher is ready once again to prove his talents on the national stage.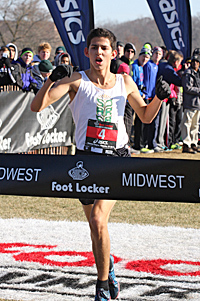 Fisher, the Grand Blanc High School junior, traveled to Kenosha, Wisconsin and powered his way to the 2013 Footlocker XC Midwest Regional boys' title in a time of 15:02 for the 5K course. The Footlocker XC regional meet was held Saturday, November 30.

Fisher beat out a very tough top pack, finishing off runner-up Addison Dehaven of Brookings, South Dakota by seven seconds. In all, six runners in the boys' race ran 15:15 or faster.

Fisher now moves on to the Footlocker XC Nationals to be held December 14 in San Diego, California.

In addition to Fisher from the boys' race, Michigan will have one other representative heading to the national meet as Waterford Mott High School's Ryan Robinson finished in 10th place in 15:22. The top ten in both the boys and girls seeded 5K races at the regional meet qualifies for the Footlocker XC Nationals.

Also running well from Michigan were Ben Hill from Royal Oak in 19th place and Brian Kettle of Milford in 23rd.

From the girls' seeded race, Michigan will have two runners heading to nationals. Rockford High School senior Lauren Brasure, who finished in second place at the MHSAA Division One XC Finals, ran to a sixth place finish in a time of 17:47.

Also qualifying for nationals was Kirsten Olling who runs for Breckenridge High School. Olling, a four-time MHSAA Division Four cross country state champion, finished in eighth place overall in 17:52.

Other top finishers representing Michigan in the girls' race at this year's Footlocker XC Midwest Regionals included Amber Way of Charlevoix (11th place), Valerie Wierenga of Grandville (12th), Meg Darmofal of Mason (13th), Karrigan Smith of St. Johns (15th) and Morgan Posthuma of Ada who finished 18th.

One of the pre-race favorites at this regional meet, MHSAA Division One state champion Audrey Belf of Birmingham Seaholm High School faded late to finish in 22nd place overall. Belf, however, completed a great break out year in both track and cross country that included her cross country state title and also a third-place finish at the New Balance Indoor Nationals 2 Mile in a time of 10:22.

Michigan high school runners have had great success at the Footlocker XC Nationals. In 2009, Rochester High School's Megan Goethals ran 17:07 to take home the girls' national title. Goethals finished in third in 2008.

At the 2011 nationals, West Bloomfield's Erin Finn placed second overall and in 2010 both Finn and Waterford's Shannon Osika placed in the top 10. And, back in 2002, Ishpeming, Michigan's Amber Smith placed fifth overall.

The State of Michigan has had its most success on the boys' side at Footlocker XC Nationals with five national champions. Dathan Ritzenhein of Rockford won titles in 1999 and 2000, posting the fastest and third fastest times ever at the Footlocker XC Nationals -- 14:29 in 1999 and 14:35 in 2000.

Also winning national titles for the boys at Footlocker XC were Walled Lake Western's Brian Grosso (1988), Abdul Alzindani from Dearborn (1995) and Novi's Timothy Moore, who won in 2001. Todd Williams of Monroe was national runner-up in 1986.

2013 Footlocker XC Nationals

When: December 14
Where: San Diego, CA
Race Time: Girls - 9:15 a.m., PST, Boys - 10:00 a.m., PST

Pictured: Grant Fisher from Grand Blanc crossing the tape and winning the 2013 Footlocker XC Midwest Regional Boys Championship (Photo by Pat Davey, RunMichigan.com)