NCAA announces 2013 Division One National XC Qualifiers
by RunMichigan Staff
,
Nov. 16, 2013
by RunMichigan.com (Qualifiers list provided by NCAA.COM)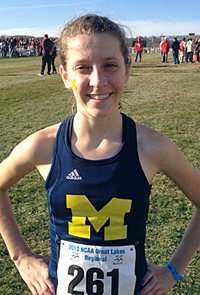 The University of Michigan men's and women's teams earned automatic bids to the NCAA Division One National Cross Country Championships by way of their dominating first place finishes at the Great Lakes Regional Meet on Friday, November 15 in Madison, Wisconsin.

In addition to the Wolverine men and women out of the Great Lakes Region, the NCAA Division I Men's and Women's Track and Field Committee today announced today the complete list of team and individual qualifiers for the 2013 NCAA Division I Men's and Women's Cross Country Championships, to be held November 23rd in Terre Haute, Indiana.

Indiana State will host the championships at the Wabash Valley Family Sports Center. The men's 10K race will begin at noon, EST, followed by the women's 6K race at approximately 1:15 p.m., EST.

In order to be eligible to participate in the championships, teams and individuals qualified in their respective NCAA regional competitions.

Thirty-one teams were selected to participate in each championship. The top two, seven-person teams automatically qualified from each of the nine regions, for a total of 18 teams. Thirteen additional teams were selected at-large.

Thirty-eight individuals were selected to participate in each championship through an automatic qualifier and at-large selection process. All individual qualifiers finished in the top 25 in their region.

In addition to the University of Michigan men and women, the women's team of Michigan State University received an at-large berth to the nationals.

The Spartans finished in third place as a team at yesterday's regional meet in Madison. MSU's women's team also won this year's Big Ten Championship and was ranked sixth nationally heading into the regional meet.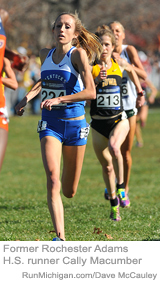 Individually, also out of the Great Lakes Region and from schools in Michigan, Michigan State's Caleb Rhynard qualified for the men and Eastern Michigan's Victoria Voronko qualified for the women's race.

Other qualifiers, either team or individual with ties to the state of Michigan, include Stanford University with Troy High School graduate Mike Atchoo, The University of Washington with Megan Goethals of Rochester High School, Wisconsin's women's team with Gabi Anzalone from Grand Blanc and Cally Macumber of Kentucky who qualified individually.

Macumber competed for Adams High School in Rochester and finished in sixth pace overall at the 2012 NCAA Division One Cross Country Championships. Her time for the 2012 National meet was 19:42 for 6K.


Full list of qualifying teams and individuals:

Men's Automatic Qualifying Teams

Arkansas
Colorado
Columbia
Eastern Kentucky
Florida
Georgia
Michigan
Northern Arizona
Oklahoma State
Oregon
Princeton
Stanford
Syracuse
Texas
Tulsa
Virginia
Villanova
Wisconsin

Men's At-Large Teams

Air Force
BYU
Colorado State
Dartmouth
Harvard
Indiana
Iona
New Mexico
North Carolina
NC State
Notre Dame
Portland
Providence

Women's Automatic Qualifying Teams

Arkansas
Arizona
Butler
Colorado
Dartmouth
Florida State
Georgetown
Iowa State
Michigan
Minnesota
New Mexico
Providence
SMU
Stanford
Virginia
Vanderbilt
Villanova
William & Mary

Women's At-Large Teams

BYU
Cornell
Indiana
Michigan State
Notre Dame
Oregon
Penn State
Princeton
San Francisco
Syracuse
Washington
West Virginia
Wisconsin

Men's Individual Qualifiers

Great Lakes Region

John Mascari, Indiana State
Matt McClintock, Purdue
Caleb Rhynard, Michigan State
Tom Curr, Butler

Southeast Region

Paul Chelimo, North Carolina-Greensboro
Thomas Curtin, Virginia Tech
Paul Katam, North Carolina-Greensboro
Tyler Byrne, Louisville
Ernest Kibet, Louisville

Mid-Atlantic Region

Andrew Springer, Georgetown
Matt Fischer, Penn State
Thomas Awad, Penn
Tyler Mueller, Lehigh

West Region

Jeff Howard, Boise State
Aaron Nelson, Washington
Chris Frias, Cal Poly
Chris Enriquez, Long Beach State
Eric Causey, San Francisco

Midwest Region

Trent Lusignan, South Dakota State
Jannis Topfer, Illinois
Mohamed Hrezi, Iowa State
Reid Buchanan, Kansas

Mountain Region

Kennedy Kithuka, Texas Tech
Anthony Rotich, UTEP
Ryan Barrus, Southern Utah
Garrett Zans, Wyoming

Northeast Region

Kevin Dooney, Yale
Kelton Cullenberg, Maine
Wesley Gallagher, Northeastern
Craig Hunt, Central Connecticut

South Region

Ty McCormack, Auburn
Peter Okwera, Tennessee
Matt Miller, Belmont
Bryant Blahnik, Florida State

South Central Region

Matt Johnsen, Lamar
Isaac Spencer, Texas A&M
Ash Harrell, Lamar
Will Firth, Rice

Women's Individual Qualifiers

Great Lakes Region

Juli Accurso, Ohio
Katie Borchers, Ohio State
Victoria Voronko, Eastern Michigan
Clare Fischer, Xavier

Mid-Atlantic Region

Michelle Capozzi, La Salle
Lindsay Prettyman, Delaware
Cleo Whiting, Penn
Kiera Harrison, Loyola Maryland

Midwest Region

Courtney Frerichs, UMKC
Alyssa Schneider, Illinois
Kaitlyn Fischer, Missouri
Monika Juodeskaite, Oklahoma State

Mountain Region

Heather Demorest, Montana State
Summer Harper, Weber State
Rebekah Winterton, Utah
Rolonda Jumbo, Northern Arizona

Northeast Region

Waverly Neer, Columbia
Kate Avery, Iona
Liv Westphal, Boston College
Silvia Del Fava, Albany

South Region

Cory McGee, Florida
Teghan Henderson, Chattanooga
Elinor Kirk, UAB
Agata Strausa, Florida

South Central Region

Marielle Hall, Texas
Kristina Aubert, Arkansas State
Rachel Johnson, Baylor
Hillary Montgomery, Texas A&M
Brooke Cassar, Central Arkansas

Southeast Region

Cally Macumber, Kentucky
Juliet Bottorff, Duke
Joanna Thompson, NC State
Annie LeHardy, North Carolina
Sarah Rapp, Virginia Tech

West Region

Emma Bates, Boise State
Shelby Houlihan, Arizona State
Kelsey Santisteban, California
Laura Hollander, Cal Poly