Kentucky's Cally Macumber (Rochester-Adams) surges late, earns Automatic NCAA Nationals XC bid
by RunMichigan Staff
,
Nov. 16, 2013
Courtesy Jacob Most, The University of Kentucky
Former Rochester Adams H.S. runner takes second at NCAA XC D1 Southeast Regional to secure spot at D1 Nationals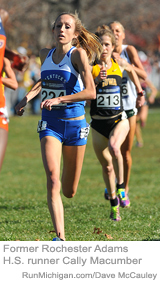 CHARLOTTESVILLE, Va. – Cally Macumber unleashed a vicious kick to finish second individually – making up a 15-meter gap and passing two runners in the final 50 meters – at the NCAA Southeast Regional Championships on Friday at the Panorama Farms Cross Country Course.
Macumber's second-place finish earned her an automatic bid to next Saturday's NCAA Championships, which will take place in Terre Haute, Ind.
William and Mary's Emily Stites won the meet with a time of 19:57.50, a little more than 10 seconds ahead of Macumber, who clocked in at 20:07.90. With the result, Macumber was named All-Southeast Regional for the second straight season.
Macumber led the UK women's team to a fifth-place finish, as the Wildcats ended up with 186 points.
Seniors Allison Peare and Anna Bostrom worked together to place 30th and 36th respectively with times of 21:22.20 and 21:25.90.
Freshman Cassidy Hale placed 54th with a time of 21:48.90, and Taylor Wendler rounded out UK's top-five with a 64th place time of 21:56.80.
The UK men's team finished 12th overall with 336 points, led by seniors Matt Hillenbrand and Adam Kahleifeh. Hillenbrand passed four runners in the final two meters to finish 30th with a time of 29:59.60, while Kahleifeh was 53rd with a time of 30:38.30.
MacKay Wilson was 59th with a time 30:43.10, Robert Scharold moved up eight spots after the 6K split to finish 90th in 31:09.90 and Zach Kuzma finished 109th in his first NCAA Regional with a time of 31:32.20.
Eastern Kentucky and Virginia earned the two automatic men's team bids to the NCAA Championships with respective scores of 58 and 96 points.
Virginia and William and Mary earned the two women's team automatic bids with respective point totals of 57 and 69.
Macumber placed sixth at the NCAA Championships in 2012. At-large bids for the 2013 NCAA Cross Country Championships will be announced on Saturday.
The top-two teams and top-four individuals at each of the nine regional meets automatically advanced to the NCAA Championships. Thirteen teams also will also earn at-large bids.
Men's Team Results
1. Eastern Kentucky: 58
2. Virginia: 96
3. NC State: 101
12: Kentucky: 336
Women's Team Results
1. Virginia: 57
2. William and Mary: 69
6. Kentucky: 186
Men's Invidual Results (Winner and UK Only)
1. Paul Chelimo (UNC-Greensboro): 28:37.30
30. Matt Hillenbrand: 29:59.60
53. Adam Kahleifeh: 30:38.30
59. MacKay Wilson: 30:43.10
90. Robert Scharold: 31:09.90
109. Zach Kuzma: 31:32.20
126. Jared Phillips: 31:52.30
143. Zack Beavin: 32:11.60
Women's Individual Results (Winner and UK Only)
1. Emily Stites (William & Mary): 19:57.50
2. Cally Macumber: 20:07.90
30. Allison Peare: 21:22.20
36. Anna Bostrom: 21:25.90
54. Cassidy Hale: 21:48.90
64. Taylor Wendler: 21:56.80
89. Amy Hansen: 22:21.20
146. Kristen Hale: 23:05.80
Pictured: Kentucky's Cally Macumber who ran in high school for Rochester Adams, running at the 2012 NCAA D1 XC National Meet in Louisville, Kentucky. (photo: Dave McCauley | RunMichigan.com)