Michigan Men and Women sweep NCAA D1 XC Regional titles, UM's Finn women's runner-up
by RunMichigan Staff
,
Nov. 15, 2013
by Dave McCauley, RunMichigan.com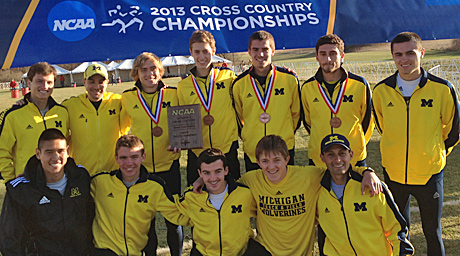 Men's and Women's Complete Results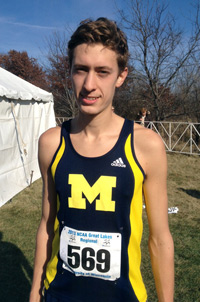 MADISON, WISCONSIN -- The University of Michigan Men's Cross Country team today put an end to an 11-year streak by the University of Wisconsin and took home the 2013 NCAA D1 Great Lakes Regional title held November 15 on the home course for the University of Wisconsin.

In an extremely tight team battle, the Wolverine men prevailed by just one point of the host Badgers with a score of 70 points. Wisconsin finished second with 73, Notre Dame third with 74 and Big Ten Men's Champion Indiana was fourth with 75. In a distance fifth was Michigan State with a total of 151.

Eastern Michigan University's men's team, the 2013 MAC Champions, placed 10th.

Individually Michigan placed three runners in the top ten. Junior Mason Ferlic finished in third at 30:11, Senior Mark Beams of Vicksburg, Michigan was eighth in 30:33 and Morsi Rayyan from Dewitt, Michigan (St. John's H.S.) placed 10th in a time of 30:38. Michigan State's Caleb Rhynard was fourth in 30:12.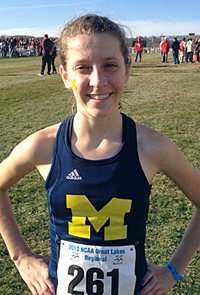 The University of Michigan women were able to follow up on the great performance from the men in their race with a title of their own. The Wolverine women ended with a first place score of 48 points to runner-up Butler University's 67. Right behind Butler in the women's race came the Spartans of Michigan State with a total of 73 points. Central Michigan's women finished ninth and Eastern Michigan was 12th.

Leading the way for Michigan in the Women's 6K race was Freshman Erin Finn from West Bloomfield High School, the Big Ten Women's XC Champion for 2013. Finn finished second overall with a time of 20:09, nine seconds back of the overall winner, Juli Accurso of Ohio University.

Other top finishers for Michigan were Shannon Osika (Waterford Mott HS), who took sixth in 20:25 and teammate Brook Handler from Rochester High School who was seventh in 20:27

Also in the women's race, Michigan State's Leah O'Connor (Croswell-Lexigton HS) placed fifth overall in 20:23, and Rachele Schulist, also of Michigan State (Zeeland West HS), took eighth in 20:30. Michigan's Taylor Manett (Rockford HS) was 11th in 20:36. Eastern Michigan's Victoria Voronko who finished 14th.

Michigan's men and women's xc teams have now both qualified automatically for the NCAA D1 XC National Championships, to be held November 23rd in Terre Haute, Indiana.

Pictured: Michigan's men's team after their 2013 NCAA regional victory. Mason Ferlic (third overall) and Erin Finn (2nd overall) led their Wolverine teams to NCAA D1 XC Great Lakes Regional Titles on November 15 at the University of Wisconsin. (Photos by John Brabbs | RunMichigan.com)