Michigan's D1 College XC teams in Wisconsin for NCAA Regionals
by RunMichigan Staff
,
Nov. 15, 2013
By RunMichigan.com

Wolverine Men's XC Team is Regional Champs. UM's Erin Finn individual runner up for the women. Unofficially still, but UM Women tops as well.

Women's entries list | Men's entries list

Updates on RunMichigan.com Twitter Feed.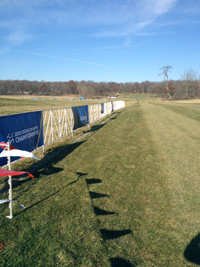 MADISON, WI -- NCAA Division One cross country teams from Michigan are in Madison, Wisconsin today for the 2013 NCAA D1 Great Lakes Regional Cross Country Championships. Individuals and teams will be fighting it out for a berth at the NCAA National Championships, to be held November 23 in Terre Haute, Indiana.

Today's events start out with the Men's 10K race at 1:00 p.m. EST, followed by the Women's 6K at 2:15 p.m., EST. RunMichigan.com will provide results and photos after the meet.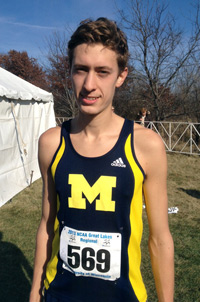 Going into today's men's competition, The University of Michigan (2nd), Michigan State University (7th) and Eastern Michigan University (9th) are all ranked in the top 10 in the Great Lakes Region. Michigan is currently ranked 16th nationally.

For the women, Michigan State University, who took home the 2013 Big Ten XC title recently, is ranked first in the Great Lakes Region while 2012 NCAA Great Lakes Region Champion Michigan is ranked third. Central Michigan's women are ranked 10th in the region. On the national level, Michigan State's women are currently ranked 6th with Michigan at number 14.

Other NCAA D1 teams competing today in Madison are Western Michigan University, Oakland University and The University of Detroit-Mercy.

pictured: The finish line awaits at the 2013 NCAA D1 Great Lakes XC Regional in Madison, Wisconsin, Michigan's Mason Ferlic after the men's race. (photos: John Brabbs/RunMichigan.com)