Big weekend for State of Michigan college XC teams
by RunMichigan Staff
,
Nov. 6, 2013
By Dave McCauley, RunMichigan.com

In addition to the great performances turned in this past weekend by Michigan's top high schoolers at the Lower Peninsula XC State Meet at MIS, our state's college cross country programs enjoyed success at their respective conference meets.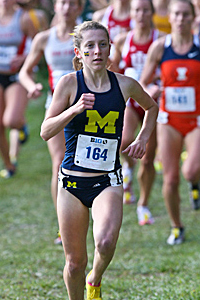 At the Big Ten Cross Country Championships at Purdue University on Sunday, November 3, the Michigan State Spartan women took home their third Big Ten XC title in four years.

Led by Junior Leah O'Connor (Cros-Lex HS), the Spartans beat out the 2012 Big Ten Women's Champion Michigan, 43 points to 55. O'Connor placed second overall with a time of 20:56.9 on the 6K course. MSU placed three women in the top 10 and five in the top 15.

Although the University of Michigan women weren't able to repeat as team champions, their first-year runner Erin Finn (West Bloomfield H.S.) dominated the race throughout in taking home her first major collegiate title, winning the 2013 Big Ten individual championship in a time of 20:48.3. (5:35/mile pace)

In the men's competition at the Big Ten meet, the Michigan Wolverines placed all of their top five in the top 20 to place second overall with 66 points. Big Ten champions Indiana finished with a team total of 51 points. Michigan State finished in seventh place as a team in the men's race.

Individually, Michigan State's Caleb Rhynard (Shepherd H.S.) placed fourth overall in a time of 24:21 for the 8K course, while Michigan's top finisher was Mason Ferlic in ninth at 24:36.2. The overall winner was Wisconsin freshman Malachy Schrobilgen with a time of 24:16.9.

It was also a big weekend for our state at other collegiate conference championship meets.

At the Mid American Conference XC Championships, hosted by Bowling Green State University on November 2nd, the Eastern Michigan University Men's Team claimed their fourth team title in a row and 18th total.

EMU beat out second place Akron University, 42 points to 67.

Top runner for EMU at the MAC meet was Grzegorz Kalinowski who took third overall in 25:04 for the 8K race. The University of Buffalo's Zachary Ahart placed first in 24:47.

EMU Eagle Head Coach John Goodridge was named MAC XC Coach of the Year.

EMU's women's team placed fourth overall with top runner Victoria Voronko placing second in a time of 21:07. (6K)

At the Horizon League Cross Country Championships at Youngstown State University, also on November 2, the University of Detroit-Mercy Titans claimed their first ever Horizon League title. The Titan men dominated the competition, finishing with 33 points to runner-up Akron's 72.

UDM placed five runners in the top eleven with senior Martin Nelkie (West Branch, MI/Ogemaw Hts. H.S.) leading the way with his fourth place finish and time of 25:54. Right behind Nelkie was teammate Ryan Hofsess (Milford H.S.) in 26:03.

In the women's Horizon League race, UDM's Louisa Coppola (Warren Woods-Tower H.S.) finished in third place overall while the UDM women finished in fourth place as a team.

In addition to the team honors for Detroit-Mercy, UDM's Guy Murray was named the 2013 Horizon League Men's Coach of the Year.

Oakland University, running in their first ever Horizon League Championships, took third place in the women's team competition and fourth in the men's.

Also this past weekend, Calvin College's Men's Cross Country team took home its 27th straight MIAA title and the Knight women won their 8th league championship in the last nine years.