MSU Women's Cross Country Wins 2013 Big Ten Championship
by RunMichigan Staff
,
Nov. 3, 2013
Courtesy MSU | link to results | UM's Finn wins individual title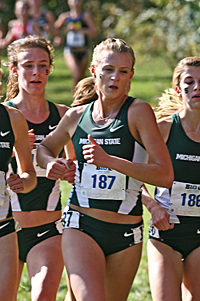 EAST LANSING, Mich. - The Michigan State women's cross country team claimed its third Big Ten Championship title in four years on Sunday at the Boilermaker Cross Country Course in West LaFayette, Ind. Led by Leah O'Connor's runner-up finish, the Spartans picked up 43 points to beat out defending champions Michigan. Caleb Rhynard placed fourth overall to lead the men to a seventh-place finish with 170 points.
"Our strategy really was to run a team race, not to take any individual chances," said director of cross country/track & field Walt Drenth. "They did a really nice job of that. They did a really good job of running late. The course was very muddy; it's a very challenging cross country course. Probably about a mile in, it turned into a three-team race between Minnesota, Michigan and us. They really separated. We only ran with three people who have ever won a Big Ten Championship today. That's pretty amazing. Obviously, Leah's success last year made her a little bit more comfortable. Lindsey Clark was in there running and Megan Rodgers ran last year. When you have that little experience going into a race and are to perform with that kind of poise under that pressure and expectation. We talk about process and we believe it. There's no question that we had a chance to win. Everybody understood that. I think people really thought Michigan was the favorite. That was fine, but there was still expectation within our camp and even from the outside that we would be a contender. I thought they handled that stuff well. You can have an implosion in a race like this. But we just kept doing what we normally do. We stuck together and did a really good job of when one person would run into trouble, the team would pick them up and talk them through their rough spot and gathered themselves with 1,500-meters to go and off they went. They took control of the race.
"It speaks to a number of things. It speaks to the commitment of the women on the team, first and foremost. They've created a culture internally of a high expectation, but in the proper perspective. They're not going off the deep end to do this; they are intent on being competitive. They choose to come here because they want to be good. It also speaks to Lisa and her efforts. She does an amazing job of interacting with, gaining their trust, recruiting, the whole gamut of things. When you have a run of success, it doesn't happen in a vacuum. It happens for a lot of reasons. For me, this thing would barely come off the ground if it wasn't for Lisa."
Entering the weekend as the top-ranked Big Ten team in the nation, at sixth overall in the latest U.S. Track & Field and Cross Country Coaches Association poll, the women rose to the challenge and placed three in the top-10 of the meet. O'Connor clocked a 20:56.90 to cross first for the Spartans. Finishing fifth overall, Katie Landwehr posted a time of 21:04.4. Lindsey Clark crossed the finish line in 21:12.30 to finish ninth overall.
Rounding out the Spartan scorers was Rachele Schulist, who in her first conference championship race finished 12th with a time of 21:24.60, followed by Megan Rodgers recording a time of 21:27.20 for a 15th-place finish.
"I thought Rachele Schulist and Shelby Jackson probably didn't have their normal, standard race, but I thought they did a phenomenal job of holding onto their race," said Drenth. "Lindsey Clark did a great job. The last 2K, the intensity really picked up and we were able to match the intensity. The group ran a really good team race and just stuck together. When it came time with about 800 meters to go, Leah was able to go ahead and separate herself to get second. Katie Landwehr made a great charge, as did Lindsey and Rachele. But Megan Rodgers had probably the best race of her career here. She's a fifth-year senior and really stepped into the role on a day when we needed a fifth person late. She just kept racing through the field and was fantastic late and may have been the difference. Her performance was just outstanding. We are really grateful that she came back and added leadership and depth. Her race today was just fantastic."
Winning the individual title in the women's 6,000-meter race was Erin Finn of Michigan with a time of 20:48.30.
Caleb Rhynard led the men's side with a fourth-place overall finish, posting a time of 24:21.00. It is the highest individual finish by a Spartan since Ryan Taylor finished second overall in 1998. The next Spartan to cross the finish was Ben Carruthers, placing 34th overall with a time of 25:12.50, followed by David Madrigal in 37th with a time of 25:18.60. Also scoring points for the Spartans was Nick Soter, who finished 43rd with a time of 25:23.80, and Clark Ruiz who clocked a time of 25:30.60 for 52nd overall.
"I felt they competed a little better," Drenth said. "We have to have the organization like we did at the Roy Griak Invite. When the guys race like they did at Minnesota, there's a strong chance we'll be better. We'll be better in a week and a half. But our upperclassmen have got to run together and they've got to move through the field. They've got to run with confidence and that's tough. We've got to continue to grow. Caleb did a fantastic job. He tried to win late and ended up fourth. He did a great job and we need people to support that and have that kind of mentality throughout the group. It's coming. I thought we put ourselves on the line and that's a really hard thing to do. We just have to be a little more organized and manage the course differently. We'll run 10,000-meters well. I've very confident of that."
Indiana's 51 points won them the men's team title. With a first-place finish, Wisconsin's Malachy Schrobilgen won the men's 8,000-meter race with a time of 24:16.90.
"In the championship season, talent has something to do with it, but so does their strength of will," said Drenth. "We're good enough on both sides, particularly with the women, that now it becomes a matter of how much will do we have. How much are we willing to put ourselves out there. The team has a chance to be very competitive at the national level, but again it has a little less to do with talent now than it does our sense of purpose."
The Spartans will take a week off before traveling to Madison, Wis., for the NCAA Great Lakes Regional Championships on Friday, Nov. 15.
Pictured: MSU's Leah O'Connor leads her team to the title (Photo by Carter Sherline)