Ron Marinucci: "The Flagman's Finish"
Mike "Flag Man" Bowen out there running is helping to make it so we "Never Forget." Congratulations and thanks, Mike!
by Ron Marinucci,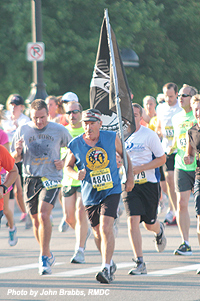 "I finished my mission," Mike "Flag Man" Bowen of Flushing said. "Yea!" His "mission," of course, was to run one mile with a POW/MIA flag for every American killed, missing in action, or taken prisoner in the Vietnam War. On September 20, National POW/MIA Day, Bowen completed his 58,282nd mile as planned, at the Vietnam Veterans Memorial in Washington, DC.

"Flag Man" enthused, "It was awesome! I couldn't believe the people who showed up." There were more than 150 family members and friends, led by his wife, "Coach Patty." Many others "who care about the POW/MIA issue" were alerted by local media reports and added to the crowd.

"It was very emotional at the Wall," Bowen admitted. "I'm still having trouble believing it's completed." The mission took him 31 years.

He was escorted from Hagerstown, MD by 62 motorcycles, mostly driven by bikers from the Michigan Patriot Guard, of which Bowen is a member.

"We parked our Harley near the Wall," he recounted, "and I ran my last four miles." Included were several important pit stops.

One stop was at the World War 2 Memorial, "to visit my dad. His ashes are there. He flew on B-17s as a ball-turret gunner, completing over 30 missions in the European Theater. He's my hero!"

Then it was on to the Korean War Memorial, "for a run-by and a salute. The 'Forgotten War' is not forgotten by me!" He also ran across the Memorial Bridge to visit Arlington National Cemetery. "[Patty] has a student she taught in grade school buried there."

Turning to the final goal, the Vietnam Memorial, "I could hear people cheering. I was curious as to what was up. They could see me running across the hill toward them and were cheering for me! I cried a little and high-fived my way through the lines of family, friends, and supporters." He hesitated, "No words can explain how impressed I was or how I felt." He repeated a theme he's emphasized since the first day of his mission. "The heroes are listed on the Wall! Not me."

Bowen rested for two days, then ran "eight miles already" toward his "new goal, to run a mile for each casualty from 9/11/2001—another 3030 miles."

Mike "Flag Man" Bowen out there running is helping to make it so we "Never Forget." Congratulations and thanks, Mike!