Oakland Township's Dot McMahan, other state athletes ready for World Championships
by RunMichigan Staff
,
Aug. 6, 2013
By Dave McCauley, RunMichigan.com

ROCHESTER, Michigan -- The state of Michigan will once again have a very solid showing at a world class running event. This time it's the 2013 IAAF World Championships (Outdoor Track and Field), being held August 10-18 in Moscow.

Michigan will be represented in distances from the 100M Hurdles, with former University of Michigan athlete Tiffany (Ofili) Porter, on up to the marathon where Jeannette Faber (Haslett, Gull Lake H.S. and Grand Valley State) and Oakland Township's Dot McMahan will compete.

Other notable athletes with ties to our state competing at this year's IAAF World Championships, include former Rockford High School standout Dathan Ritzenhein in the 10,000 Meters, Nicole Bush of Wyoming, Michigan and Michigan State University in the 3000 Meter Steeplechase, Ann Arbor's Nick Willis in the 1500 Meter Run and former East Kentwood High School star Tia Brooks in the Shot Put. And in the Heptathlon, Bettie Wade of Farmington High School and the University of Michigan will be competing for the USA team.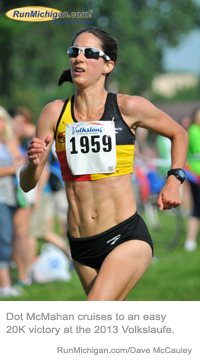 For Dot McMahan of the Rochester Hills based Hansons-Brooks Original Distance Project team, this is a chance to fulfill a long standing "bucket list" type of dream of competing for her country on the world stage.

Originally from Hilbert Wisconsin, McMahan has been living and training in the Rochester, Michigan area for the past eight years now with the Hansons-Brooks team. In that time she has seen her marathon best time improve to 2:31:48.

McMahan's racing season so far in 2013 has already had a number of highlights, including her finish as the USA 25K Women's National Champion. She is a two-time member of the USA world half marathon team and is the only athlete besides Deena Kastor to finish in the top ten at the U.S. Olympic Marathon Trials, in 2008 and 2012.

McMahan is definitely thrilled for this opportunity to realize such a great dream.

"I've been super pumped about making the World Marathon team. It was on my bucket list," she told RunMichigan.com. "It's the world championships. It's the best of the best women's marathoners."

McMahan has remained in Michigan to prepare for the women's marathon, which will start at 2:00 p.m. Moscow time. (6:00 a.m., EST.) Michigan's weather has been generally very similar to that in Moscow, making it easier to get used to race conditions she and the other marathoners will encounter for a rare afternoon marathon.

"Moscow weather has been very similar to Michigan weather. I think I'm prepared for whatever the conditions may be. The 2 p.m. start is definitely different from most marathons, so I've been running my second runs around that time to help my body adjust to the time and to the heat."

McMahan's training preparations wrapped up recently with her last 20 mile long run, which she did in just under 1:57 -- or a 5:50 per mile pace.

"That gave me a huge confidence boost. I learned a little about myself as well."

Her strategy going into the August 10th marathon includes a slightly more bolder approach than normal.

"I want to try a different race strategy. I'm hoping to race a little risky for this marathon. In the past, I've tried to run conservative through the half and try to get aggressive on the later stages."

Though McMahan realizes the competition at this level is difficult, she has prepared well for the challenge both physically and mentally.

"It's going to be tough to run a personal best, but I'm going to do my best to get as close to that as I can. That should set me up for a top 20 or top 15 finish. That's really the goal and I'd be super excited about that."

According to Hansons-Brooks ODP coach Kevin Hanson, McMahan's training has been right on target and she is more than thrilled to be heading to Moscow. "She's really excited. She's extremely happy and proud to be putting on the USA uniform," Hanson said.

For fellow USA World Marathon team member and Michigan native, Jeannette Faber this is also a great accomplishment. Faber attended Haslett High School, then competed for and graduated from Richland Gull-Lake High School. She then went on to a solid track and cross country career at Grand Valley State University.

Faber, who currently resides in Nashville, Tennessee, has a marathon personal best of 2:32:37.

Others with Michigan connections at the 2013 World Track and Field Championships include former University of Michigan athletes Nate Brannen and Nicole Sifuentes, both representing Canada.

Also representing Canada will be Michigan State University Law School graduate Lanni Marchant. Marchant, who ran collegiately for the University of Tennessee at Chattanooga, will be running in the women's marathon.

Nick Willis will be representing New Zealand while Tiffany Porter competes for Great Britain.