Top Michigan performances turned in at USA Track and Field Championship
by RunMichigan Staff
,
Jun. 25, 2013
By Dave McCauley, RunMichigan.com

DES MOINES, IOWA -- Track and Field athletes from the State of Michigan competed recently at the 2013 USA Outdoor Track and Field Championship Meet in Des Moine, Iowa. The meet, held over the weekend of June 20-23, is our country's national championship for outdoor track and field.

The senior competition, which could be made up of both professional and amateur level competitors, also serves as the qualifier for the 2013 World Track and Field Championships. That event will be held in Moscow, Russia, August 10-18.

In the Senior Division at the 2013 USA Outdoor Championships, our state was represented by a number athletes.

Top performances included former Wyoming-Kelloggsville H.S. and Michigan State University athlete Nicole Bush, who finished in first overall in the Women's 3000 Meter Steeplechase in a time of 9:44.53.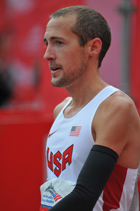 In the Senior Men's 10,000 Run, former Rockford High School state champion Dathan Ritzenhein finished in second overall witha time of 28:49. Dathan is a multiple time U.S.A Olympian and has represented the United States many times at the World Track and Field Championships.

Also in the Senior Men's 10,000 Meter Race, Rochester Hills based Hansons-Brooks Distance Project runner Jacob Riley finished in eighth place in 29:25 and Ann Arbor's Chris Landry finished 12th in 29:38. Other Hansons-Brooks runners in that same race included Bobby Curtis who finished 16th overall in 29:57, Brendan Gregg who took 22nd and Dustin Emerick who ended up 24th.

In the Senior Men's 1500 Meters, Will Leer, who recently was training in Ann Arbor with former University of Michigan coach Ron Warhurst, finished in 5th place with a time of 3:45.95. The winning time for that finals race was 3:45.17.

Other highlights for the Men's Senior competition saw former University of Michigan runners Craig Forys finish in 8th place in the Men's 3000 Meter Steeplechase finals in a time of 8:36.86 while Jeff Porter placed 8th in the Men's 110 High Hurdles in 13.52. Porter was a member of the 2012 USA Olympic Team.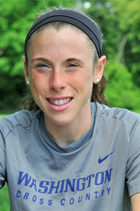 In the Senior Women's 10,000 Meter Run, Rochester High School graduate Megan Goethals, coming off a great junior year at the University of Washington, finished in 10th place with a time of 33:36.73. Shalane Flanagan was the winner of the Women's 10,000 in a time of 31:43.

Also for the women on the senior level, former Grand Blanc High School and University of Michigan great Geena Gall, a 2012 USA Olympic Team member, finished in 8th place in the Women's 800 Meter Run in 2:04.07.

In the Women's 1500 Meters, former Utica High School runner Amanda Mergaert, currently at the University of Utah, finished in 9th place in 7th place with a time of 4:30.99.

In the Women's Senior Heptathlon, Bettie Wade of Farmington High School and the University of Michigan, placed 2nd with a point total of 6018.

And, Michigan was very well represented in the women's field events. Former East Kentwood High School athlete Tia Brooks, also a 2012 USA Olympian, placed 2nd in the Women's Shot Put with an effort of 18.83 Meters or 61-9.5".

In the Women's Discus, Beth Rohl from New Buffalo (MI) High School and Michigan State University, finished in 4th place with a throw of 59.66M or 195'-9". And in that same event, Grand Valley State University's Samantha Lockhart took 5th overall with a throw of 58.74M or 192'-8".

Junior level highlights from those with Michigan connections included Audrey Belf of Birmingham Seaholm high School who took 5th overall in the Women's 3000 Meter Run in a time of 9:59.63. Also, former Saginaw Heritage High School runner Evan Chiplock placed 8th in the 5000 Meter Run in 15:18.38.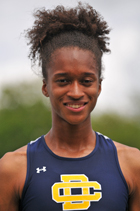 Kendal Baisden, who just wrapped up a great career at Detroit Country Day High School, placed second overall in the 400 Meter Run with a time of 52.03.

Lauren Burnett of Macomb-Dakota High School finished 6th in the 800 Meter Run with a time of 2:10.42.

Pictured (top to bottom): Dathan Ritzenhein, Megan Goethals and Kendall Baisden. - Photos by RunMichigan.com.