Hansons-Brooks ODP Team News: Desi returns, team preps for upcoming national races
by RunMichigan Staff
,
Jun. 14, 2013
By Dave McCauley, RunMichigan.com

ROCHESTER, MICHIGAN -- Hansons-Brooks ODP team member and 2012 Olympian, Desiree Davila, returned to racing recently for the first time since an injury that held her back from completing the 2012 Olympic Marathon in London.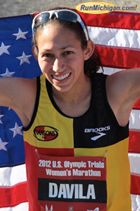 Davila, who rose quickly to the top of the national scene by finishing in second place overall in a time of 2:22:38 at the 2011 Boston Marathon, traveled to New York City to compete in the Oakley New York Mini 10K on June 8. Davila finished in sixth place overall in a time of 33:22.

According to Hansons-Brooks ODP coach Keith Hanson, the day was a positive one.

"I was very pleased to see Desi competing again. Desi thrives on competition and the Oakley New York Mini 10K was the perfect start for her. She competed well with some of the other top Americans," Hanson said.

"Desi is looking forward to steady continued improvement as she competes in the upcoming USATF half Marathon championships in Duluth, Minnesota on Saturday, June 22nd."

Hanson feels the outlook is strong as Davila moves to the future in her training and racing.

"As she moves forward she will soon once again be competing with some of the best female runners on the international stage."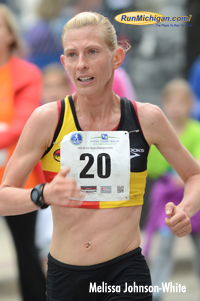 Also on June 8, Hansons-Brooks team members Mike Morgan, Luke Humphrey and Melissa Johnson-White competed at the 2013 Bellin 10K Run in Green Bay, Wisconsin. All three finished in the top 5 of their respective races with Morgan taking 4th in 30:16, Humphrey finishing 5th in 30:27 and Johnson-White placing 3rd overall in 33:24.

And, at the Portland (Oregon) Track Festival on June 8, Brendan Gregg took second in the 10,000 with a time of 29:19.

Hansons-Brooks team members also took to the Michigan roads recently with Lavenna Kubatzky and Brendan Martin taking victories at the Dexter-Ann Arbor 10K on June 2nd.

This Saturday, June 15, three team members will be competing in the Steamboat Classic 4 mile run in Peoria, Illinois. Brendan Gregg and Dustin Emerick will have their final tune up before the US Outdoor Track and Field Championships, June 20-23 in Des Moine, Iowa. Lavenna Kubatzky will also be competing in Peoria.

In addition to Desiree Davila, the Hansons-Brooks team will be well represented at the USA Half Marathon Championships in Duluth on the 22nd. Melissa Johnson-White will be joining Desi on the women's side while the men will be represented by Mike Morgan, Luke Humphrey, Drew Polley, Brendan Martin, Robert Scribner, and Ethan Shaw.

The upcoming USATF Track and Field Championships should be exciting for the Hansons-Brooks Distance Project members as well. Four of the Hansons-Brooks men will compete in the 10,000 Meters to be held on Thursday, June 20th. Bobby Curtis, Jacob Riley, Dustin Emerick, and Brendan Gregg are all currently scheduled to compete.

The top three finishers at the USA Outdoor Championships will qualify for this summer's World Outdoor Track and Field Championships in Moscow.

Also, Hansons-Brooks ODP female team member Dot McMahan, the USA 25 National Champion from her performance at the Fifth Third River Bank Run in May, was selected recently to represent the U.S.A. in Moscow as a member of the U.S. Women's Marathon Team.

Photo credits:

Top - Desi Davila at the 2012 Olympic Trials in Houston (photo: John Brabbs, RunMichigan.com)
Bottom - Melissa Johnson-White at the 2013 Fifth Third River Bank Run in Grand Rapids (photo: Tracey Rizer, RunMichigan.com)

Check out some more RunMichigan.com Hansons-Brooks race photos.