Ron Marinucci: May, 2013 Column
To runners, injury is a four-letter word. Sooner or later, most runners encounter injuries of some sort. Some are relatively minor and require only a few days of rest for recovery and a return to running. Others are more serious and debilitating, leading to weeks and even months of down-time. Most devastating are the injuries that require surgery, a last resort for most runners.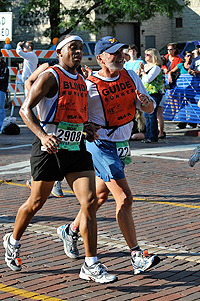 Surgery, that's what blind runner Michael Holmes faced almost a year and a half ago. In more than three decades of running he'd incurred five previous injuries—sprains, twists, etc. They had required some rest, perhaps a few weeks away from running, but these had been nothing like this one. Holmes didn't run for about a year and a half and it took almost a year after the surgery to start up again. How he approached his injuries and recovery might be instructive to other runners.

Running for more than thirty years with guide runners, Holmes has completed more than half a dozen marathons, countless road races, the Great Lakes Relay several times, and even the Dipsea Trail run in the San Francisco area. Flint's Crim 10-miler is a favorite of his. With a stable of five or six guide runners, he was used to running five or six days a week.

Back in the summer of 2011, Holmes had severe pain in his right knee. A few weeks before he had completed the Oak Apple 10K, a local race he likes to call "my hometown race," without any apparent difficulties. Then came the pain.

He took off a short while and then consulted a doctor and therapist. All agreed to first try more rest and physical therapy, mostly strength training and stretching. Holmes quietly recalled, "It didn't work." His doctor allowed, "Something else is going on in there" and referred him to a specialist.

Further examination, including an MRI, revealed "a meniscus tear. It was completely ripped," Holmes said. "My doctor told me, 'We're going to have to clean this out.'" That meant surgery.

The 57-year old explained his injury in terms of an older automobile. "After thirty years of running, of overuse, [my knee] broke down, like a car does after all those years." He conceded, reluctantly, that surgery was needed. Running wasn't the only consideration in his decision. "No, it [the surgery] was not just for running." He noted that he's a licensed massage therapist and, "for work, I'm on my feet all the time."

Surgery not only took care of the torn meniscus. "The doctor shaved some cartilage under the patella," he said. "And he discovered some [onset] arthritis in the knee." He quipped, shaking his head, "I thought I'd been in there [the operating room] for a couple of hours. I asked Judy [his wife], 'How long was I in there?' and she said, 'About twenty minutes,'" he laughed.

The early prognosis for a return to running was dim. But within a few weeks, Holmes decided his running days were not over. "I was determined to get back out there. I gradually worked my way back."

He began physical therapy, "three days a week, Monday, Wednesday, Friday," with some of the same exercises he'd tried before surgery. There were strength-training and stretching. He worked with the Thera-band and ran in the swimming pool. He cross-trained and returned to yoga, which he'd been doing for a number of years.

He was glad his doctor wrote a prescription for massage therapy, too. Being a massage therapist, he knew the advantages it holds. "I had both whole-body massages and massages on my knee."

Rehabilitating, "I spent thirty minutes in the pool, pool running, with a therapist. Then I changed clothes and went to the other side of the hospital for strength-training, stretching, and massages." Therapists also employed what Holmes called, "some electrical gadgets."

He received encouragement from his therapists. "They told me, 'You can't keep a runner down.'" And, as much a compliment as encouragement, one noted, "You're an athlete in great shape."

"There was no running [on surfaces]," he said, "for about a year." He stuck with his "slow, gradual" approach. "But I was determined" to run again. That determination and his careful approach paid dividends. He began running again late last year, around Christmas time. And so far, so good.

"Any type of [severe] injury changes how you run," he offered. He continues his cross-training, especially stretching, yoga, and work with the Thera-band. But he has stayed off of the roads, so far. For the first few months he ran on the rubberized track of a local high school, winter weather permitting. With the snow and ice disappearing, he's taken to some trails, grass, and other softer surfaces. His knee has held up and his body has responded favorably.

But he's ever-cautious. He runs "four or five miles" only a couple of days a week. That works out well with his guide-runner schedule, too. With work and, especially, injuries of their own, only a couple of them are on hand for regular runs. And, he emphasized, "no back-to-back days—yet. I'm doing [up to] five miles now. I'll work up to seven or eight miles, which is fine."

He has changed orthotics and takes glucosamine and chondroitin supplements daily.

He has some goals, too. He's aiming for "a 5K in September and maybe a 10K next year. Let's see what the knee lets me do. But no long distances any more." He chuckled again, "We're getting a little older," and then added more earnestly, "but we can still keep moving." And Holmes is back to doing something he loves to do—run.

Holmes added that if anyone wants to contact him about his injury, surgery, or recovery and return to running, he can be reached at [email protected].