Rochester's Megan Goethals runs 15:33 5000, breaks another UW school record
by RunMichigan Staff
,
Apr. 20, 2013
Walnut, California
Provided by:
University of Washington Athletics
Courtesy, University of Washington Athletics

Former Rochester High School state champ breaks another long-standing Washington record

Hansons-Brooks' Neely Spence runs 15:26 in same event -- full results.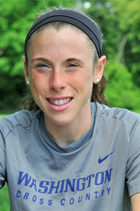 WALNUT, Calif. - Husky Hall of Famer Regina Joyce dominated the Washington recordbook for the past 30 years. In 1982 and 1983 she set standards in the women's distance races that hundreds of Huskies have looked up to ever since. But over the past three weeks, junior Megan Goethals has rewritten two of the longstanding marks, the latest coming tonight at the Mt. SAC Relays, where she ran the 5,000-meters in 15-minutes, 33.63-seconds.

It was the first race for Goethals since March 29, when she ran her first career 10,000-meters and broke Joyce's school record at that distance. Stepping back on the track tonight for her first outdoor 5k since she finished runner-up at the 2012 NCAA Championships, Goethals had to only run half as far, so it must have seemed like a walk in the park as she set a personal-best by 13 seconds at Hilmer Lodge Stadium.

Competing against a loaded field headed by a number of post-collegiate and professional runners, Goethals was seventh overall in the race, but second among current NCAA athletes, the only college athlete ahead of her was the woman who edged her in the NCAA final in 2012, Abbey D'Agostino of Dartmouth, who won in 15:11.35, the No. 3 time in NCAA history. Goethals, who broke Joyce's mark of 15:35.60 set in 1982, moves to No. 8 in Pac-12 Conference history, after just jumping to No. 6 in the Pac-12 10,000-meters list three weeks ago. She is one of just four athletes in the Top-10 on both the Pac-12 5k and 10k lists.

Running in the same race was junior Lindsay Flanagan, who also rolled to a big PR tonight in a time of 16:01.45, which will rank her 10th on the Husky list.

"I one hundred percent thought the record could go down tonight," said Husky Head Coach Greg Metcalf. "If it went perfect she thought she could run just under 15:30. She was out hard and competed incredibly well. She had to run under 5:04 in the last mile to break it, so she hung on in Megan Goethals style; she was gutsy and tough and got it done."

Both Goethals and Flanagan figure to focus on the 10k when it comes time for nationals, but the great 5k races today just build more confidence for both.

"Regina Joyce has had her photo up in the locker rooms on top of those record lists for decades. For Megan to break two of those records in back-to-back races is quite an accomplishment. She's headed down the right path, she's healthy, and brimming with confidence. And that's a big PR for Lindsay as well; she wanted to break 16 (minutes), but she ran through 3k at 9:25 which is a massive PR, and her last thousand meters she was tiring but she stayed resilient."

The 5k races were the capper on a very long day at Mt. SAC, as the Husky women's 4x100-meter relay was out before lunch time to run a season-best 46.84 seconds to open things up.