Top Michigan athletes turn in great results at NB Indoor HS Nationals
by RunMichigan Staff
,
Mar. 11, 2013
By Dave McCauley, RunMichigan.com

NEW YORK -- The weekend at the New Balance Indoor Scholastic Nationals proved rewarding for many Michigan athletes and at the same time successfully bittersweet for others.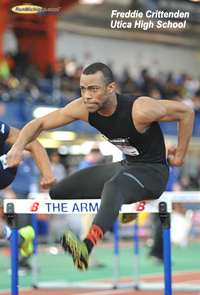 The 2013 New Balance Nationals, which featured top level high school track and field athletes from across the country, was held this past weekend at the famed Armory Track in New York City. The State of Michigan wrapped up the competition with a number of top performances, from a national championship and a pair of exciting close calls, to a number of big PR's.

Shelby Township, Michigan's Freddie Crittenden stayed calm and confident to progress through Sunday's 60M Hurdles semis and then poured it on for the finals, pulling away for a PR winning time of 7.72.

That relaxed confidence proved to be the difference for Crittenden throughout the day. "I made sure I shook the emotions out and just focused on the hurdles." He commented to RunMichigan.com after his race. Even though the competition progressed slowly for him, he made it count at the end where it was needed.

"It was kind of a slow start from prelims to all the way to the finals, but when it came to the finals, it was good. I had a good start and good form over the first four hurdles and that kind of led me through the finish line."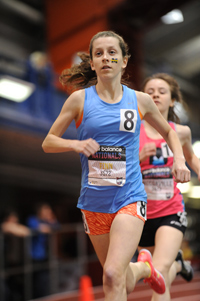 Two of Michigan's most successful high school girl runners had similar stories at the NB Nationals this year. Both Erin Finn (West Bloomfield) and Hannah Meier (Grosse Pointe Farms) went into the competition in their respective races as the clear cut favorites, having finished first in 2012 and both setting national scholastic records -- Finn in the 5000 meters and Meier in the Mile. Finn's winning time in 2012 was 16:19.69 and Meier's was 4:42.6. In 2013, although both Finn and Meier ran faster times, both were edged out at the tape and settled for national runner-up honors.

Finn, coming into Friday night's 5000 meter finals a bit under the weather, still ran her usual race, dominating the field for a very large portion of the 25 laps around this historic facility -- and on record-setting pace.

However, with about 800 meters to go she started to show signs of fatigue with her legs getting a bit shaky and doing a bit more looking back than what would be normal for her.

Then came what nobody expected. Although being well back in second for most of the race, Wesley Frazier of North Carolina must have certainly sensed that Finn was faltering and put on a finish that stunned not only the other participants and spectators, but mostly Finn herself. As the finish line tape was being held for Finn to celebrate, Frazier snuck in on the inside to take the title, running 16:18.01 to FInn's 16:18.02. Both girls were stunned with the result but for very different reasons.

Considering her condition coming into the race, Finn ran probably one of the best races ever for a high school distance runner. Clicking off lap after lap on national record pace, she showed her usual, focused smooth style. She ended up surpassing her national record time from 2012 by over a second with that 16:18.02.

Finn ran an amazing race. The only damper on what was an incredible performance was that when the race ended, Frazier was just slightly in front of her, edging out the West Bloomfield runner with that stirring comeback and victory.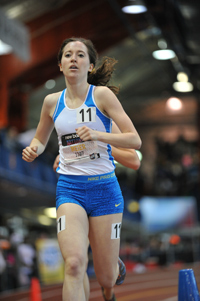 For Hannah Meier the situation was very similar. Meier won the NB Nationals Girls Mile in 2012 in meet record time of 4:42.6 and this year she was the favorite coming in, especially after another great performance recently at the Brooks PR Meet where she cruised to victory in the Girls 800.

This year at the Armory, Meier was in a battle for most of the race, running a new PR of 4:40.97. However, like Finn, despite running tough and setting not only a new PR but also a new Meet Record, Meier ended up as the National Runner-Up as Elise Cranny ran 4:40.62.

Despite what were two very tough losses to take for both Finn and Meier, the upcoming future got a big boost for both with the impressive new PR's for each.

In that same Mile event, Hannah's sister Haley, another pre-race favorite to finish near the top, took a spill early in the race and ended up in 14th place in 4:59.83.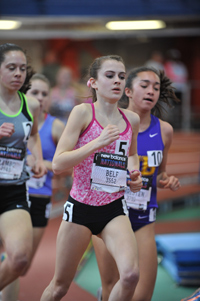 Other impressive performances at the 2013 New Balance Indoor Nationals included Audrey Belf of Birmingham Seaholm High School running a massive PR in the Girls 2 Mile Run. Belf finished in 3rd place overall in a time of 10:22.46. Wesley Frazier who had won the 5000 on Friday, came in first in the 2 Mile with a time of 10:12.23.

Belf, although going out a lot quicker than planned, stayed poised and in control, making her trip to NYC definitely a memorable one. "I was a little nervous going in. I've never run in a national competition race but once I got going I kind of lost track of things and by the last lap I was ready to kick it in and finish strong when I saw what I could possibly place." Belf commented after the race.

Probably the key to Belf's new PR and top finish at this year's NB Nationals was the fact that she stayed poised after coming through the first mile a bit quicker than anticipated. Her first mile was 5:03, significantly faster than planned.

"Once I got through it (the first mile) I couldn't take it back or go slower so I had to just keep going and hope I finished strong."

The 4x Mile Relay team of Kelsie Schwartz, Ersula Farrow, Hannah Meier and Haley Meier, who all run for Grosse Pointe South in the regular high school season, won the title again this year in 20:02.80.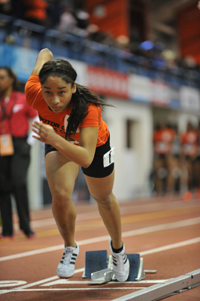 Other performances of note:

Lauren Burnett (Macomb-Dakota HS), 5th Place overall in the Girls 800 with a time of 2:09.31.
Ersula Farrow (Grosse Pointe South), 9th place in the Girls 800 in 2:12.24.
Jamie Morrissey (Rochester Adams), 14th Place in the Girls 800 in 2:13.99.
Elena Miller (Lasher HS), 13th place in the Girls 5000 in 17:36.32.
Connor Mora (Cedar Springs), 4th in the Boys Mile in 4:10.28.
The Motor City Track Club team of 1) Maurice Allen, Dominick Lemonious, Malik Washington and Stevie Scott took 7th in the Boys 4x400.
Motor City's girls 4x400 Relay team took 5th. The team consisted of Courtney LaShae Hewitt, Anna Jefferson, Carlita Taylor and Johnyce Powell.

In all, another successful year at the New Balance Nationals for our Michigan athletes. The 2013 MHSAA outdoor track and field season is looking pretty exciting.

More info:

100's of photos from the 2013 NB Nationals, including Michigan only galleries!

Results, Interviews and Girls' Mile Video

* Please let us know if someone notable we missed or any inaccuracies in times.

Photos by RunMichigan.com