RunMichigan.com to provide full coverage of 2013 MITS State Meet
by RunMichigan Staff
,
Feb. 20, 2013
Extensive coverage planned of MITS (Michigan Indoor Track Series) State Meet along with other top collegiate conference meets this weekend

Click for RunMichigan.com's 2013 MITS State Meet Coverage Page
ROCHESTER, MICHIGAN -- For the 5th year, RunMichigan.com (
www.runmichigan.com
) will provide full coverage of the Michigan Indoor Track Series (MITS) State Meet, which will take place this Saturday, February 23, on the campus of Central Michigan University in Mt. Pleasant.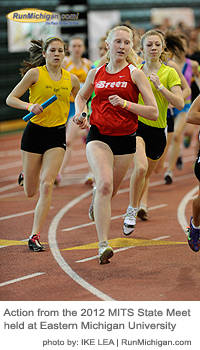 The MITS organization is a group of volunteers whose main purpose is to host an indoor state championship for high school and middle school aged track and field athletes and to promote the sport here in Michigan.
This meet will include some of Michigan's top high school aged athletes who have achieved qualifying marks or times at one of the 2012-2013 series events.
RunMichigan.com, in its ongoing commitment to cover, promote and support high school cross country and track and field in Michigan, will be on hand at Central Michigan University, posting a large number of great photos from every event at the meet, along with video highlights and MITS State Meet Champion video interviews.
RunMichigan.com, popular for its race calendar, race results and photo coverage of high school, college and road racing in the state of Michigan, has covered all MHSAA High School Track and Field and Cross Country State Finals events since its inception in 1996.
In addition to the MITS meet, RunMichigan.com will be on hand at the Mid American Conference Indoor Track and Field Championships this Friday and Saturday at Eastern Michigan University and at the GLIAC Indoor Track and Field Championship Meet, hosted by Grand Valley State University this weekend.
Visit RunMichigan.com at
http://www.runmichigan.com
for all the great coverage from this Saturday's running and track and field action.
Additional information:
Schedule of events for the 2013 MITS State Meet
About RunMichigan.com: Founded in 1996, RunMichigan.com has provided coverage and support for all of Michigan's runners through its race photography, elite athlete interviews and results. RunMichigan.com also provides one of the most extensive and all-inclusive running and road race event calendars in the state. RunMichigan.com's popularity has never stopped increasing since the website's beginnings in 1996.