Meiers dominate girls' field once again at Gazelle Sports Elite Mile
by RunMichigan Staff
,
Feb. 17, 2013
by Dave McCauley, RunMichigan.com

ALLENDALE, MI -- For the second straight year, Hannah and Haley Meier were the best of the best at the Gazelle Sports Elite Mile event, held February 16th on the campus of Grand Valley State University.

The Elite Mile, an invitation only event featuring our state's top boys and girls distance runners, took place on the fast, 300 meter track at GVSU and was held in conjunction with the larger Gazelle Sports/Adidas Elite Meet, a MITS (Michigan Indoor Track Series) event.

The Michigan Indoor Track Series gives the youth and high school aged runners of the state a chance to compete during the winter months in various indoor track events, culminating with the MITS Championship Meet which will take place on the campus of Central Michigan University on February 24.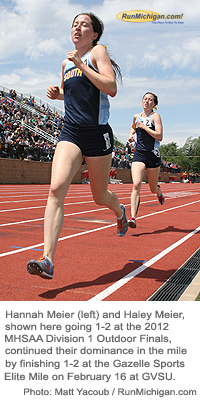 In the girl's part of the Elite Mile, Hannah Meier finished in first with a time of 4:44.76 with sister Haley right behind at 4:45.24. Third place overall for the girls went to Erin Finn of West Bloomfield in 4:47.74. Finn, the current indoor high school record holder for girls at the 5000 meter distance, proved she has some good speed as well to go along with her strength at the longer distances.

Finishing out the top 5 in the girl's Elite Mile were Hannah and Haley's high school teammate at Grosse Pointe South, Ersula Farrow, who turned in a time of 5:02.01 and Jamie Morrisey of Rochester Hills with a time of 5:02.71.

In addition to MHSAA state titles, both Hannah Meier and Erin Finn also have national championships as part of their many accomplishments. Hannah is a five-time national champion on the track and holds the state record in the 1600 meter and 800 meter races. Finn, meanwhile, holds the state 3200 meter record and the indoor national 5000 meter record. She also finished second at the USA Cross Country Championships in the junior race on February 2.

Hannah, Haley and Erin are all scheduled to compete at the prestigious Brooks PR Invitational to be held at the University of Washington on February 24.

In the boy's section of the Elite Mile, Connor Mora from Cedar Springs ran away from the field, finishing in a time of 4:15.05, comfortably ahead of second place Lucas Arrivo who finished in 4:21.31. Third overall went to Nathan Burnard in 4:21.35.

Other top performances at the meet included Lauren Burnett who won the Girl's 400 Meters in a time of 56.46 and Audrey Belf, running a 10:41.93 to win the Girl's 3200 Meter Run.

Gazelle Sports/Adidas Elite Meet director and footwear manager at Gazelle Sports, Ted Kushion, felt the Elite Mile event and the entire meet once again was a great success.

As the meet director, Kushion's main goals were to make sure everything runs smoothly while assembling a group of athletes that will help bring out some of the top times in both the state and in the country.

"I feel like we were able to accomplish both," Kushion commented. "We had three girls that would have won the Mile at the Milrose games (Mary Cain was in the Woman's race). The fact that they are all Michigan girls is something special and I'm glad to have had the opportunity to be a small part in it."

Being able to have all these top runners in one location is something that Kushion and Gazelle Sports definitely take pride in.

"It's so awesome that regardless of school size we can get the best in a head to head race with fresh legs. At most MITS meets it is a roll of the dice whether you'll have much competition in your race. During the (high school outdoor track) season, the best kids are relied on for so many points, that they rarely get to square off under ideal conditions. With this meet, we give them that opportunity to really shine as individuals before their high school seasons start."

Next up for Michigan's top youth and high school athletes will be the MITS Championship Meet at Central Michigan University on February 23. Be sure to check out RunMichigan.com during and after the MITS Championship Meet for complete coverage.


Full Elite Mile boys and girls results:
Girls:
1. Meier, Hannah - 4:44.76
2. Meier, Haley - 4:45.24
3. Finn, Erin - 4:47.74
4. Farrow, Ersula - 5:02.01
5. Morrissey, Jamie - 5:02.71
6. Weiler, Kenzie - 5:03.23
7. Burnett, Lauren - 5:03.65
8. Shawayder, Elianna - 5:04.01
9. O'Neil, Megan - 5:06.04
10. Coleman, Rachel - 5:07.31
11. Kovacic, Brooke - 5:07.80
12. Leonard, Ellie - 5:15.69
13. Lancloni, Elena - 5:18.12
14. Schwartz, Kelsie - 5:19.80
Boys:
1. Mora, Connor - 4:15.05
2. Arrivo, Lucas - 4:21.31
3. Burnard, Nathan - 4:21.35
4. Wojan, Josh - 4:22.32
5. Cruz, Nathan - 4:24.69
6. Didion, Anthony - 4:25.73
7. Lamus, Anthony - 4:26.19
8. Bradberry, James - 4:26.93
9. Kelly, Sean - 4:27.75
10. Ruiz, Clark - 4:27.88
11. Vandkye, Mason - 4:28.26
12. Crosoy, Mowgli - 4:29.91
13. Truesdell, Carson - 4:32.17
14. Scharich, Brandon - 4:33.36
15. Wondaal, Anthony - 4:34.02