Ron Marinucci February 2013 Column
Riley McLincha enjoys doing things other people rarely or never try. He's not always sure why, other than finishing these unique achievements gives him a great deal of satisfaction.

His first efforts involved "drubbling," dribbling and juggling not one, not two, but three basketballs while he runs. He's drubbled countless races throughout the state and beyond. And, yes, he's completed several marathons with his three basketballs, including Boston and Chicago.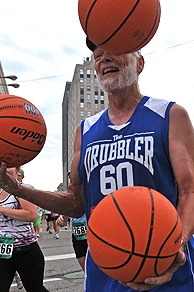 In 2005, he embarked on a four-year adventure with his trusty pal, Swiftee.
Swiftee is McLincha's 9 and a half foot kayak. Together they navigated the major rivers of the Saginaw River Valley, the largest drainage basin in Michigan. Hundreds of miles of the Flint, Shiawassee, Tittabawassee, Cass, and Saginaw rivers were paddled. And, getting to and from entry and exit points with Swiftee required running and biking many more
miles on the journey.

McLincha's latest triumph was, well, something that has never been done before, except perhaps for the Great Lakes fur traders of centuries ago. He called it "Horseshoe-to-Horseshoe." He openly enthused, "It was the greatest adventure of my life. It was life-changing. I'd hate to die tomorrow; the bucket list isn't finished." he admitted, "But nothing is going to top this adventure."

Horseshoe-to-Horseshoe was 1400 miles of "runyaking," a term, like "drubbling," that McLincha coined. His kayaking and running adventure took "57 days over four years." He added, "To be honest, it was 1389 total [miles], 691 [in the kayak, Swiftee] and 698 running." Who's counting? He went on, "Using a bicycle was against the rules I set for myself. Also, no walking was allowed. And, it was done solo."

The name, Horseshoe-to-Horseshoe, comes from the starting and finishing points of the sojourn. "The headwaters of the South Branch of the Flint River, the Main Branch actually, are located at Horseshoe Lake near Oxford." That's where he and Swiftee began. "The Canadian Falls of Niagara is the Horseshoe Falls," their finish, hence "Horseshoe-to-Horseshoe."

Plans for H-to-H evolved rather than emerged as a spur-of-the-moment dare. "There was never an 'Ah-Ha!' moment," he noted. "The idea must have come to me in the summer of 2008, when I was still [kayaking] the Cass, the final river of the Saginaw Valley." Acting on his brainstorm, he and Swiftee drove to Lake Huron one summer day for a test run. "I wasn't sure paddling the Great Lakes was feasible in a 9 and a half foot kayak."
Swiftee convinced him that it was. "I came away thinking it was possible, if the weather was carefully watched." Finally, in the spring of 2009, he decided to do it.

"The first thirty-nine days were day trips." Alternately, he'd drive to drop off Swiftee, then drive ahead to leave the van. He'd run back (no walking!) and begin kayaking—runyaking. "When time became an issue, I began doing two-day trips. Nine times from day forty to day fifty-seven, I did overnights."

Throughout the journey, "I runyaked only during the week, never on weekends. I wanted a time when the fewest boaters were on the water. I tried my best to start early in the morning and be off the water by dark." For the most part, that plan worked. "Twice it was dark when I stopped paddling." But, he went on, "Sometimes I ran in the dark of the morning or evening."

As per his strict self-imposed rules, his only companion was Swiftee. " I bought Swiftee because he was the cheapest kayak. I bought him on Black Friday in 2004. The price was 50% off. I paid $185. I never planned to use him on the Great Lakes when I bought him."

He mused about those earliest days. "By the second year, he was leaking." Then he quipped, "I used a glue gun and a lot of duct tape on him over the years."

The companions almost packed it in "on day nineteen. I was at Grindstone City, at the tip of the Thumb. A whitecap capsized Swiftee. It was spring and the water was very cold. I worked hard to get to a breakwater and trying to get the kayak out of the water. I was numb from the cold." But, continue they did, although it wasn't always easy.

He also recalled some nasty weather conditions. "I remember two serious storms." More common, "Many times the winds were not in my favor. I battled a few whitecaps on the Great Lakes. If I saw whitecaps beforehand, I would wait a few hours before launching. My previous experiences made the rivers a piece of cake compared to the Great Lakes."

Paddling the Michigan rivers and their currents were "no problem." The St.Clair River, where the Lake Huron waters funnel into the much narrower strait, was "the most treacherous current I encountered, below the Blue Water Bridge. There are rapids there."

Once, a boater on Lake St. Clair "whipped by me, almost causing me to capsize. But waves created by pleasure craft usually weren't a problem. If close, most would be courteous and slow down to a no-wake speed." Another time, "in the Detroit River, I was in Canadian waters and had to get to the American side. Two freighters were going in different directions. Rather than waiting for both to pass, I played Frogger, waited for one to pass, paddled to the middle [of the river], then waited for the second one to pass."

"One of the biggest problems was during year three, finding entry and exit points on Ontario's Lake Erie shoreline. There are about 200 miles of 50-foot to 80-foot bluffs. Because of erosion, roads were usually one or two miles from the shore. Climbing an iron stairway one time, carrying Swiftee, I lost balance and fell to the beach. I was dazed and worried I had a concussion. One evening I had to climb up the bluff using a rope. I left Swiftee on the beach overnight. There was just no way of getting him to the top of the bluff." He rhetorically asked, "Had I known about the bluffs two years earlier, would I have attempted the trek?" But, at this point, he was more than halfway to Horseshoe Falls, so "I persevered."

There were other frightening moments. One was "near Point Pelee. I had to portage. The only place I could find to re-enter was where waves were crashing into rocks. I was close to aborting when I saw two waves far enough apart that I leapt into the kayak from the rocks and began paddling like crazy." They made it "before the next wave hit."

Another time, "a wave caught Swiftee broadside and we were surfing the wave for some distance." He shivered at the thought. "It was November and the water would have been very nasty and cold had we wiped out."

Each trip between the US and Canada, of course, required a customs inspection. "I made thirty border crossings and was waved through every time." Swiftee rode with McLincha in his minivan. "I was always asked the purpose of my trip. I told them, 'To kayak.' They could see my arm resting on the kayak. Most [customs officials] were amused and asked more questions."

"I met many people along the way," he said. "Most I just told I was kayaking from Michigan to Niagara. All of them were impressed. I didn't need to go into the running side of the story."

McLincha had his "rules" and he stuck by them, steadfastly. "This was a solo venture," he stressed. "I did meet someone online who was following my blog. He lived by the Welland Canal. I stayed a couple nights at his place and he met me a couple times when I landed. He even tried to help me carry Swiftee to my van and I had to remind him about my anal rules."

"The final trip my wife went with me, but she knew my rules. [But] I was very glad she was there when I arrived at the Falls. That made it much better than having a lone finish among all strangers."

The final day, reaching Horseshoe Falls, was memorable. "[It] really stands out," he said. "What a fiasco! The Niagara Park Police stopped me about half a mile from the falls, thinking the worst, of course. Fortunately, a park employee who I called a few days before showed up and told them my story. Only after telling the cops I wasn't suicidal did they let me pass." He then quipped, "One thing stood out when having a kayak near the Falls. Nobody made eye contact. It was obvious they thought I was a crazy person."

McLincha philosophized about H-to-H and, indeed, all of his unusual activities. "I had a friend who died [in January] from ALS. Like me, he packed a lot into his 60 years. He could easily have said, 'Life's not fair.' But, instead, he said, 'It's not the years in your life, but the life in your years.' With this adventure complete I can never say, 'Life wasn't fair.'"

He plans to write a book about his runyaking adventure. "Whether or not it gets published, I don't care. I have five grandchildren and they are my audience. I tell the story as if I am talking to them."

In the end he said, "I hope the uniqueness stands out, that something like this has never been done before." I'd say that's a pretty good bet.