High School regionals, Summit League, Big Ten XC Meets highlight upcoming weekend
by RunMichigan Staff
,
Oct. 25, 2012
by Dave McCauley, RunMichigan.com

With the majority of the fall marathons behind us, the focus of running in Michigan turns to some exciting cross country action this weekend.

MHSAA Lower Peninsula cross country regional meets will take place on Friday, October 26 and Saturday, October 27, while two major collegiate cross country conference meets will also be held in our state -- The Summit League on Saturday, October 27 and the Big Ten Meet on Sunday, October 28.

For Michigan's high schoolers, this weekend is the chance to qualify for the 2012 MHSAA Lower Peninsula Finals to be held on November 3 on the grounds of Michigan International Speedway near Brooklyn, Michigan.

Thirty-six separate regional meets will take place this Friday or Saturday for both boys and girls. For more information on where your school will be competing visit the MHSAA website to get locations and starting times.

On the collegiate level, two of our state's universities will be hosting their respective conference championship meets.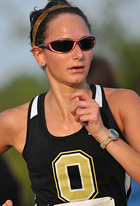 At Oakland University in Rochester Hills, Oakland's cross country teams will play host to the 2012 Summit League Cross Country Championship Meet to take place at the Katke-Cousins Golf Course on the east side of campus, near the Meadowbrook Music Festival.

The women's 6K race will start at 10:00 a.m. and the men's 8K race will begin at 11:00 a.m. Click here for more information on the 2012 Summit League XC Meet.

And finally, this Sunday the 28th, Michigan State University will host the 2012 Big Ten Cross Country Championship Meet at the Forest Akers East Golf Course. The 6K women's race will start at 10:45 a.m. and the men's 8K race goes off at 11:45. Click here for more details.

Other state schools in action this weekend include the University of Detroit-Mercy who will travel to Kenosha, Wisconsin on Saturday to compete in the Horizon League Championship Meet.

RunMichigan.com will be on hand at select high school regional meets and both the Summit League and Big Ten Championship Meets. Come back after all races for full results, plenty of photos and interviews.

Also, RunMichigan.com will once again be providing complete coverage onsite at the 2012 MHSAA Lower Peninsula Cross Country Finals on Saturday, November 3.

Good luck to all high school and college runners this weekend.