Ritz runs 2:07:47 at Chicago, finishes as top American
by RunMichigan Staff
,
Oct. 7, 2012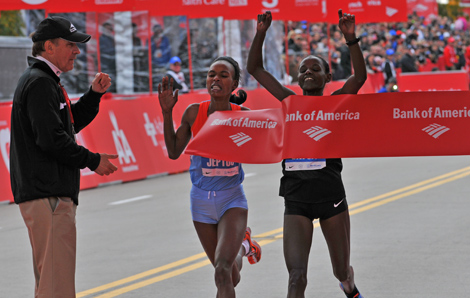 by Dave McCauley, RunMichigan.com

CHICAGO -- Former Rockford High School runner Dathan Ritzenhein continued his movement into the upper tier of world distance running as he hammered out a new marathon P.R. of 2:07:47 at the 2012 Chicago Marathon. Ritzenhein finished in 9th place overall and was the top American men's finisher.

The men's overall winner, Tsegaye Kebede of Eithiopia, blazed to a winning time of 2:04:38, amazingly still a full minute off the world marathon best of 2:03:38, set by Kenya's Patrick Makau at the 2011 Berlin Marathon. The clear skies and chilly temps -- around 40 degrees -- made for perfect marathon conditions.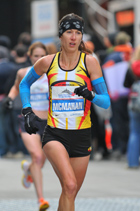 In the women's competition, Ethiopia's Atsede Baysa took home the victory with a time of 2:22:03. And although in the official results, second place finisher Rita Jeptoo of Kenya, was listed as a full second back, the race was practically a photo finish, with both women hitting the tape almost at the same time. Dot McMahan of Rochester Hills and the Hansons-Brooks Distance Project, also finished in the top 10, taking 9th place in a time of 2:32:11. McMahan was the second overall American for the women.

Other notable performances from Michigan residents for the men, included a pair of excellent finishes from two of our state's top masters runners -- Lindsey Dood (47) of Grand Rapids in a time of 2:32:10 and Rich Power (48) of Rochester in 2:39:53. Dood (second) and Power (fourth) both were in the top 5 of the 45-49 age group. The former Hope College runner, Dood is a three-time MISAA Most Valuable Runner. A list of top Michigan finishers can be found here.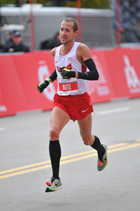 For Dathan Ritzenhein, the six-time MHSAA State Champion while at Rockford, the joy of a great performance definitely showed inside the Hilton Chicago Hotel at the post-race press conference, as he jogged up to the stage to take questions from the media. Ritzenhein, who competed most recently at the London Olympic Games representing the U.S.A. in the 10,000 meters, this 2:07:47 was a solid sign that his training under former marathon great Alberto Salazar is progressing perfectly.

"I was happy. This was a big step forward for me." Ritzenhein commented after the race. "One more year and I think I can just continue to improve on this." One big reason behind Ritzenhein's success is due to Salazar's coaching. For those of you who got into running back in the early 80's, you all know what a great runner and fierce competitor Salazar was and that has definitely rubbed off on Ritz.

"I was very happy with it (his time). I think that having Alberto as a coach, one of the legend's of the sport and one of the greatest marathoners ever, it's such a huge benefit for me to have his experience. He's always been by my side. It was a huge step forward in my marathon career for me and I'm just thrilled and happy for his support too."

Ritzenhein's 5K splits were 15:07, 30:08, 45:10, 1:00:08, 1:15:09, 1:30:05, 1:45:15, and 2:00:49. His half-marathon time was 1:03:25. His overall pace was 4:53.

In all, over 2000 runners from Michigan made the trip to Chicago for this year's marathon.

Photos copyright, RunMichigan.com. More photos coming soon.